Herman Miller's new HQ
Village Green wins BREEAM "excellent" and LEED "gold" awards
Designer Herman Miller's new European headquarters Village Green in Chippenham aims to be a stylish model of sustainable business premises and practice.
The building has received both the BREEAM "excellent" and LEED "gold" awards, the highest certifications for best practice in environmental design and management .
Stephen Perkins, international marketing director, said: "The brief was for it to be a benchmark for sustainable work places whilst not compromising on functionality and at no extra cost to conventional spaces.
"We know that the workplace has a direct impact on the wellbeing of employees and their performance at work – we believe that sustainability is key to this.
"There are some very simple sustainability measures that employers can adopt to ensure that their employees are happy and healthy in their place of work."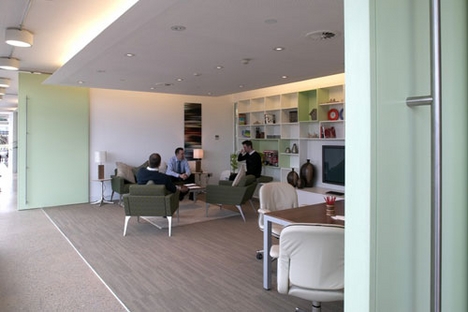 Green credentials
All of the materials used for the Village Green scheme were sourced within 30 miles and produced using the minimum energy as well as reducing pollutants.
The building specification includes a high-albedo roof, limited applied finishes, timber from sustainable sources and reliance on recycled products wherever possible.
The building is also air sealed to twice the standard required by legislation to encourage good building practice.
Natural ventilation eliminates the need for cooling towers and humidification and the building is insulated over and above statutory legislation keeping energy costs to a minimum and also reducing emissions.
The depth of the building is designed to maximise the floor plate whilst enabling efficient ventilation.
Passive cooling measures include: thick stone walls to the south, a deep overhanging roof to the east and deep punched windows and brises-soleils to the south and west. Exposed concrete soffits cool down at night to keep the temperature low during the day.
Water wastage is also kept at a minimum by the installation of meters to monitor water flow and leak detection. Contaminated water and pollutants are filtered and drained away from the watercourse.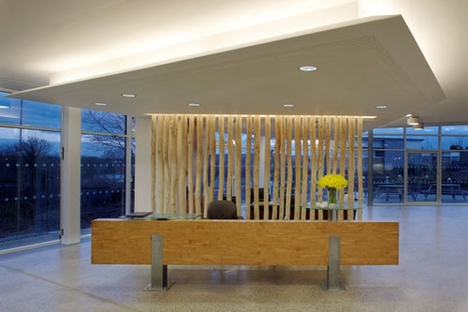 The building also incorporates waterless urinals, drought resistant indigenous planting – negating the need for any irrigation system – and water permeable hard surfaces.
All timber is from FSC (Forest Stewardship Council) sustainable sources.
Energy-efficient lamps have automatic shut-off using movement sensors, and exterior lighting is designed to reduce light pollution.
All paints, adhesives, sealants and carpets have very low levels of toxin emissions.
All carpets are recyclable.
VillageGreen is designed to encourage chance encounters, and create an environment where decisions can be made quickly.
The working style is highly collaborative and Herman Miller employees don't have to work alone at a desk all day; they can choose from a variety of work settings.
Circulation space can be used for ad hoc meetings, and informal seating areas for business discussions.