This new terrace for an East End estate acts as a backdrop for its residents' individualism
I meet Peter Barber at Stepney Green tube station on a humid Wednesday morning. We have arranged for him to walk me over to Hannibal Road Gardens, a recently completed nine-unit affordable housing block tucked away in a back lot behind some existing social housing. As we make our way, we encounter a funeral procession gathering in front of a Georgian terraced house. A glimpse into bygone east London, the event is complete with black ostrich plumes, top hats, weeping relatives and "Mam" written in white chrysanthemums and pink roses.
"To see the street used like that is a joy!" Barber exclaims. "To see the street appropriated with those flowers and people standing there — it shows a powerful connection between people and the city." In fact, much of Barber's work is about streets. His agenda is predicated on the ideas of Walter Benjamin, with whom he developed a fascination as a student — the city as a popular stage, the streets as animated theatre. Buildings only come alive, Barber argues, when they are occupied. And that animation is intensified when neighbours can interact and when the street isn't discredited by setting houses back from the pavement.
This rather theatrical manifesto is evident when we arrive at Hannibal Road. The brief was to create large family homes, many of which serve extended families, to address the issues of over-crowding within the existing estate. The dwellings have three, four, six and seven bedrooms each, which overlook different levels of airy roof terraces and gardens. The living spaces on the ground floor are accessed through a small front courtyard garden. The typology is a mix of the terraced house and a courtyard dwelling.
Barber's agenda is predicated on the ideas of Walter Benjamin — the city as a popular stage
As we walk through the side entrance of a set of three oblong post war social housing blocks, we enter an open garden courtyard. As the site didn't readily allow the housing to be integrated into the city, the concept was focused around the notion of homes encircling a shared garden. Where there is no street, Barber has, in effect, created one by butting the houses right up against the site boundary, with living rooms and small courtyards facing a public path that runs along the side of the newly planted communal garden. The scheme completes a square, turning what was once a rather grim theatre of deteriorating social housing, with a corrugated wall of run-down industrial units and ghastly student housing as its proscenium, into an inward-looking arena of clotheslines and bicycles, with a garden as its pitch.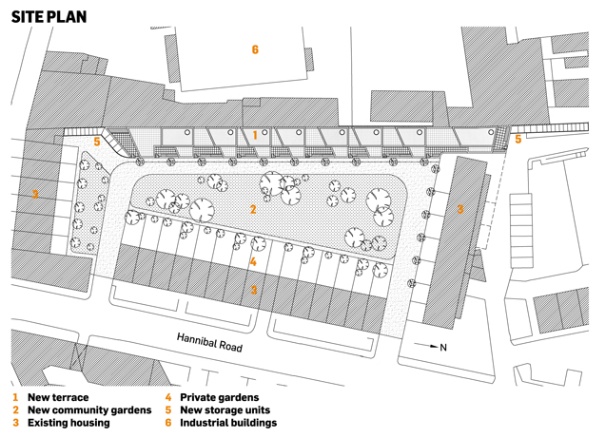 The existing housing that flanks the site is typical of post-war estates — built cheaply and quickly and, as Barber put it, with almost an anti-urban ethos. There are funny missing bits around the site, he notes. This is where Southern Housing Group sees the potential to develop estates like these, filling in those empty spaces that can be used to house more people and to improve estates as a whole.Many of the residents simply moved from one side of the courtyard to the other, making the development feel inhabited by one cohesive community. The lost spaces in the corners of the site, one of which at one point was used to house a pile of old mattresses and rubbish, become small private terraces. If you make space feel like it belongs to those who live in it, then they'll take care of it, Barber argues.
Formally the project borrows a great deal from Donnybrook, one of Barber's earlier, slightly more ambitious housing schemes, in Bow, not too far away from Stepney. A playful spattering of windows, notched terraces, high density and doing a lot with relatively little are trademarks. Barber has also taken from Donnybrook the use of terraces and courtyards, which allow light and space to be integrated into tight confines.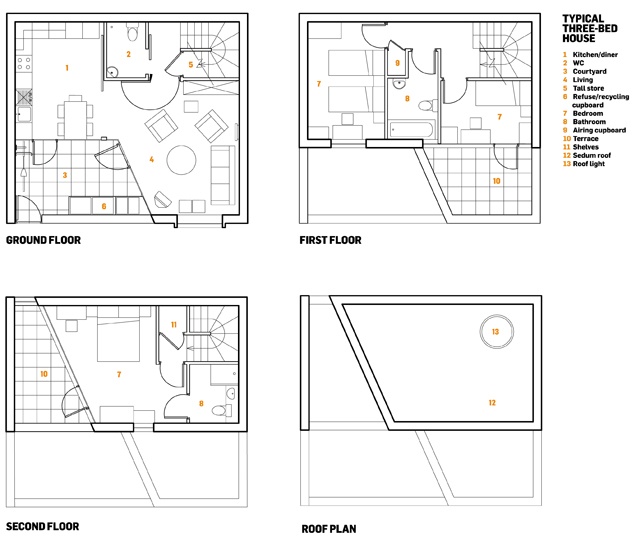 "I'm fascinated by the mixing of terrace with courtyard. You get a little privacy before you go inside. It softens that edge," he tells me.
"If you take out the bigger garden in the front, Hannibal Road Gardens is actually very dense. People think that three or four storey housing isn't dense — but it can be. There are no common areas of circulation. No corridors, lifts or shared staircases. Generally when you design an apartment building today you take into account 20% of the area for circulation. What a waste of money! If you have a £5 million project, why spend £1 million pounds on corridors and stairs?"

Source: Morley Von Sternberg
By using a terraced typology, Barber has not only avoided dingy and neglected communal spaces at the back of the units, but also manages to create an efficient block with south-east facing units, where light is brought into the back of the building while shielding the houses from the view of the industrial sheds and student housing that lurk behind the site. The little courtyards and terraces that are cut into the building not only form generous outdoor space for residents who otherwise would not have gardens, but provide just what Barber fantasises about — a canvas for people to decorate his building with the evidence of their lives, the bicycles, clotheslines, potted plants and doormats that bring life to these kind of spaces.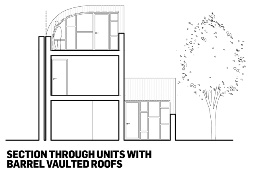 The timber shingle cladding — a material reference to the rickety garden sheds and fences that line the backs of the existing buildings — is already beginning to fade from tangerine to silver. The change is a reminder of Barber's taste for the quirks and dressings inherent in inhabitation. With a smile, he points out two bird houses tacked onto either side of one of the larger units. The buildings are composed of solid blockwork ("These houses aren't going anywhere soon," he quips) but they appear as light as the fences opposite.
While on the one hand Barber is fascinated with the comfort given by solid buildings, he is equally drawn to things that change. This is an almost altruistic sensitivity towards those who occupy his buildings. He reassures residents with a home that is solid and permanent at the same time as actively encouraging adaptation and inhabitation. Hannibal Road Gardens is a thorough and intelligent project — a perfect example of how social housing can surpass the cardboard castles of much private commercial development, of how inexpensive housing needn't follow any formula and of how by looking into the needs of the people you are building for, you can create something that works well without resorting to banality or extraneous expense.
PROJECT TEAM
Architect Peter Barber Architects, (RIBA stages E to K) Alan Camp Architects
Client Southern Housing Group
Local authority London Borough of Tower Hamlets
Delivery architects Alan Camp Architects
Contractor Osborne Homes
Client representative Faithorn Farrell Timms
Project manager (up to tender) Robert Lombardelli Partnership
Structural engineer Ellis & Moore Consulting Engineers
CDM consultant MDA Consulting