Mae's affordable housing scheme to replace a notorious estate in Walthamstow, east London, shines despite some blunders made without the architect's involvement
Clock House, at the western end of Walthamstow's long, rambling high street, was built in 1706 for Dutch merchant Sir Jacob Jacobson. If it ever had any Orange zest, this didn't survive an (admittedly elegant) late 18th century Palladian makeover. But from the 1880s onwards, the mansion found itself at the heart of a frenzied gabling revival when its then-owners, the Warner family, began to develop the surrounding land as workers' and middle-class housing.
From Pretoria Avenue west towards Hackney Marshes, entire streets were laid out with gauged and cut-brick details, elaborately sinuous gables, recessed porches and decorative rough-cast plaster and terracotta work. The quality of the build was notably high. Unusually, the typologies also included "half houses" – flats on two storeys reached from side-by-side front doors.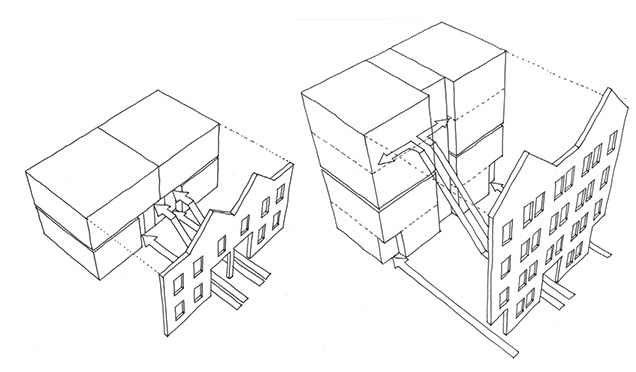 TYPOLOGY DIAGRAM
A century later, however, Clock House had been hemmed in by a 1970s sink housing estate called Hammond Court — all deck access and drug dealing, with any gables banished to the surviving terraces on Maude Street and Pretoria Avenue either side. Now that estate has been demolished in its turn, and the gables and half-house influences are back on site as part of an affordable housing scheme by Mae Architects.
Together with Clock House (bodged into flats in the 1930s), the three wings of Hammond Court surrounded a bleak parking quad from which the blocks were accessed. As Alex Ely of Mae notes, it was typical of this period of civic bloody-mindedness to turn the estate's ample rump to the surrounding streets.
Quite rightly, Mae's first move has been to reverse the layout once more to form three new blocks with public frontages to the tree-lined perimeter streets. Individual and communal back gardens are to the rear in a new quadrangle secured solely for residents' use and accessed from the blocks themselves or by locked gates between them. Shared ownership and rental units are peppered throughout rather than clustered together.
An L-shape of two new blocks (a maisonette plus two floors of flats to Maude Street and a row of three-storey terraced houses facing Pretoria Avenue) feature red brick, recessed porches and gables.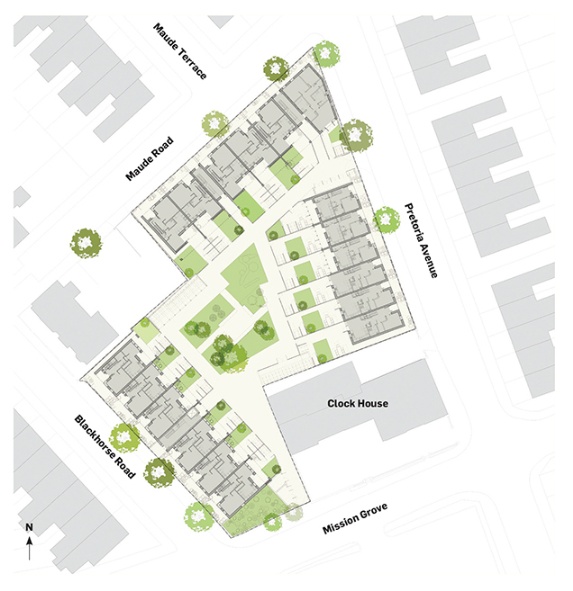 SITE PLAN
The third block, to the south, faces the polluted Black Horse Road. It is five stories high with two tiers of maisonettes then a recessed fifth floor of flats up top. Here, Mae spent a good deal of time sourcing a chalky Suffolk white brick to match Clock House adjacent and experimenting with the deck access form by designing the rear façade as a brick screen to conceal projecting decks.
"We wanted to give the stacked dwellings the common identity of houses with individual entrances to the street," explains Ely of the two red brick wings. "Hence the expressed gables which play into the context as well." The practice was also inspired by the "noble ambition" of the Warner Estate motto: "Live well and cheaply."
Unfortunately, Mae has had to attempt all this in circumstances not of its own making – principally a design and build procurement process that has thwarted most hopes of achieving a Warner quality of build. Ely is unwilling to cast any blame, but his disappointment is palpable when he surveys the resulting scheme of 43 units for rental and shared ownership. His affordable housing client, East Thames, only allowed him to take the scheme to stage D.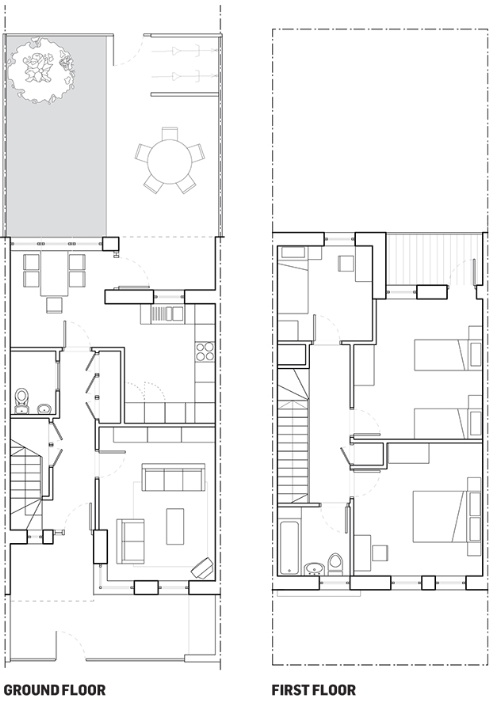 The Blackhorse Road wing has fared worst – with an alien and bland buff brick substituted for the carefully chosen Suffolk block, poorly executed metal parapet details and ridiculously long boiler vents that protrude from the full depth of balconies. All three blocks have surface-mounted black gas pipes scattered across their rear elevations and joyless common parts (not Mae's spec).
After appointment through a framework competition, the scheme was drawn up in close consultation with the former residents who agreed that the rear of the blocks should have low garden fences to the ground floor units so that everybody could see into a central communal garden, where they would plant vegetables together and create a supervised play area. This combination of consultation process and Mae's wise design proposals would have facilitated resident interaction and been of great assistance in strengthening the community on the rebuilt estate. But none of those consulted residents has returned, preferring to stay decanted in Victorian street properties refurbished by East Thames rather than return to an uncertain future in a once-notorious crime location.
Compounding this setback, the local Secured by Design apparently insisted that all back fences be full-height, effectively creating an unsupervised backland that segregates neighbours from each other and mitigates against the possibility of creating a new community.
"It's a fundamental change in concept," admits Ely. "We were keen that the residents would have a say in how the landscape evolved, taking it over and planting as they see fit. We are very mindful of when you step back and the life of the residents takes over."
One nameless East Thames employee at the opening ceremony was as unhappy as Ely: "To be hidebound by such a tenet is wrong," he said of the Secured by Design process. "It has been an absolute nightmare." Digging in a few plants together is unlikely alone to foster the same level of engagement among residents who are entirely new to each other.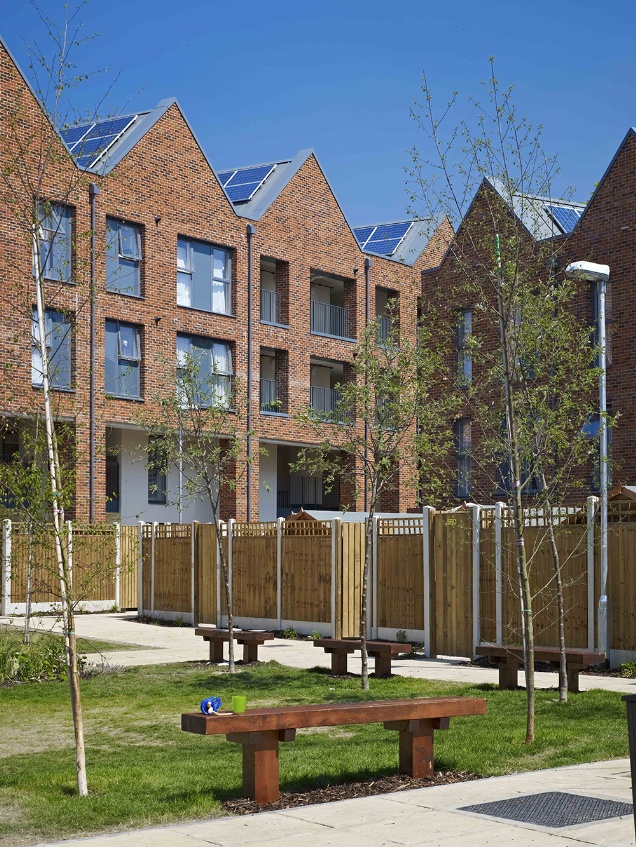 Source: Timothy Soar
There are other disappoint-ments, such as the Blackhorse Road block being set back to align with Clock House, which results in an unusable, fenced-off corner; but Ely is sanguine about this, his practice's second completed housing scheme:
"I guess we just have to be proud of the bits we got right," he says. "It is an architectural approach which is robust and expressive and overcomes the flaws of the construction process."
Where Mae has been allowed to get on with its job, there are indeed pleasures to be had. The red brick elevations, for example, are carefully modelled with recessed downpipes and deep reveals, and a gentle grid is established by aligning the fixed panel of first-floor windows with the side of the windows on the floor above.
These gabled wings radically enhance the streetscape and this external uplift is matched internally by roomy flats with abundant light that have been informed by new mayoral space standards, instigated by Ken Livingstone and delivered under Boris Johnson. The shared-ownership units sold in just about a day (the wheelchair-friendly house took a little longer). The new tenants seem pleased, and the rental units have put a small dent in Waltham Forest's 20,000-strong housing waiting list.
Walthamstow isn't a well-off place and its high street is now end-to-end pound shops and Cash Converters, but raise your sights above the shoddy shop-fronts and there are the ambitious Warner "W"s still picked out in the brickwork. Secured by Design notwithstanding, East Thames could have improved its delivery of a well-conceived scheme by effecting closer control over stages E and F. Ambitions about construction quality need to be as high as those gables.
PROJECT TEAM
Architect Mae Architects
Client East Thames
Structural engineer Thomasons
M&E and sustainability Synergy
Landscape architect Neil Tully Associates
Contractor Hill Partnerships