After a 10-year battle to build it, Civic Architects' Gamlingay Eco Hub finally emerges as the greenest community centre in the country
Home to 3,600 moderately affluent residents of an ethnic mix a good deal closer to that of Ambridge than Albert Square, the south Cambridgeshire village of Gamlingay looks much like a myriad other rural communities across Britain. These are places too small, too prosperous and too white to ever attract significant capital investment from funding agencies, but which often struggle with pressing social needs nonetheless.
Until recently, many of Gamlingay's needs centred on the fact that the village's 1970s community centre was prohibitively expensive to heat and too small for a population that had doubled in the course of 20 years. These failings became painfully apparent to local resident Bridget Smith, when, in 2003, she set up a community development charity called Forward Gamlingay.
"We knew there were lots of initiatives in the village looking for funding," she recalls, "but none of them was succeeding so they needed co-ordination. When we spoke to them it was clear that many were being held back because there weren't the facilities to deliver what they wanted."
The lack of a space from which youth services could be run was a particular frustration: a root cause, Smith suggests, for a rise in instances of teenage pregnancy, anti-social behaviour and drug problems. "We were failing to deliver statutory services," she says, "never mind voluntary sector services."
While Forward Gamlingay had no budget, Smith was fortunate enough to find her way to the then recently established practice Civic Architects, which agreed to undertake a feasibility study into the community centre's refurbishment and expansion at risk. As a former director of the Glass-House Trust, Civic's Dan Jones has a particularly strong track record in community led-design, and was able to help guide the project through a consultation process that was not always straightforward. There were certainly people in the village who maintained that the existing facilities were fit for purpose, even as they reached a state of dereliction that would eventually lead to them being closed to the public on safety grounds.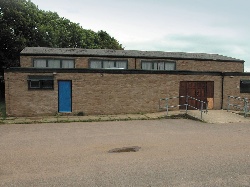 What ultimately persuaded penny-conscious locals that the investment was worthwhile was Smith's assurance that the new community centre would cost them nothing to run: photovoltaics would provide all electricity needs, while solar water heaters and ground source heat pumps would deal with heating and hot water.
"We believe it is the greenest community centre in the country but it is a deep green building through necessity as much as choice," she says. "Eco has to mean economical and that's certainly what sold it to the community."
In 2007, Gamlingay Parish Council duly voted the project through on the understanding that its cost should not impact on local residents' annual council tax bills by more than £1. This left Smith — who, after four years of voluntary work, was now finally employed as project facilitator — with the task of finding close to £1 million in grants.
What persuaded penny-conscious locals was the assurance that it would cost them nothing to run
Again she found that the project's green commitments unlocked doors. "The very first grant application that I had done was to Wren [the not-for-profit company that distributes money levied through the landfill tax] for half a million pounds which I didn't get," she remembers.
"It was then that I realised that sitting on the funder's desk were 1,000 applications for community buildings and there had to be something about ours that would make it stand out."
The principle that the scheme would rely entirely on renewables played particularly well with the regional development agency which was distributing money to projects that fell on the line of the Greensand Ridge, a ramblers' walk that extends through the village. Over the next two years Smith added to the RDA's contribution, a dozen, often modest, sums from bodies such as the Football Foundation, Coin Street Community Builders and a bequest from a local doctor. In addition, £600,000 was borrowed on the basis of a business plan that envisaged the centre making income both from rentals and from selling power back to the National Grid.
However, just as she was approaching her target figure, Smith was faced with the prospect of the grants that she had secured for the installation of renewables expiring — as a consequence of the coalition government's scrapping of the programme. That represented a potential loss to the budget of £130,000 if the work didn't start on site soon. It was therefore decided to take the project to tender immediately, even though it was clear that not everything was going to prove affordable.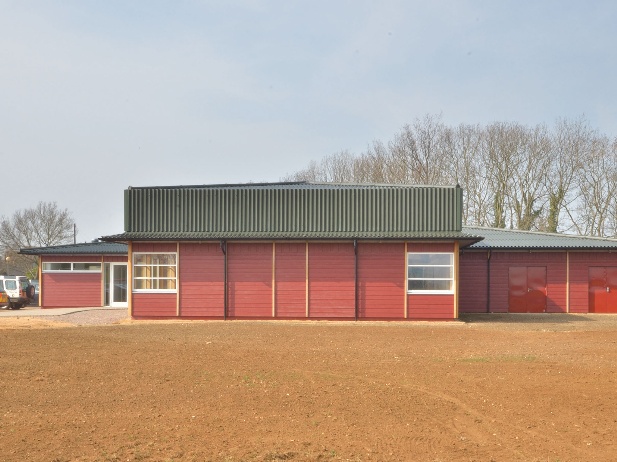 Source: Frederik Rissom
"It was a conscious decision to tender more works than the client had money for," Jones explains, "as everyone naturally wanted to keep the fundraising window open for as long as possible. It's characteristic of 'user clients' rather than 'money clients' that they don't have the money they need to start with,so you end up fundraising in parallel with the design process and then fundraising alongside the tender process."
When the prices were returned, it proved necessary to lop £400,000 off the scheme, a choice that proved painful but relatively straightforward to implement because Civic had designed the building on a modular basis. The £1.2 million built project therefore lacks the youth wing and landscaping that had been planned for it, but it is hoped that section 106 money provided by the imminent construction of 300 houses on the edge of Gamlingay will see the project realised in full.
The influence of Aalto is evident in the cowl-like clerestory light that crowns the new foyer
Now rejoicing in the name of the Gamlingay Eco Hub, the building stands to one side of a driveway that branches off a quiet residential street and eventually gives onto an expanse of sports pitches. Phase one expands the existing floor area by 60% and renders the original, singularly joyless brick shoebox of a building all but unrecognisable. The substantial part of the old structure that has been retained has been insulated externally and faced in the same livery of red fibre cement weatherboarding and green fibre cement corrugated roof sheeting that has been used for the new works. The whole therefore reads as a single conglomerate of a distinctly barn-like scale and material character.
The canon of Scandinavian modernism offers a number of precedents for the idea that a public building for a small rural community might reference agricultural sources, and the influence of Aalto is particularly evident in the Eco Hub's most demonstrative feature, the cowl-like clerestory light that crowns its new foyer and provides the principal frontage with its point of focus.
The old hall remains the dominant space of the plan, but has been augmented by lower, more outwardly oriented spaces on all sides. The financial constraints are reflected both in a £1,300 per sq m build cost and in a plan of notable economy. Nearly every space has been designed to serve more than one function: the foyer doubles as the library that the village has lacked since the county council withdrew funding from it five years ago, while on different days of the week the hall might now serve as a theatre, badminton court, conference suite, wedding venue or yoga space. In the interests of maximising opportunities to use the main volumes in conjunction with one another, corridors and lobbies have been excised almost entirely.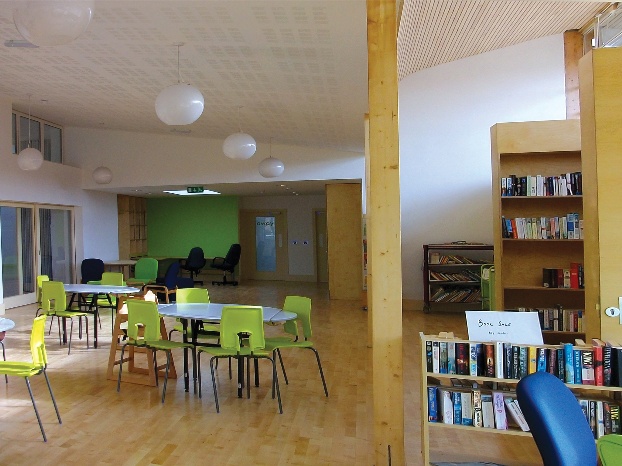 Source: Frederik Rissom
The pursuit of an extreme economy of means is evident throughout — the fact that only a single skip of waste material had to be carted off at the end of the job was a point of pride for the architect. While the fear might be that such an ethic would result in a grimly hair-shirt architecture, the completed building conveys a very different spirit. Repeatedly, Civic's sparing deployment of resources has produced moments of unexpected delight. Look, for example, to the way its scrupulous retention of existing window openings has brought a complexity to the interior that the budget would not otherwise have allowed; or to the way that offcuts from the weatherboarding have been turned through 90 degrees and used as a decorative frieze.
This spirit of back-against-the-wall inventiveness is also at work too in the scheme's accommodation of in-kind contributions from a number of local suppliers. Marley Eternit, Marshalls and Kingspan all happen to have plants within a 10-mile radius of Gamlingay and each was persuaded to donate materials. When Smith offered to stop complaining about their lorries coming through the village, Kingspan proved particularly generous. Civic duly designed the building's dance hall around its gift of eight glulam trusses.
The fact that it has taken a full decade from the project's inception to its current state of almost completion says a good deal about the determination and public-spiritedness of both its client and architect. Certainly, this is not work that anyone undertakes for monetary gain. And yet, despite its long gestation, the Eco Hub feels like a project of striking relevance to our present situation. If any building suggests what the architecture of Cameron's Big Society might look like, this surely is it.
Is sustainability delivered throughout your project? The Environmental Excellence Award is now open for entries for this year's Architect of the Year Awards. Enter today at www.bdonline.co.uk/awards

PROJECT TEAM
Architect Civic Architects, Client Gamlingay Parish Council, Structural engineer Bidwells, Services engineer Building Services Design, QS NTN Partnership, Prefabricated timber Kingspan Potton, Roof and wall covering Marley Eternit, Block paving Marshalls