Practice wins competition for mixed-use development in St Gallen
Caruso St John has beaten a shortlist of eight firms including Baumschlager Eberle, Burkhalter Sumi and Gigon and Guyer in the competition for a mixed-use development in the Swiss city of St Gallen.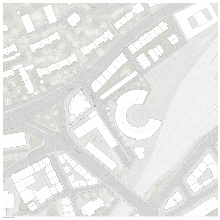 The 30 million Swiss franc (£20 million) Wiesenthal scheme will stand on former industrial land on the western approach to the city – an area which currently has a loose structure, with disparate buildings supporting no specific urban identity. 
The architect identifies its prominently located building as having the potential to be a fulcrum around which the different buildings of the emerging quarter can be brought together as a group.
The proposal occupies the full extent of the site with a strong volume facing outwards in all directions.
The facades have two scales, with broad windows on the lower five floors, for shops and offices, and a finer, more vertical grain on the top three floors of apartments.
This change in scale, and the setting back of the upper facade, gives the building a body and a head, connecting its volume strongly with the surrounding city buildings, at the same time as rising above them with a crown-like top. Seen from a distance, the building has a distinctive profile.
At the top floors, deep recesses in the volume frame loggias and roof gardens, opening up panoramic views for the residents over the surrounding rooftops to the city centre and to the surrounding valley. The masonry walls have a textile-like delicacy and are clad in white tiles, giving the volume a light and airy appearance, an echo of the baroque architecture of St Gallen's historic core.
Commissioned by developer HRS Real Estate AG, the project is due to be realised by 2016.