South London building is conceived as a 'found disk' lodged in the forested site
Studio Verve has been granted planning permission for an artist's studio in Brockley, south London.
Conceived as a "found disc" lodged in the forested site, the project has a small footprint and therefore a light touch on the ground. However, the architect has paid close attention to the terrain of the site, its relationship with the main house and surrounding buildings, as well as the requirements and desires of the artist, to produce a building that derives its form from all of these factors.
The setting-out of the studio was decided by extrapolating set-back and building lines from the surrounding context.
A circular form was decided upon, on the basis that the absence of angles means that the form will taper away from view — therefore greatly reducing the perceived mass of the building, when viewed from any angle. The studio has also been sunk into the ground to further ensure a modest scale.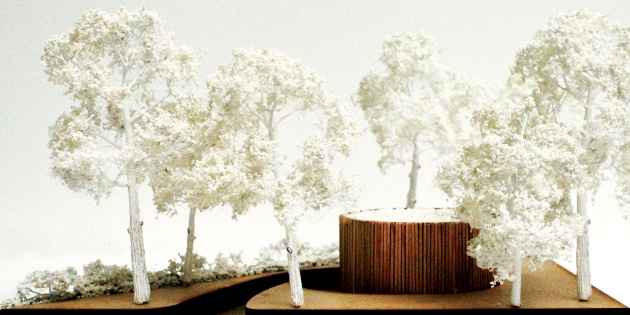 The architect also wants the building — as a stand-alone form in the landscape — to be understood as a sculptural element or hard landscaping within the wooded garden.
The studio is clad in vertical fins of ipe timber which, combined with the sedum green roof, will minimise its visual impact. The verticality of the building's cladding also aims to "dematerialise" the form.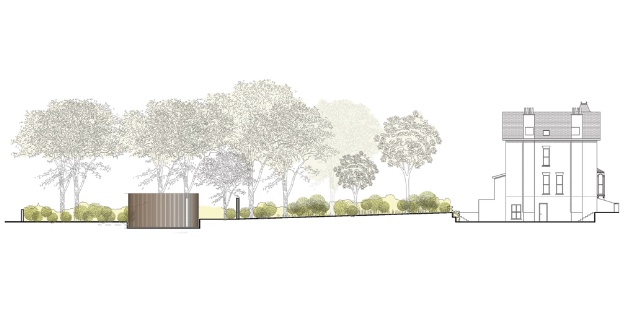 The double-volume studio space looks out on to a private landscaped patio.
A combination of natural ventilation and ground source heat pump are proposed for the development.
The artist's studio is due to start on site before the end of the year, and is to be completed by the summer of 2013.