Architect's Oakfield school is part of Building Schools for the Future programme
Wright & Wright's second special educational needs school has started on site in Hull. Oakfield School, for students with social, emotional and behaviour disorder (SEBD), is part of the Hull BSF programme and also provides space for multi-agency work, and child and adolescent mental health services.
The scheme takes into account the special requirements of SEBD students. The circulation spaces are more generous than in mainstream schools and avoid dead ends; instead hallways encircle central courtyards and larger spaces such as the sports hall and gym.
Hubs have been introduced, open to the circulation, for student activities such as meetings. Staff offices are dispersed among these spaces to increase the feeling of teacher presence.
Classrooms are on the south side of the school to take advantage of the quiet and natural light, and all access the school grounds beyond, offering external teaching space. The massing reflects these principles: lower-scaled spaces such as classrooms are located around the perimeter with higher teaching spaces in the centre.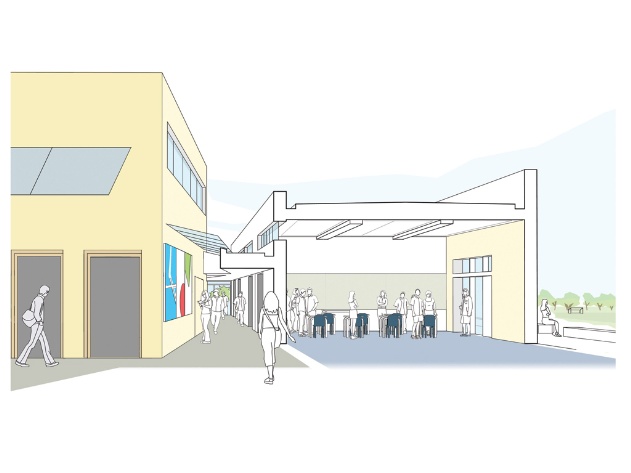 The school is on the site of a former secondary school in a residential neighbourhood. To avoid students and staff feeling institutionalised, the boarding accommodation is in the style of a residential mews, accessed from the street rather than the school grounds, and is organised around staircases rather than dormitory corridors.
The accommodation reflects the red brick and clay of the local residential context, whereas the school is built in cream facing brick, with green and blue glazed brick at the entrances and corners.
The project is due to complete in 2013.