Most of this timber-framed three-storey block in the West Midlands will be built off site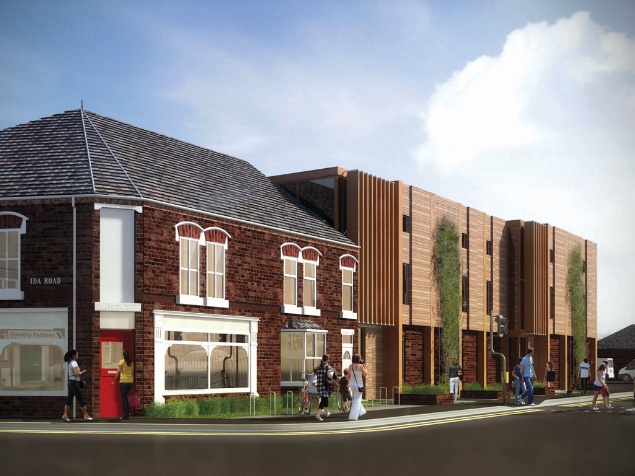 Birmingham-based Khoury Architects has designed nine apartments in Walsall, West Midlands. The £600,000 project comprises a three-storey apartment building of two and three-bedroom flats.
The block sits adjacent to a Victorian retail building on Pleck Road in Walsall. The apartments are closed off to the main road, with balconies overlooking an enclosed garden at the back of the site opposite the nearby Walsall Manor Hospital, which was redeveloped by Steffian Bradley Architects for £174 million in 2011.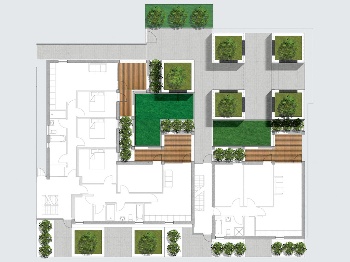 The structure is largely clad in timber, with brickwork on the ground floor to reference the adjacent Victorian building. It also includes green wall systems on the front facade. To accommodate retail space in the future, the ground floor has a greater ceiling height than other floors.
Most of the timber-framed building is being built by Westructure, and will be prefabricated at the start of the new year. Intex Projects, the main contractor, will start work alongside Westructure when the timber frame arrives on site. Khoury Architects plans to have a watertight structure erected in about six weeks.
Managing director Andrew Khoury said: "The synergies in form and materiality between the hospital and our proposals bring an aesthetic coherency and sense of place to this otherwise fragmented area.
"The scheme is a well organised composition with many layers of innovation."
Client Thandi & Thandi commissioned the practice to design the scheme, and Walsall Council gave it planning consent in September 2010. The project is currently on site.