Floating dome-shaped two-storey cabin to act an observatory, studio and shelter
Designer David Connor and artist Mark Richards have proposed a floating building and a nine-day performance piece at Croft Castle in Herefordshire.
Connor has designed a floating hermitage in which Richards will spend nine days drawing as a means of contemplating nature. It was inspired by a 17th-century tradition where members of the aristocracy would house and support a hermit who would then become an object of fascination to visitors.
The folly is a dome-shaped, two-storey cabin with a projecting raft extending over water, supporting a deck chair. The hermitage will act as an observatory, studio and shelter.
The main structure will be formed by nine curved timber ribs. The elliptical shape of the hermitage will be created by bent marine plywood and clad with hand-split oak shingles.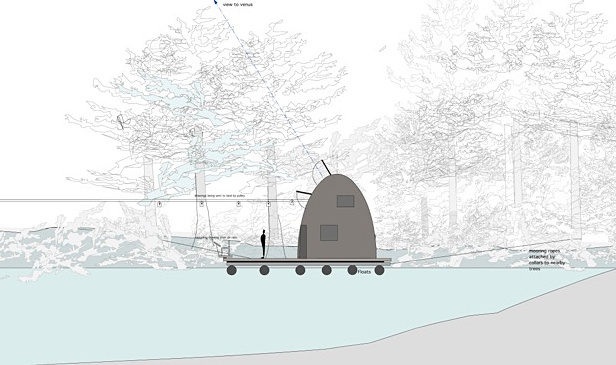 SECTION
Externally, the floating platform will be made from a structural timber grid, fixed to floatation tanks. The deck will have two steel rails along which a drawing chair will slide.
Internally, there are two levels, comprising a living area below and sleeping area above.
Anahi Copponex designed the hermit's costume, which is based on a traditional monk's habit. Visitors will be able to observe the hermit at work.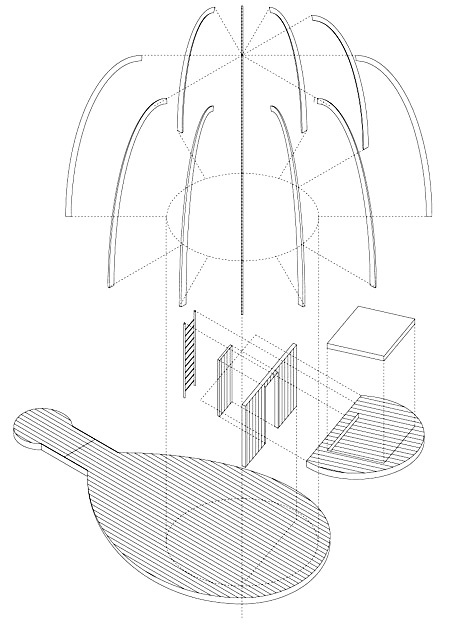 SECTION
Funded by Meadow Arts, the £135,000 hermitage will be exhibited until August 2013 as part of its Time Will Tell exhibition. The piece will float on a pond in the castle's Fishpool Valley, while working models and maquettes of the design process will be shown in the castle's galleries.
The duo hope the hermitage will have a life beyond the exhibition at Croft Castle.
They said: "We envisage that whoever funds the building and transportation to and from the site will see this as an ongoing project. This may be as purely an intriguing object, a sculpture positioned in space to inspire curiosity and wonder."