First Look: RCKA's Lewisham youth centre unites aspiration and innovation
RCKA has won planning permission for a new youth and community centre in Lewisham, named The New Generation.
The £3.5 million project was developed through extensive consultation with local youth and community groups, following the architect's work on a feasibility study and securing a successful bid to the central government Myplace fund.
The building is located on the edge of Wells Park, on the site of a dilapidated Victorian school house — a former youth centre which closed in 2007, since when reports of antisocial behaviour have increased.
The primary activity spaces are located on the lower ground floor with key facilities including a training kitchen, flexible
main hall space, café and multi-use games area. The upper ground floor houses a fully equipped recording studio, while the top level provides learning, IT and healthcare facilities. A triple-height winter garden runs along the eastern edge of the building, while a three-storey climbing wall is integrated into its northern end.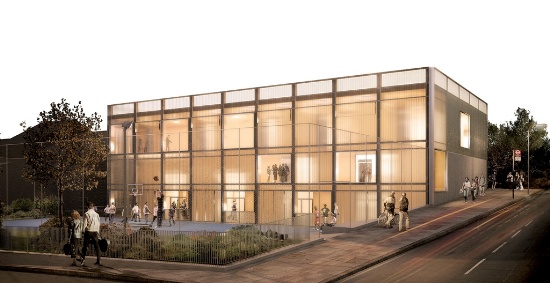 "The building was conceived as an 'eventscape'," said RCKA director Dieter Kleiner, "with wide stairs, generous circulation spaces and programmable landings, inspired by the stage sets of Adolphe Appia."
Constructed of cross-laminated structural timber, on a 3.75m grid, the building will be clad in profiled sinusoidal sheeting in two different materials — used here for the first time in the UK. Precast white polymer concrete panels form a tough plinth, above which sits plexiglass sheeting, with a honeycomb pattern embossed on the rear surface, over foil-faced insulation. Bay-width
ETFE cushions provide generous rooflights over the shared circulation areas.
The project is due to start on site in autumn.