House is divided into two thermally distinct wings
Jerry Tate Architects has received planning permission for an energy efficient new-build house in Salisbury, Wiltshire.
The site is in an area of archaeological significance, so the architect aimed to minimise the visual impact of the house, while also incorporating several sustainable features.
The 220sq m, £350,000, one-level house is divided into two thermally distinct wings so the owners will be able to control the amount of energy consumed in each part of the building. Should one side of the house not be in use, it can simply be shut down. The eastern wing contains a living room and a master bedroom, while the western wing has three more bedrooms, a bathroom and ancillary accommodation.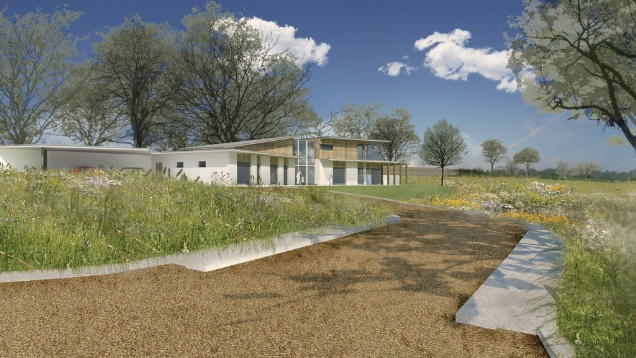 A winter garden will separate the two wings, and provide the owners with space to grow temperate plants. The super-insulated and triple-glazed envelope is orientated to maximise solar gain in the winter months, with overhangs to minimise overheating in the summer.
"This project allowed us to investigate how to integrate the lifestyles of our clients into the design to provide a sustainable, low-impact dwelling," said Jerry Tate. "By aligning architecture and occupant behaviour in a strategic manner we hope to significantly reduce energy use, and we intend to monitor the building with the client after construction to assess this."

The walls will be white rendered and with natural timber cladding to blend with the trees behind. The patinated zinc-clad roof will mimic the appearance of many adjacent buildings. There is also a scheme by landscape architect Anne Keenan to improve biodiversity on the site and minimise the house's impact on its surroundings.
The project is due to start on site in spring 2013.