Each of the three houses in Forest Hill will feature studio space and will share a communal yard
Robert Barker, a director of Baca Architects, and his architect wife Jessica Lawrence have started on site with their designs for a group of three mews houses in Forest Hill, south-east London.
Built around a shared central yard, each of the properties has its own private courtyard set between living and workspaces. Each courtyard forms the centre of the open-plan ground floor, with living on one side and studio on the other.
The unusual layout is designed to suit the couple who have designed one of the houses as their own home. Both enjoy creating, making and working at home but do not want to feel detached from the rest of the house.
"We felt it was important that each house had a private courtyard," says Barker, "but we liked the idea that it could open onto the communal yard so that people could spill over, for parties, open studio exhibitions or just for a bit of extra space when needed."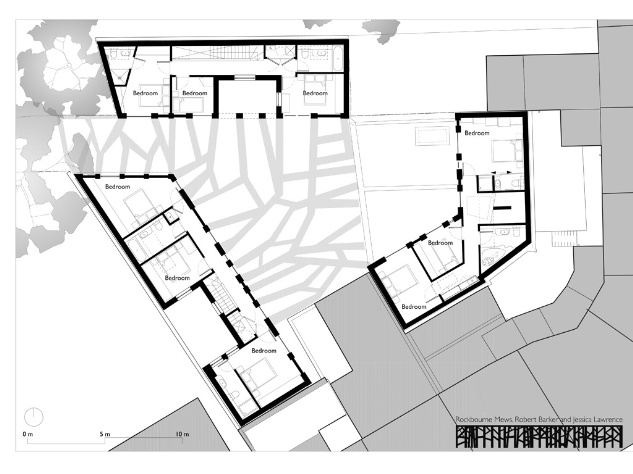 Inspired by views of ivy growing over the trees in wintertime, seen from the upstairs of the existing property, the architects devised green facades as vertical maze-like gardens. These geometric green walls also extend in planted strips across the surface of the courtyard, to unite the properties in a "green oasis".
The buildings are all single aspect, and so the challenge has been to use large areas of glazing to bring as much light into the spaces as possible.
The project has started on site this month and is scheduled to take 12 months to complete.