The first social housing block in Hackney for 45 years, Karakusevic Carson's Bridport House is a rallying cry to get boroughs building
Two weeks ago a storm erupted when it emerged that east London's Newham council was planning to move 500 families on housing benefit to Stoke-on-Trent, some 160 miles away. Blaming rising rents caused by the Olympics and the increasing demand from young professionals, Newham saw this "departure from traditional methods" as the only way to relieve its burgeoning waiting list, in light of the recent cap on housing allowance.
Curiously, the borough was simultaneously finalising plans to demolish its 500-home Carpenters Estate in Stratford to make way for a new Olympic Park-side campus for University College London — after it converts the upper floors of two blocks into exclusive, bird's-eye-view TV studios for rent. The estate is now hemmed in by the worst of Stratford High Street's bullying towers, monuments to the council's thrall to the private sector and negation of its public duties, a physical bar chart of developers' Olympian greed.
How surprising, then, that only three miles away in neighbouring Hackney, a fellow Olympic borough with equal levels of deprivation, a brand new social housing block has recently been completed — the first such building here for 45 years.
The £6 million Bridport House, by Karakusevic Carson Architects, stands at the northeast corner of Shoreditch Park, a slender sliver of bricks and balconies, like the latest product of the canalside gentrification of this part of town. It occupies a narrow plot on a densely packed block, sandwiched between two housing association sites and Countryside Properties' Hoxton Wharf, a mean-minded metallic box by Flacq Architects topped with half-a-million pound penthouses. With its deep, cantilevered balconies, high-quality brick and floor-to-ceiling windows, it is hard to believe that Bridport House is the local authority housing block of the bunch — it looks a good deal more expensive than its neighbours.
Bridport House looks a good deal more expensive than its private neighbours
Comprising 41 units spread across five and eight storeys, the building replaces a 1960s slab that turned its back on the street, withdrawn behind walls, fences and bin stores. The new scheme goes some way to fixing the urban block, lining Bridport Place with eight front doors to four-bed family maisonettes, set back behind low-walled thresholds, as well as two main entrances to the 33 one, two and three-bed apartments above.
A plinth of dark brownish brick defines the band of maisonettes, rising to the north to clad the five-storey block. Two-fifths of the way along its length, the building climbs up to eight storeys, clad in a lighter white brick. Here the windows are expressed as a double order, while their reveals are punched deeper, from a brick width to a full brick depth, as if articulating this creamy jacket as a second skin. Stacks of balconies project 2.5m from the facade along both east and west elevations, braced with angled tensile rods, giving the building the air of a pricey docklands warehouse conversion. Care has been taken to express the verticality of the block, so it reads as more of a tower-like form than its dimensions betray, avoiding the squat bearing of many similar schemes.
At its south-western corner the form is mitred back to create a fifth elevation, punctuated by a stagger of copper-clad bay windows, positioned to pick up the afternoon sun and frame views from quirky day-bed cubby holes in the flats. The southern elevation, also angled to form a prow-like point towards the park, confounds any suspicion that this could be social housing, being fully glazed with floor-to-ceiling windows that open out on to huge recessed balconies with panoramic views across London. "Everyone in the office wants to move here too," says Paul Karakusevic, as he sees me eyeing up the flats with envy.
Within, the building is well planned, with attention to the details that lift it above the usual design-and-build fit out. Entered through heavy wooden doors into double-height entrance lobbies, the stairwells are flooded with natural light making them a more attractive option than the lift. The units are generously arranged, exceeding GLA space standards, and enjoy 2.65m ceiling heights, built-in storage and large windows. The maisonettes, meanwhile, have kitchen-diners with windows on to the street and big French windows opening on to little back gardens.
It is perhaps here, at the interface with its neighbours, that the scheme falls down. A symptom of London's chopped-up land ownership and powerless local authorities, the inside of the block is a severed mess of fences and boundary walls, where it could be one shared space. Two minute playgrounds now sit severed either side of a 2m high brick wall, like a scene from Palestine, because it was impossible to get Islington & Shoreditch Housing Association to talk to Hackney. Similarly the elevated private deck of Hoxton Wharf will soon look down on the back gardens of the social tenants, surely not an ideal configuration.
As ever, this mess is the result of speed and the lack of a proper plan for the site before development began — something one hopes will be avoided in forthcoming phases across the rest of the estate. For Hackney to receive the £3.4 million HCA Local Authority New Build match-funding, the architect had only 18 months from appointment to completion to meet the deadline. Further constraints came in the nature of the site: a major sewer runs directly beneath the building, meaning little extra weight could be exerted, yet the capacity of the block had to be doubled, from 21 to 41 units.
Both these restrictions led the team to opt for cross-laminated timber (CLT) construction, with spruce boards fabricated off-site by Stora Enso in Austria and engineered by Hackney-based Eurban, to construct what is the largest solid timber building in the UK — in only 12 months. Because CLT spreads its weight along a line, rather than a point, it was possible to double the height of the original structure, while only increasing its loading by 10%.
The solid timber construction makes the project carbon neutral for the next 30 years, while its prefabricated nature ensures the units are fully airtight, helping the project achieve Code for Sustainable Homes Level 4. Eventually the building will be connected to an estate-wide CHP system, but for now it is entirely heated from two small domestic boilers — and very warm on the chilly morning we visit.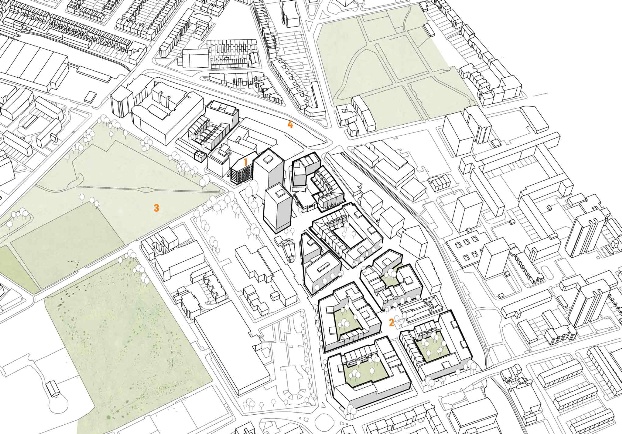 1 Bridport House
2 Forthcoming phases of Colville Estate masterplan
3 Shoreditch Park
4 Regent's Canal
"There was initial scepticism about using timber among the residents," says Karakusevic, "because we proposed it only a few months after the Peckham fire" — a major blaze that ripped through two council blocks overnight. He brought a sample of the CLT along to a residents' meeting and challenged anyone to set fire to it.
It was one of more than 30 such meetings with the residents' association, in which every aspect of the design, from flat types to front doors, was discussed. "It is a very active community," says Karakusevic, as we tour the building with the chair of the Colville Estate Tenants and Residents Association who, now settled in his new 58sq m one-bed flat, can barely believe his luck. As we stand on one of his two large balconies overlooking the city, he points out the flat where he grew up in the neighbouring low-rise block, in which the family living room was smaller than his current bedroom. The residents association is now CLT's biggest fan, praising its warmth and quietness of construction — a vital factor in keeping neighbours happy in a 10-year estate renewal project.
Bridport House is the first part of a plan to rebuild the entire Colville Estate, which stretches 5ha to the east, bordered by the Regent's Canal to the north. Following its appointment to this project, Karakusevic Carson won the bid for the wider masterplan early last year and has developed a scheme that seeks to stitch the estate back into the grain of De Beauvoir to the north, through better street connections and improved public realm.
The units are generously arranged, exceeding the GLA space standards
The plan will replace the existing 438 units with 925, 40% of which will be social rented, 10% intermediate and 50% for private sale. The next phase will be entirely social, but followed by two private blocks of 14 and 20 storeys, the inevitable concession to make figures stack up. But crucially the borough will remain in control — employing the architect (currently out to PQQ) and finding a development partner once the scheme has gained detailed planning consent. "We are doing what a developer would do," says Karen Alcock, Hackney's deputy mayor, "using desirable land overlooking Shoreditch Park to release funds for social housing — but with space standards of Parker Morris plus 10%."
While alarm bells might ring on hearing councillors talking of emulating developers — an accusation often levelled at Hackney in less complimentary terms — here the borough has shown it can deliver housing of a quality that far exceeds the "affordable" provision of most developers in recent years. If they continue to select architects as talented at Karakusevic Carson, there is hope Colville could be a model for a new wave of local authority social housing, and a rallying cry to get boroughs building.
Enter the Housing Architect of the Year category at this year's Architect of the Year Awards, organised by BD. Entry Deadline 20 July. Learn more at www.bdonline.co.uk/awards
Project team
Client London Borough of Hackney
Architect Karakusevic Carson Architects
Main contractor Willmott Dixon
Engineer and timber contractor Eurban
Structural engineer Peter Brett Associates
CLT supplier Stora Enso Wood Products