McAslan's masterplan for Lancaster University
Over the years since 1963 Lancaster University's rigorous design vision had become diluted and its core seemed bleak and lifeless. Now John McAslan & Partners is showing it a new way forward.
In 2005, John McAslan & Partners successfully answered an Ojeu advert to join, along with several other architects, Lancaster University's five-year framework agreement for architecture.
It proved to be the start of a highly fruitful collaboration, yielding (so far) one masterplan, five building projects and two RIBA awards, most recently for the Charles Carter Building this year.
Last month, the practice was asked to refresh its 2007-2017 masterplan for the campus to take account of the recent huge changes in the higher education funding and academic landscape.
Throughout, the practice has worked with estates director Mark Swindlehurst. "Mark has a very clear vision for how the physical environment combines with academic needs," says McAslan managing director Tony Skipper.
"There's a mutual respect and concern for quality. You get good architecture through a quality client."
Swiftly after being appointed to design its first project for the university – the Postgraduate Statistics Centre – John McAslan & Partners was commissioned to design a new masterplan for the university.
Despite the bracing climate, it was designed to suggest a Mediterranean hilltop village
Situated three and a half miles south of Lancaster in Cumbria, the university was originally laid out in a college-based plan devised by Gabriel Epstein and Peter Shepheard in 1963. In contrast to the bracing local climate, it was intended to suggest a Mediterranean hill-top village.
"It's one of the great post-war modern universities with a fantastic location. There's a unique sense of place," says McAslan director Aidan Potter, whose team created the masterplan for the site.
He has the utmost respect for the original vision. This organised low-scale buildings of three to four storeys in a series of east-west streets off a central north-south spine of sheltered pedestrian route and squares. At the heart of the campus was Alexandra Square, with key facilities such as the university library and University House.
But over the decades, this rigour had been diluted with rogue elements creeping in that broke the original's simple geometry and created inefficient building shapes.
"Perhaps the shapes were too prescriptive and inflexible to allow for growth and expansion," says Potter.
Students had originally been accommodated close to teaching facilities but, in the 1990s, rising student numbers led to the extension of the campus to form the adjacent Alexandra Park, which now accommodates most of the student housing.
As a result, by the time JMP was involved, wayfinding had become difficult and the once vibrant social core of the university had become bleak.
'The triumph is that the university has seen that it has to invest in the public realm'
"We felt we needed to rediscover and restructure some of the original intent and give more definition, bringing more student life into the social spine," says Potter.
To do this, McAslan came up with a 10-year plan for works projected to cost £420 million. Together, these prioritised social spaces and pedestrian routes through the spine, and improved the definition of six key entrance routes at right angle to the spine, conceived as "green fingers" coming into the campus. To maximise the efficiency of the estate, the masterplan rationalised and decluttered accommodation to provide development parcels of simpler blocks to encourage, hopes Potter, a more confident, efficient and less convoluted architecture.
Above all, the masterplan has been about place-making and investing in the public realm.
"Our success at Lancaster is that so far we have managed to convince the university that they need to spread the investment into the spaces between the buildings – the social and physical infrastructure," says Potter. "The triumph is that they've seen they have to invest in the public realm."
McAslan's building projects at Lancaster – both new build and refurb – have exemplified the priorities of this masterplan. Its first was the £2 million Postgraduate Statistics Centre (2008), an orthogonal design which addresses a new landscaped space on the north and on the south, is louvred to tackle solar gain, incorporating vigorous solar chimneys to provide passive ventilation of teaching spaces. It was the first building on the campus to gain a Breeam "excellent" accreditation.
The Learning Zone, completed in 2009, helped to reanimate Alexandra Square, the campus's main public space without changing its original character.
This project refurbished the ground floor of Bowland College to create a social learning space that caters for different learning styles by providing flexible spaces from beanbags and sofas to bench seating and group banquettes.
The building was extended to project out along the 80m-long frontage to create extra accommodation inside, and on the outside, incorporate a bench and brise soleil which emphasise the building's inherent horizontal expression.
In the same year, McAslan completed a redesign of the Grizedale College building, simplifying its cranked form to allow better pedestrian links through the site and extending to create a split level bar.
On the adjacent site is the Charles Carter Building, completed earlier this year. Here and at Grizedale, McAslan showed that while the practice respects the original architecture of the campus, it's not afraid to be bold – both are faced in a black brick rather than the predominant buff, a contentious move that required some persuasion from McAslan.
At Charles Carter, this choice of material helped the architects achieve a crisp finish that complements the sharp composition of expressed superstructure, punched windows and deep reveals.
'It is important to pay attention to brand and place-management issues'
Commissioned as a decant facility but now occupied by the School of Management, the £6 million building was designed as a 4,000sq m high-spec office building with concrete frame, raised floors, flexible partitioning and a stone, oak and glass interior materials palette.
The plan is 36m square except on the ground-floor where a colonnade at the southern edge provides solar shading and a pedestrian route to and from nearby residences. An atrium brings natural light into the centre of the plan. Like all new buildings on the campus, it is rated Breeam "excellent".
As well as refurbishment of the university's Human Resources Centre, McAslan's next challenge is to look afresh at its masterplan in the light of the ongoing changes in higher education funding, which are likely to result in a greater emphasis on the quality of student facilities as well as the teaching accommodation.
"Students are the customers. They'll want the best degree possible and also the best student experience. So it's become a competitive game of how to attract students," says Skipper.
"It is important to pay attention to brand and place-management issues. Masterplanning has to grow up and become comfortable with these words," adds Potter.
New social spaces are now being looked at to enliven the campus's central spine, including new retail, bars and outdoor spaces. With a daytime population of 15,000 including 7,000 living on site, the campus must operate, says Swindlehurst, like a small town, with this social spine as its high street.
McAslan has also been involved in feasibility studies for substantial new projects, some of which are likely to be adaptive rather than new build, to reflect reduced budgets.
With the recent commission to reassess the masterplan, it's clear that the practice still has a crucial role to play in shaping the future of the campus for some time to come.
Amid the turbulent changes in the higher education sector, a robust, efficient masterplan that creates a memorable sense of place is likely to prove all the more important.
"The whole relationship with Lancaster, stretching back to 2005, has become very compelling and highly effective, architecturally and educationally. We take great pride in the trust the university continues to place in us," says McAslan's Skipper.
'We've started on the direction of travel and kept to that'
Mark Swindlehurst on how McAslan's masterplan has provided a guide for ongoing change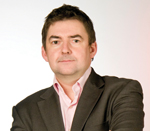 When I arrived at Lancaster University in 2003, it was clear there was an ambition for investment but that develop-ment of the estate had not been tied back to a masterplan. One did exist but we were starting to lose our way.
McAslan's very quickly understood the simplicity and strength of the original 1960s masterplan and wanted to build on that with clarity. Our shared view was that it carried a particular strength that shouldn't be undermined.
McAslan's set the masterplan out very plainly so that we could recover control of development. We kept it simple so that people would actually read it and understand it. We had extensive collaboration with stakeholders and, importantly, McAslan's listened to our views and were up for the debate. They treated us with respect as clients.
Since we've published the masterplan in 2007, the architects we've worked with have responded to it. We've started on the direction of travel and we've kept to it pretty well. It's still the right journey, but we want to review it to capture any changing requirements.
The big debate is how a fee of £9,000 will influence student demands, and we already include students in our development discussions.
We have a capital programme of £20-25 million for each of the next five years.
This is a significant reduction to previous years but we still have ambitions. Next, we are planning a new Engineering Building and a refurbishment of the library that will probably go out as design competitions, and we are about to start on site a refurbishment for the School of Health & Medicine.
We're not embarrassed to spend money on the public realm and landscaping to improve outdoor spaces on the campus – it's a core element to realising the masterplan.
Mark Swindlehurst is estates director at Lancaster University.