On the drawing board: Westry off-grid community
Location: Cambridgeshire
Boyarsky Murphy Architects' rural homes are designed to achieve Code for Sustainable Homes Level 6
Boyarsky Murphy Architects is working on plans for a 420-unit off-the-grid housing development at the village of Westry in the Cambridgeshire fenlands.
The project is close to a straw bale-walled anaerobic digestion plant — designed by the same architect — which will utilise waste from a nearby food packaging factory and will provide heat and power for the new community.
"The hope is that every house will be heated from the system. The heat will be direct but the power will be fed into the grid and back," says practice director Nicholas Boyarsky.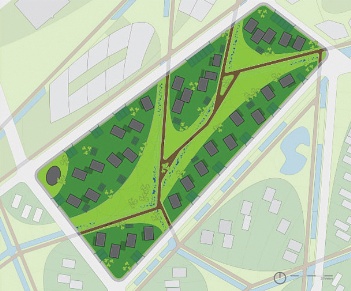 With access to on-site renewable energy, the development is designed to achieve Code for Sustainable Homes Level 6 — the practice's first. The rectangular 104,724sq m site is farmland criss-crossed with many small waterways. It is positioned near to the AD plant but outside the 200m exclusion zone for such facilities.
The intention is to separate the roads and houses as much as possible in the layout of the housing. Dual-approach properties with private gardens will be arranged in clusters of 30-40 set amid large, communal, landscaped gardens traversed by bike routes.
Orientation has been designed with the aid of Grasshopper parametric software, which ensures that each dual-aspect home has optimised alignment to solar orientation and avoids overlooking from neighbouring properties. Such a low density of 40 units a hectare is a luxury, according to Boyarsky, and has allowed the inclusion of the generous communal gardens.
The buildings are a mix of 288 market-rate housing units plus 124 affordable apartments pepper-potted throughout the development. Each highly insulated unit will be constructed from prefabricated cross-laminated plywood panels for floors and walls with external over-cladding. The hope is to have sedum roofs.
There will be eight housing types in all. The two-bedroom affordable housing is arranged as pairs of interlocking units with staircases along the party wall. Each unit has large picture windows and private balconies.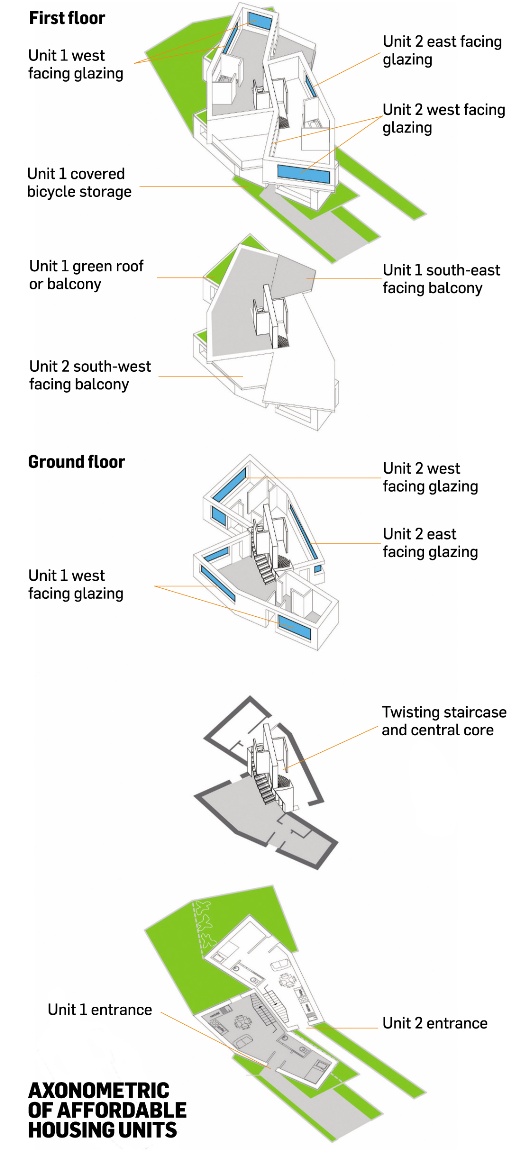 Small heat exchangers that deal with the energy coming from the plant will be located either at each house or will be shared by larger clusters of houses. Waste water will be purified at an organic water treatment plant which will recycle grey and brown water into potable. There is no need to incorporate the "bling" of solar/PV panels, says Boyarsky.
"If you orientate and construct a building carefully and sensibly and if you have an AD plant for on-site energy, there is no need for putting things on the roof," he says.
The first phase of the AD plant is operational and the developer is now planning to increase its capacity. Housing will be developed at a rate of 40-50 units a year once the developer has secured planning permission. In its favour is the need for housing in the area plus the potential of employment generated by a proposed factory on the site.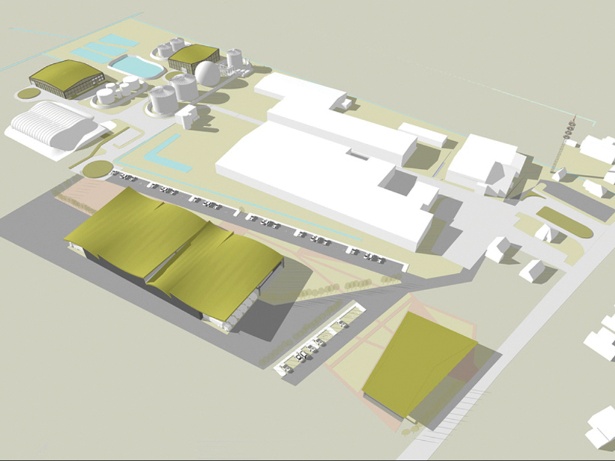 The whole AD and housing project, which began in 2008, has been a learning curve for both architect and client.
"Our role was to visualise how it could work as an architectural piece and generate a different approach to housing.
"We've done a number of different environmental projects but this one is special because all the energy is there and everything is joined up," says Boyarsky, who would love to see the AD-plus-housing model repeated throughout the country.
Boyarsky Murphy takes industrial buildings beyond the tin shed
Boyarsky Murphy has designed a 7,120sq m factory for packaging fresh vegetables close to the housing site, the waste from which is used in the anaerobic digestion plant.
Unlike many distribution units, this is no standard metal shed. Instead, it will have a distinctive form of three sedum saddle roofs and will be built using straw-bale walls and a glulam frame. This form arose from a desire to break down the visual mass of the building, and from the desire to catch and retain rainwater.
"We wanted to do something that looked better in the landscape than enormous boxes. I have a horror of crinkly tin sheds in the countryside," says Nicholas Boyarsky.
Like the anaerobic digestion plant, the 120mx54m factory will be built using a panel construction system manufactured by ModCell — thought to be the first use of this type of system for a factory. Plywood cassettes will be packed with straw bales with steel restraints, and finished with lime render, all made locally at a "flying" factory.
For operational reasons the building needed to be window-free up to a height of 3m, but above that the architect proposes an irregular array of windows, with openings cut into the straw panels during manufacture and then glazed in situ.
Inside, the factory will be one enormous span with zones for different procedures. Goods arrive at one end and are washed, cut, sorted and packaged before leaving from the other end of the building for distribution to supermarkets.
Project team
Architect Boyarsky Murphy Architects
Client Lifecrown
Planning and environmental Wardell Armstrong
Structural engineer David Dexter Associates