Drawing board: Ironmonger Row Baths by Tim Ronalds Architects
Tim Ronalds discusses his updating of the interior of Islington's Ironmonger Row Baths, a listed thirties community bathhouse and laundry still popular for its swimming pools and Turkish baths
What's the special character of Ironmonger Row Baths?
Tim Ronalds: It's the most public building I've ever come across in terms of the number of people who've used it over their lives — people who've learnt to swim there, had baths there, done their washing there or used the Turkish baths.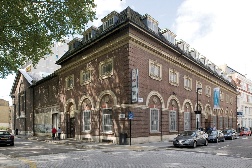 When it was built in the 1930s, only about 4% of local households had indoor bathrooms and the building had 80 individual slipper bathrooms, women's on the top floor, men's on the first, where you were given a towel and could pay for a hot or cold bath. In the basement was a small Turkish bath.
It was built by the London Borough of Finsbury. The baths and laundry building, designed by Alfred Cross, was built first in 1931, followed six years later by a swimming pool and café designed by his son, Kenneth. Alfred Cross was a public baths specialist but he appeared to find the whole idea of the masses washing their bodies and clothes obnoxious and so dressed up the building as an Italianate palazzo, like a bank. It's incredibly conservative and astonishing to think it was designed just a few years before the same council commissioned Lubetkin to design the Finsbury Health Centre.
What state was the building in when you won the job?
TR: When Islington Council commissioned us to refurbish the baths in 2009 it was grade II listed and much loved, but rather dilapidated. It's a very solid building, with load-bearing brick walls but the Turkish baths were on their last legs and the sauna had caught fire. The slipper baths were obsolete and part of the upper floors had been stripped out and used as offices. We won the job even though we hadn't ever designed a large swimming pool — I think they liked our work at Hackney Empire.
What's the scope of the works?
TR: Islington is spending £16 million on quite a drastic refurbishment taking it right back to the original structure. This involves putting in a new floor structure strong enough for fitness use and creating more open spaces from the warren of small rooms.
We are modernising the two pools — retaining the larger one's tank but rebuilding the smaller pool, which will have a variable depth. All the remaining slipper bathrooms have been removed except for two, which are being kept for school history visits.
We're introducing fitness studios on the first floor and a large fitness gym on the second. The basement is being excavated to expand the Turkish baths to four times their previous size, with new saunas and treatment rooms.
There was a great debate over whether to keep the laundry, which had industrial-scale machines with great rotating drum ironing machines to put your sheets through. It's now been decided to retain a public laundry on the ground floor. English Heritage was keen that we retained the original main staircase and one of the lightwells in the older building. We're also restoring the original teak bench seating overlooking the main pool and retaining the wood-panelled laundry chute.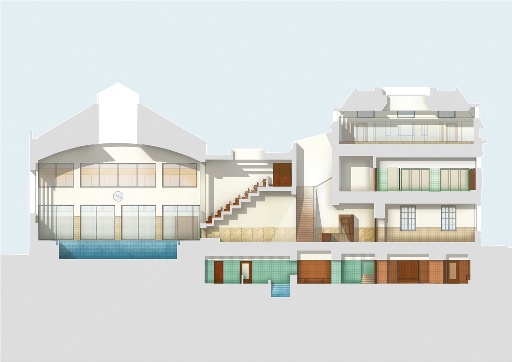 What adjustments are you making to the plan?
TR: Our main move was to tackle navigation. Ironmonger Row used to feel like an old municipal building, with no sign that there was a pool inside.
We decided to move the entrance from Ironmonger Row to Norman Street to face St Luke's Gardens and use the lightwell between the two buildings to make a new circulation space. Instead of a warren of small spaces, you'll enter into a top-lit atrium with lots of light and with a sculptural reception desk that we're having made in terrazzo.
There will be glimpses into the pool, stairs down to the Turkish baths and up to the fitness facilities. Above is a bridge link above the entrance atrium linking the two buildings. We're trying to make the inside more transparent than it was although not too much so, as people don't like being watched that much when they are swimming. There were no large spaces in the original baths (apart from the pool hall) but by taking out the slipper baths, we've cleared large areas for the fitness facilities. There's not much we can do to improve transparency from the outside.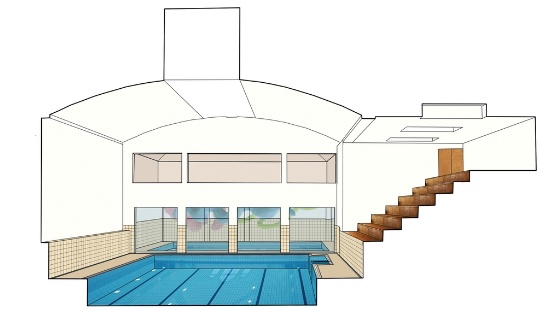 What ambience do you hope to achieve?
TR: The 1930s building was like a bank on the inside with mahogany panelling — not exactly sporty — and the pool was austere and functional, although users liked it. The new interior will have more light and life in it but we want to keep its civic quality and avoid commercialising it more than necessary. We want it to have the feeling it will withstand another 80 years of use.
Fortunately Islington embraced our argument for quality in the interior, so it won't end up being chipboard. We're using terrazzo up to shoulder height on walls with white plaster above and iroko hardwood floors and joinery to give public spaces a high quality civic feeling. Anything that can get wet is either terrazzo, mosaic or tiles. In the main pool, the curved ceiling will be blue to reflect the water. There will be beige terracotta tiling but no decoration. This isn't a pure restoration so it won't look exactly like it did when first built - and with its modern deck-level pools it will very much look like new pools in an old building.
What's the schedule for completion?
TR: We've now been novated to Wates, the contractor.
Demolition work has taken a year and has been incredibly complicated and now the new structure is going in. It's due to be completed next summer.
Turkish baths
Despite a more exotic interior, the baths will retain an air of calm
As part of its research, Tim Ronalds Architects was keen to explore the international traditions of bathing, visiting both Baden-Baden's famous historic Roman-Irish bathhouse and other more recent baths. The practice also tried out the Ironmonger Row Turkish baths before they closed for refurbishment.
"It's a very peaceful experience, silent except for murmured conversations," says Tim Ronalds, who was keen to retain this ambience.
The basement level Turkish baths will be one of the most altered parts of the interior. The architect is introducing a far more exotic colour scheme than that used elsewhere in the building.
"We're trying to keep it as warm and dark and rich as possible," he says.
The original decorative scheme was standard cream tiles and teak fittings, but Ronalds felt a richer design was needed, one that in particular avoided a clinical white tile approach.
"You do get a most extraordinary range of people — all shapes, sizes and ages all mixed up together.
I felt that you therefore need more visually substantial surroundings — an interior that makes you feel less naked."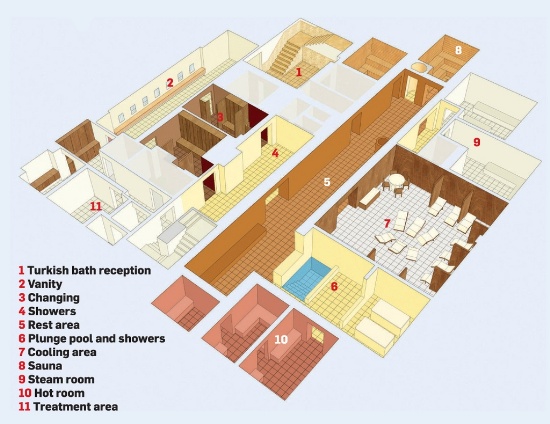 The dressing rooms will be fitted out in iroko. From there, bathers proceed through the showers into a long tiled space. Off this are the old Turkish baths, a plunge pool, marble slabs for massages and the tiled cooling areas, and the steam rooms and saunas.
A combination of glazed and unglazed tiles are being specified — matt tiles in the dry hot room and glossy glazed tiles in the steam room and in the massage area which have to cope with water and oil. A mix of both will be used in the wet rest area. The architect is working with a Swedish spa company on the specification in some of the specialist areas.
There are only a few public Turkish baths left in London, and the users of the Ironmonger Row facility were worried that the refurbishment might lead to their baths becoming more commercialised. Instead, the architect hopes this careful refurbishment
should preserve its special classless character for a long time to come.
Postscript:
Interview by Pamela Buxton