AHMM: Dagenham Park School, Barking
Paul Monaghan and Andrew O'Donnell of Allford Hall Monaghan Morris discuss the use of prefabrication at the practice's £16.9m Dagenham Park School.
How did this school project come about?
Paul Monaghan Our client is Laing O'Rourke, and this is a sample project in its Design for Manufacture & Assembly School Solution, which uses prefabrica-tion to reduce build time.
We have a lot of associations with the London Borough of Barking & Dagenham, which is a really go-ahead council. This is one of two BSF schools going ahead there. It has been a really fast project: the BSF bid process started in November 2009, Laing O'Rourke won the job competitively in June 2010, and the project completes in mid 2012. One BSF week is like a normal month.
Why did Dagenham Park School need a new building?
PM The school – an eight form entry secondary – was pretty tatty and had very little proper playground, just little bits of spaces between the buildings which were difficult to supervise.
They wanted to knock down everything except the new sports block and the arts building and have a single new building combining all the other functions. The challenge was designing the new building to suit the construction programme. We wanted to spend money on the new building rather than on temporary accommodation.
Andrew O'Donnell The school had never had a proper develop-ment plan and was a collection of ad hoc buildings. The English department had been in a temporary building for 20 years.
What governed your strategy for the new building?
PM Our philosophy is for very simple forms. We decided on a 10,000sq m box, built to the maximum height [three storeys]. We've kept it very economical, like an office building. It's very dramatic architecture – a bold statement.
We couldn't build anywhere near the street [due to the existing school buildings]. Because the head wanted to keep a large pitch and the sports block, the location of the new building between them started to look obvious. The only place the car parking could go was near the houses.
We had a big debate on bringing people through the adjacent park into the school, but this idea was abandoned. Because the building will be so far from the street we had to develop the arrival process, pulling the fence back to create a bit of public realm and including a gatehouse to give a sense of arrival to the campus.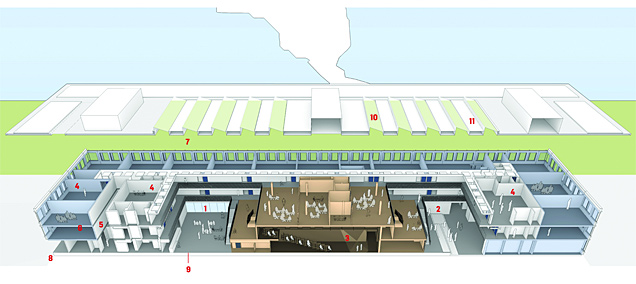 1 Entrance atrium.
2 Performance atrium.
3 Hall and theatre.
4 Classrooms
5 Stair core:
200mm-thick concrete twin walls.
Precast concrete stairs.
6 300mm-thick voided lattice slab.
7 Structural facade: 175mm structural concrete inner leaf. Rigid insulation. Architectural facing concrete.
8 1,300mm x 60mm strip foundations, founded approx 1,500mm deep.
9 250mm-thick composite hollowcore ground slab.
10 Atrium roof:
19.25m span across atriums.
500mm x 300mm RHA steel sections.
15m x 2.4m angled roof lights.
11 300mm-thick voided lattice general roof slab.
How did you come up with the internal configuration?
PM The client liked the wow factor of Westminster Academy [completed by AHMM in 2007]. We said they could either have this with an atrium type or, because it's such a long building, a street. We've gone for an entrance atrium and a performance atrium on either side of the hall, with classrooms arranged around the perimeter.
The hall – a full-on theatre we've designed with a theatre specialist – faces the blank wall of the sports hall, as it doesn't need many windows itself. This can be used by the community as it can be shut off from the rest of the school.
What's your strategy for the classrooms?
PM The local authority has studied a Swiss way of teaching which uses a horseshoe shape with an information and communication bench along the wall behind.
AO To accommodate this we ended up with much larger classrooms – 75sq m compared with the standard 56sq m. These have flexibility for whichever way the school wants to teach.
PM Consequently the school doesn't have so many break-out spaces as Westminster Academy, instead it has break-in spaces within the classrooms.
Laing O'Rourke actually built a full-size classroom ahead of construction to give everyone a sense of height and scale, and nothing had to be changed.
The school has been designed to be Breeam Excellent. How will it achieve this?
AO The main factors in meeting this are the building's thermal mass, the insulated and airtight facade, the heat recovery ventilation system and solar shading. In summer teachers can open vents manually if required. There is also a biomass boiler and rainwater recycling.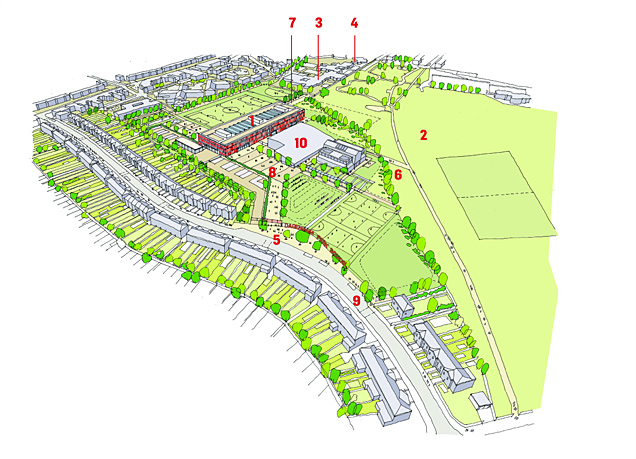 1 New building
2 Old Dagenham Park
3 William Ford Primary School
4 Library
5 Main entrance
6 Park entrance
7 Primary school entrance
8 Piazza
9 School Road
10 Sports buildings
How did the school feel about the pre-fabricated concrete system?
PM One of the first things the head, Simon Weaver, said was that he wanted anything as long as it wasn't concrete. People have real issues with it because it doesn't always weather well. But after we took him to see our Tooley Street office building, he changed his mind – it looks almost like stone.
The Laing O'Rourke system is a kit of parts that relies on standardisation and repetition and people do get worried about that. But with Arup, we developed a louvre system to deal with the sunlight, which gave us an opportunity to use the school colours.
Do you enjoy working with it?
PM Architects quite like constraints. Laing O'Rourke gave us a rulebook. It's a cross between building with giant Lego and Meccano. It's definitely the highest percentage of prefabrication we've ever done in a school. It's a very pure way of doing construction. You have to design the facade in much more detail than you'd normally do for planning permission.
The trick was breaking down the repetitive nature. There are variations in the elevation. And we have key moments – we always enjoy celebrating the entrances.
In an ideal world, the moment you get planning, you'd press the button and the production can begin. It makes a lot of sense for schools, but it is not appropriate for every building type.
AO The building programme for the school is 62 weeks – that's a 30% saving. And the quality is really impressive.
PM That's the double-whammy.
Prefab components: One school, made to order
Dagenham Park School's prefabricated structure is being produced at Laing O'Rourke's £100 million Explore facility, which opened last year at Steetley, near Worksop in Nottinghamshire. At full capacity, this 25,000sq m factory can in theory produce all the precast components for the school in a month.
These include precast ground slabs, columns, soffit panels and load-bearing facade panels. A darker concrete is used on the plinth with a lighter shade above. In all, the school uses 11 sizes of facade panel with 23 types including variations in window size and profile. These can theoretically be derived from just four moulds, subject to mould durability and other manufacturing constraints.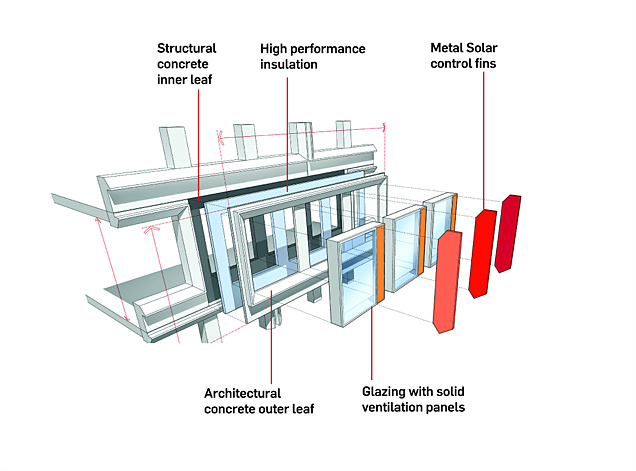 The building is designed on an overall structural grid of 7.5m, with a cladding grid of 2.5m, giving three windows to each 7.5m module. The structural elevation is created with a series of 7.5m x 3.6m panels, consisting of a 175mm structural concrete inner leaf, insulation, architectural concrete outer leaf and window and vent panels, which arrive on site with glass and vent panels already fitted.
The ground slab is a 250mm- thick composite hollow core slab while the general floor and roof slab is a 300mm-thick voided lattice slab. The stair core twin walls and the main hall twin walls are 200mm-thick. The roof to the main hall, which has a 15m clear span, will be made from 525mm composite hollow core slabs. Typical columns are 250mm x 600mm precast concrete.
Using bim, production and delivery of the modules can be timed to suit the construction programme. After the airtight structure is assembled onsite, the prefabricated services and risers are installed, followed by the rest of the internal fit-out.
The same panel system is being used to construct AHMM's Holy Trinity School in Barnsley. Production of the Dagenham school's concrete components began this month.
PROJECT TEAM
Architect AHMM, Project manager & main contractor Laing O'Rourke, Local education partnership Thames Partnership for Learning, Local authority Barking & Dagenham, Structural, services, acoustic, fire, lighting, transport, access, civils & drainage Arup, Landscape architect Plincke, Planning consultant Savills