Bankside Urban Park by Witherford Watson Mann
Witherford Watson Mann's proposal for Bankside Urban Park shows a love of a gritty, charming but vanishing London, says Kester Rattenbury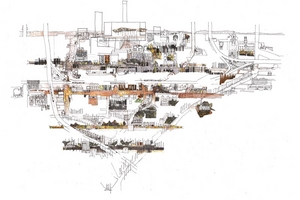 You could tell the whole story of our society's recent beliefs about public space through London's South Bank. There's the South Bank Centre from Festival of Britain and huge social realm arts centre to iconic tourist boom and the current, massive, unremarked overload of generic chain eateries; the Coin Street Community developments; the ad-hoc commerce of Gabriel's Wharf; and the extraordinarily powerful regeneration-follows-art around Tate Modern. So keep your eyes on Bankside Urban Park, the latest strategy for the area around the Tate, for the latest in the story of how we see our public realm.
The Bankside Urban Park scheme has just been won by Witherford Watson Mann, working with Ken Worpole, Peter Brett, Intelligent Space Partnerships, Bucknall Austin and PRP Architects. By anyone's terms, this is an impressive win for such a young practice. WWM was one of 11 invited to make submissions, and the betting was surely on the Tate Modern's own Herzog & de Meuron, already architectural king of the area, to complete its hat-trick.
Tate Modern itself is a key part of the Better Bankside BID group, along with Southwark council and all kinds of other interests, notably the residents' group, the Architecture Foundation, GC Bankside, Land Securities, the Cross River Partnership and Transport for London. "Herzog & de Meuron [working with Lucy Musgrave] were a very strong team," says Alistair Huggett, the client at Southwark. "It was a very difficult decision to make". But WWM made a "very very good presentation with a really strong concept".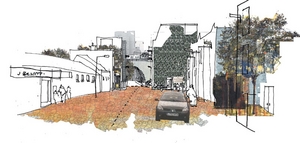 And the concept the team are now developing a kind of exemplar of our age. It's certainly not a masterplan, but a kind of lateral framework strategy which can loosely co-ordinate the mass of very different users, conditions and spaces in the area immediately south of the Tate. It crosses Southwark Street, which until now has been the effective boundary for the Tate's regeneration impact.
WWM's characteristic, cartoon-like, planometric, highly thought-out and utterly charming drawings show an approach characterised by a romantic but realistic recognition and reconception of what's already there. It's a landscape of roads, railway viaducts, pubs and bits of old industry, the sort of routes that follow long-vanished perimeters and are forced around by major bits of infrastructure. And it's an area most of which the bid clients don't actually own.
One is often a bit suspicious of urban strategies that call themselves 'park' or 'forest', but in this case it seems justified
But by making certain levels of cunning moves, WWM proposes a strategy where this might be seen as a sort of park, or forest. Its drawings show the area analysed and developed as a series of "rides", "streams" and "clearings", and this has driven an urban approach based on landscape interpretations. This will be developed partly by introducing real trees (reinforcing the characteristics of the area picking up glazing rhythms, for example), and partly by characterising other areas as though they were bits of sublime or romantic landscapes "wild and hidden thickets" "secret worlds between the viaducts", "overgrown ruins", "boulevards" using paving, art, trees, small buildings, traffic management as the drawings themselves suggest. One is often a bit suspicious of urban strategies which call themselves "park" or "forest" when they're nothing of the kind, but in this case it seems tough, well justified, highly considered, and a very "English" strategy a stronger evolution of WWM's earlier work for places such as the Lower Lea Valley.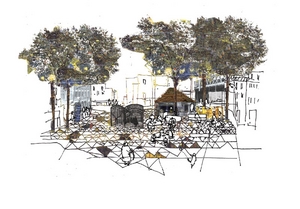 In simple terms, the landscaped area round the Tate will be linked to new or regenerated pocket parks and open spaces, with other small-scale developments. WWM's flexible approach offers "quick wins, medium term and long term goals".
Little, high profile projects for key areas can be quickly delivered and may be temporary or permanent, while the bigger, strategic moves and gradual shifts can be established in the five year life of the BID company. The area doesn't have a lot of space and what green space there is, Huggett explains, is often "worn out". Moreover lots of it is space left over after planning (like the strips on the perimeters of housing blocks). But simple strategies things like choosing two types of trees for and asking all different landowners to use them can help make the space read as a single area. There are different levels of interventions, and it is a plan which seems to be aiming, with various practical moves of unexpected kinds at a gradual shift in perception of the area to one in which the romantic landscape layer is switched firmly on.
Bankside Urban Park could be a quintessential project of our time not just because of all those groups and partnerships and collaborations although those are characteristic conditions. It exemplifies an approach where lateral thinking rather than bombast diligently reasserts itself; where wondering "where's the architecture?" might be considered a measure of success; where a different kind of drawing has to be used and read. And it's definitive of architects' current romantic love for the gritty, shabby, charming, awkward, vanishing London in which we currently find ourselves.