A heavily overlooked site in north London inspired architects Annalie Riches and David Mikhail to create four new dwellings… with themselves as the client
Anchored by Newington Green at its south end, Church Walk strikes an amiably dawdling course through close to a kilometre of leafy North London before grinding to a perfunctory halt at the back gates of Stoke Newington School. Frustratingly, the destination that gives the street its name, the parish church of St Mary's, lies beyond, robbed of its approach by a painfully blasé piece of post-war planning.
For much of its length, however, Church Walk remains a delight, a mews-like run of small 19th century houses and light industrial units, which in recent years have been joined by a number of aspirational newcomers. Henley Halebrown Rorrison completed a pair of houses here in 2006, a scheme whose studiously relaxed composition and use of reclaimed brick mitigates the houses' relatively large scale. Meanwhile, a few doors down, work will soon complete on a notably less self-effacing development of artists' studios and housing by Featherstone Young. Faced in corten steel and surmounted by a colossal glazed eyrie that juts out over the street, this project brings a splash of Santa Monican élan to bricky N16.
The architects Annalie Riches and David Mikhail have also recently completed a very fine project at 151 Church Walk: a short terrace at its less well-to-do northern end. The couple are directors of Riches Hawley Mikhail Architects (RHMA), but have undertaken the project as a private initiative with the aim of providing themselves and their newborn son with a home and delivering three further dwellings which they have rented out.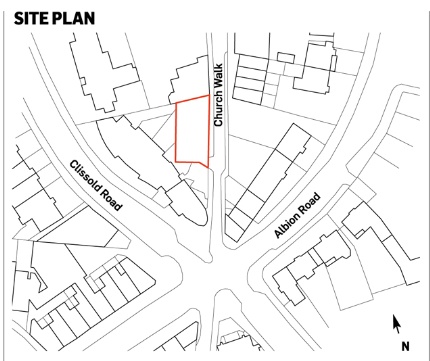 In a period when the social housing that has always formed the bulk of RHMA's workload has proved thin on the ground, they acknowledge that this excursion into property development has offered a timely means of redirecting their energies.
They discovered the site just 10 days before it was due to be auctioned: an overgrown yard that had once housed a door-dipping business but had lain disused for many years. There was planning permission in place for couple of houses and a bungalow of no architectural distinction, but Riches and Mikhail's initial sketches persuaded them that a more substantial development might reasonably be proposed. They secured the site and began to develop a scheme — at first with no intention of taking up residence themselves. "We were determined not to be precious about making any architectural statement," Mikhail says, "but our aspirations changed and we now find ourselves wanting to live in all of the houses, one after the other."

The primary challenges related to issues of overlooking and rights to light. The back of the plot is edged by the gardens of the houses on Clissold Road, a street that runs at a pronounced angle to Church Walk. While at the north end of Riches and Mikhail's plot the nearest garden facade lies a comfortable distance away, at the south the gap stands at just over two metres. Fortunately, there was a lean-to shed sited at this end of the yard, establishing a precedent for at least a single storey of development.
The architects duly developed a scheme that stepped up in three increments from one storey at the south end to four at the north. This allowed for the creation of one house over two storeys, another over three and finally a three-storey apartment with a garden flat below. A year of discussions with Hackney Council ensued, but in the face of vocal opposition from certain neighbours, their planning application was ultimately rejected.
Riches and Mikhail looked at the scheme again, but this time with close reference to the BRE daylighting guidelines. The more complex project that resulted actually accommodates a greater volume than its predecessor, but Hackney was persuaded by the more rigorous design method and finally granted planning permission in 2008.
This history accounts for the scheme's defining motif in plan: the orientation of each dwelling's garden facade at 45 degrees to the dominant geometry. Redirecting internal views away from the houses on Clissold Road, the gesture makes for some highly particular living spaces. Externally, it results in a contrast between front and back that is emphasised further by a change of materials. The street facade is predominantly in a blonde Dutch brick — the same one employed in Cambridge's Accordia development, although here laid with a flush lime mortar. The rear is in white oiled Siberian larch, the boards laid vertically and presenting a corduroy-like profile. At roof level, the timber treatment wraps over to put in an appearance on the street in the form of three pavilion-like bedrooms, each giving onto a terrace.
A third material in plentiful evidence is the bronze anodised expanded aluminium mesh that has been employed both for the balustrades of the roof terraces and for the gates that can be drawn across each entrance. Together, the brick, timber and aluminium present a lightness and reflectivity that tactfully address the neighbours' sensitivity about the emergence of a substantial building at the bottom of their gardens.
The unregimented siting of windows and doors on the street facade stands in pointed contrast to the accumulation of repeated forms — the rooftop bedrooms, the balustrades that enclose their terraces, the large triangular skylights that light the living spaces — that we see as we approach the building up Church Walk. There is a powerful sense that the building's primary address is not so much to the street as down it.
Each residence is dominated by a sensational open-plan kitchen, living and dining space. The architects have clearly enjoyed dispensing with some of the more dogmatic requirements that they have to contend with when designing social housing. They express particular frustration with the London Housing Design Guide's requirement that ceiling heights be set at a minimum of 2.5m. In places, the living areas at Church Walk have floor-to-ceiling heights of just 2.1m, but immediately alongside they rise to double that figure.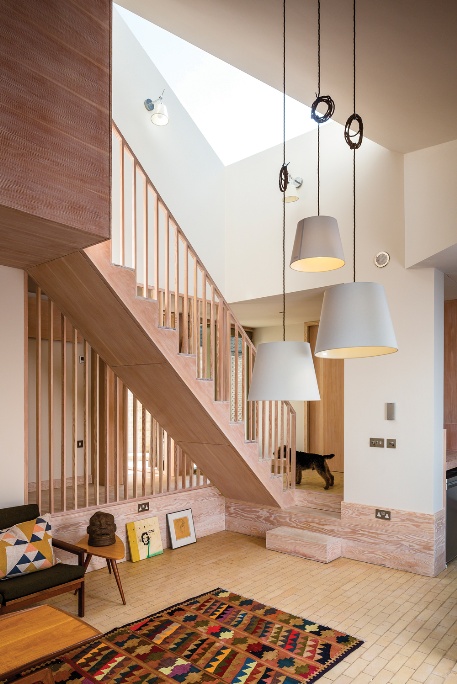 Source: © Tim Crocker
Riches and Mikhail argue that the LHDG could allow for more sophisticated responses from architects if it stipulated a minimum average floor-to-ceiling height rather than a fixed figure, and these dramatic spaces support that case strongly.
While the scheme's plan and section are imbued with a vividly serial quality, and a common pallet of white-painted walls and Douglas fir joinery has been employed throughout, the four dwellings prove highly individual.
All have their attractions. The southernmost house is entered by way of a pocket-handkerchief courtyard which gives onto an unusually expansive living space. The middle one has a particularly terrific ground floor bedroom, which communicates with the garden and comes complete with a bath parked under one of the triangular skylights. The three-storey apartment at the north end — where Riches and Mikhail have taken up residence — is blessed with a second roof terrace and the best views.
The evident intensity with which the architects have explored the spatial opportunities offered by each dwelling is hugely impressive — a testament, in part, to the project's six-year gestation. There certainly aren't many property developers who would strike quite this balance between the generic and the bespoke, but Riches and Mikhail appear comfortable that the time they have invested is well represented in the value of the properties and the rental income they are now providing. In fact, they have enjoyed the process so much that they have already begun scouting around for another plot to develop.
At a time when many practices working in the housing sector continue to struggle, their entrepreneurialism offers a model worthy of close attention.
PROJECT TEAM
Architects David Mikhail & Annalie Riches, Peter Chiu, Henri Bredenkamp
Contractor Eurobuild
Groundwork contractor Jesmor Construction
Structural engineers BTA
Building control PG Surveyors
Planning consultant Howard Sharp & Partners
Postscript:
Pictures by Tim Crocker