BRE's Victorian Terrace Retrofit project
PRP Architects' refurbished stable block will be used to demonstrate how sustainable building and insulation products can be used for upgrading the UK's existing housing stock
The Building Research Establishment's £4.5 million Victorian Terrace Retrofit project involves the upgrading of a former stable block built, together with Bucknalls House, in 1855 for Henry Creed, a professional soldier.
Located near the BRE's Innovation Park in Watford, the brick buildings with a clock tower above have been used by the organisation mainly for offices and storage since 1925 when it moved to the site. More recently the buildings had been largely neglected until 2006 when the BRE decided to use them to demonstrate the use of sustainable building products.
In 2007 planning permission was granted for a scheme designed by PRP Architects to refurbish the buildings and add a new exhibition space, providing three energy-efficient demonstration homes that would show the construction industry how it can contribute to the government's 2050 target of 80% CO2 reduction.
Some 20 different insulation products will be used throughout the three buildings, ranging from polyurethane foam to aerogel – each product chosen by virtue of its thermal efficiency and cost. Insulation products installed in the Victorian Terrace project will gradually be removed to make way for new insulation products coming onto the market.
The aim is to identify the improvements needed to take a property from a low Energy Performance Certificate rating, say G or F to a high level of A or B. The UK's existing housing stock currently achieves an average rating of D/E, with more than 5 million homes managing only F/G.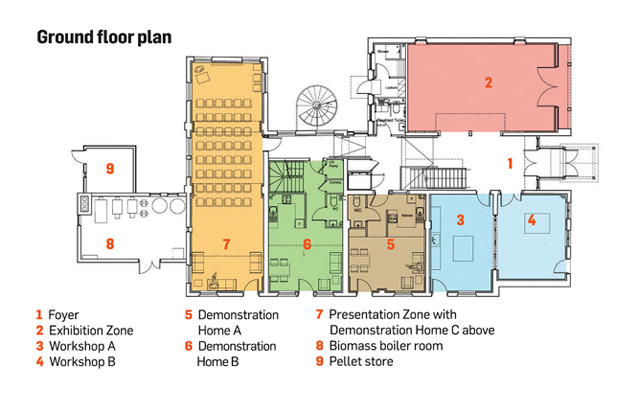 Demonstration Home A, the 30sq m Climate Change Zone, will provide a ground-floor studio flat that addresses issues such as flooding, overheating and water resources.
Demonstration Home B, the 93sq m Assisted Living Technology Zone, will comprise a two-storey, one-bedroom unit to demonstrate 21st century retrofit solutions that can be offered to an ageing population in need of care.
Demonstration Home C, the 70sq m Innovative Solution Zone, will be a two-bedroom flat on the first floor and will provide sustainable solutions for upgrading the UK housing stock. A Presentation Zone will be situated on the ground floor of Home C.
Work began on the buildings in 2008, stalled during the recession, but began again in earnest in January when funding was granted by the department of Energy &
Climate Change under the Low Carbon Investment Fund. Further phases, which are largely dependent on funding, will provide an entrance and lobby area and a new-build Exhibition Zone.
Innovative insulation products used by the BRE
WALLTITE INSULATION
What is it: Sprayed polyurethane foam that has been in use as an insulation material for internal roofs, walls, and floors for nearly 30 years.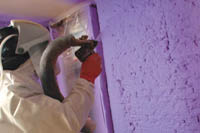 Where is it used in the BRE project: Walltite insulation has been used on one wall in the ground-floor Presentation Zone in Home C of the Terrace Retrofit project. It was applied on very rough brickwork at a thickness of 100mm. A frame was fixed on to this, followed by plasterboard. It is calculated that the U-value for the 100mm-thick insulation layer will be 0.24W/msqK.
How is it applied:The purple foam can be applied to any surface, with no preparation required, and it takes only minutes to apply a 25mm-thick layer. Each layer takes about 10 minutes to expand and cure before the next can be applied. Through repeated layering, a total thickness of 200mm can be achieved.
By virtually eliminating air leakage with its closed structure, Walltite helps control the movement of vapour and moisture throughout the building, reducing the risk of condensation and mould.
The spray foam also adapts to the shape of the substrate and can easily insulate difficult areas such as profiled and curved roofs. The spray foam arrives on site in liquid form which is pumped through a machine. Its two components are the resins and the hardener, which mix together in the spray gun to give off heat and produce the foam.
www.walltite.basf.co.uk
SPACELINE AEROGEL BLANKET
What is it: Used by Nasa for the thermal insulation of spacesuits and the Mars rover, Aerogel has the lowest bulk density of any known porous solid. It is derived from a gel in which the liquid component is replaced with a gas. The result is an extremely low-density solid with remarkable properties, most notably its effectiveness as a thermal insulator.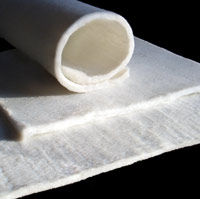 Where is it used in the BRE project: Demonstration Home C, the first-floor flat, had 80mm-thick Spaceline specified for its walls in order to achieve a U-value of 0.16W/msqK. Several layers were used to achieve the desired thickness and the rolls had to be cut using a hot knife and glued together.
How is it applied: Given its excellent thermal properties, it's not surprising that the product has been exploited by the insulation industry for use in buildings.
Spaceline is a flexible, nanoporous aerogel blanket insulation that arrives in 1.5m-wide rolls and in thicknesses of 5mm or 10mm.
It is made by Aspen Aerogel in Massachusetts, and has been distributed in the UK by Springvale since early this year. Spaceline combines a silica aerogel with reinforcing fibres to deliver thermal performance and has extremely low thermal conductivity, flexibility and compression resistance.
The downside of Spaceline is that it's very expensive. But if space in a refurbishment project is an issue and a very thin insulation is required, then it may be the solution.
www.springvale.com
PLATINUM WARMSQUEEZ PITCHED ROOF INSULATION
What is it: Platinum Warmsqueez is expanded polystyrene that compresses and expands into position between the rafters and trusses to become self-retaining.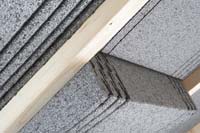 Where is it used in the BRE project: The product has been installed in the roofspace to Demonstration Home C, at a thickness of 60mm, used with 135mm-thick Platinum expanded polystyrene board. It is calculated that the U-value for the 195mm-thick insulation layer will be 0.16W/msqK.
How is it applied: Warmsqueez is ideal for refurbishment projects, which may mean it becomes a more popular choice as more of the UK's existing housing stock is made more energy efficient.
Warmsqueez is available in 1,200mm lengths at three standard widths – 375mm, 425mm and 575mm – and a range of thicknesses from 75mm to 225mm.
www.springvale.com
Project team
Architect: PRP Architects; Client & technical adviser: BRE; Key funders: BRE Trust, Department of Energy & Climate Change, Department of Communities & Local Government, East of England Development Agency, Housing Market Renewal Pathfinders; Lead partners: Wates, BASF, St Gobain, CRH. Du Pont, Marks & Spencer and EDF Energy; Structural engineer: Mason Navarro Pledge; Electrical & mechanical engineer: Dodd Group