Book Club Review: Living Architectures: Koolhaas Houselife
Living Architectures: Koolhaas Houselife
By Ila Bêka and Louise Lemoine
Living Architectures
140pp plus dvd; €35.00
Housekeeper Guadalupe gives a sharp assessment of Rem Koolhaas' Maison Bordeaux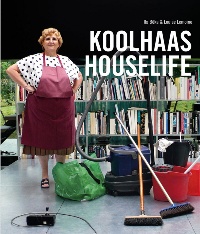 "He seems to be nice…but he's got big ears like this," gesticulates Guadalupe, "Huge antennas!," she confirms. Our guide and protagonist, not unlike a character by Sylvain Chomet gives a sharp assessment of Rem Koolhaas, reasoning that his substantial auricles are necessary to oversee staff and run a successful practice. Guadalupe is the housekeeper or perhaps guardian of Maison Bordeaux, an 'architectural landmark' produced by OMA and subject of the first edition of Living Architectures by Ila Bêkaand Louise Lemoine.
Guadalupe, who shuffles through this architectural icon, perched on the edge of Bordeaux, reveals her creative interventions that keep the house. The reality of living in a High-Tech sculpture requires a series of low-tech actions to by-pass 'issues' of weathering and temperamental technology.
The film, part of a series exploring the 'invisible bubble of daily intimacy', is cut into a procession of 'moments' that represent the character of the building.  The practicalities of its elements are revealed, from the cleaning of windows, to negotiating the narrow stairs laden with cleaning paraphernalia.  Moving through the spaces, considering which surface requires attention, Guadalupe is left largely to comment where and when she sees fit, prompted occasionally by the filmmaker to expand when there is a hint of an anecdote about the building, its function or occupants' experience.
The edit of the film is loose, structured around the 'happenings' of a week on site. It feels, at times, a little short on action, as Guadalupe is tailed from space to space. Memorable sequences are the explanation of the 'joystick', Guadalupe's recommendation on how to tackle a slope and not get tired and a 2001: A space odyssey style sequence as the house comes to life in 'Automata'. 
"Coincidentally?" enquires Koolhaas during his interview; the filmmaker is also on site when a team of 'positive investigators' poke around for the source of water ingress, almost drowning a television in the process. 
The premise of read the book first; watch the film second, should not be practiced in this instance. The publication is an accompaniment; a diary, elaborate packaging even. Although insightful, it is let down by errors in English translation and generic graphics. The photographs however, are excellent, providing a further layer of detail to the buildings narrative.
A real treat, concealed within the DVD, is a number of 'fragments' taken from the entire series of films, a sweetener that entices and leaves you wanting more.
In summary, the package is a welcome edition to architectural pedagogy and makes good light entertainment as a gift, that's worth sharing. There is the suspicion however, that it would clutter the coffee table and perhaps find solace in the towering bookcase of Maison Bordeaux.
Postscript:
David Fletcher works at Factory Architecture