RIBA publishes bim overlay for Plan of Work
The RIBA has published its bim overlay for the Plan of Work.
The document, edited by Dale Sinclair, vice chair of the RIBA practice and profession committee, intends to provide guidance to help architects design and manage construction projects using bim.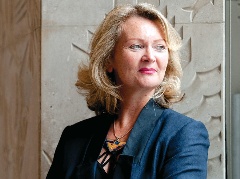 It, together with the green overlay, will form the basis of the first changes to the Plan of Work in 50 years.
Angela Brady, RIBA president, said: "The RIBA is committed to ensuring its members are able to adapt to working in a bim environment. This new publication cuts though the confusion and anxiety surrounding bim and offers our members best practice principles to enable them to get the best out of the opportunities it offers for their business." 
The news comes just days after a BD survey revealed that the majority of architects believe the RIBA is not providing enough guidance on the adoption of bim.