Open source tool makes bim easier to use
A text-based model means data can be exchanged and retained for a building's lifetime
One of the greatest obstructions in the development of a truly collaborative bim work-flow is data sharing and software inter-operability. Perhaps this is why when architects, contractors, clients and software vendors came together at last month's Bim Show Live in London the acronym that was inescapable was IFC.
So, what is it? Industry Foundation Classes is an open and neutral data model designed to describe building and construction industry data. Crucially, the data is stored as text so is readily accessible, unlike with most proprietary file formats.
IFC data created during projects will be readable for the foreseeable lifetime of a building. Even if, as is likely, the original software that created the data is unavailable, an interpreter could be written to access and display the data.
Will Hackney of Vinci Construction UK describes IFC as a vast resource: "It can contain enormous amounts of data but most applications cannot fully tap into this yet."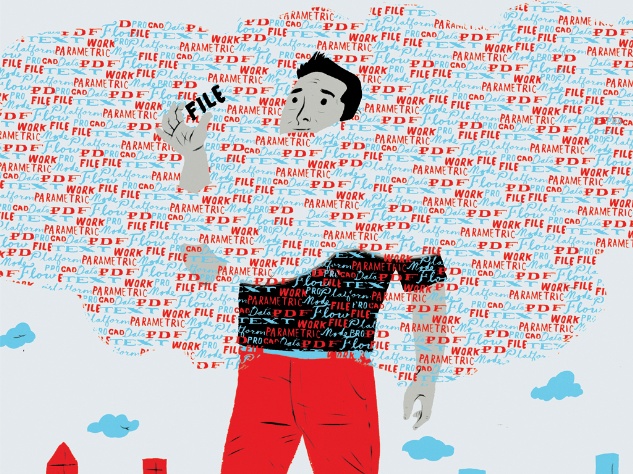 Source: Paul Blow
Alan Baikie of Graphisoft goes further: "IFC is a common language. If IFC doesn't work for you the chances are that your vendor doesn't want it to work for you."
The IFC protocols are developed and published by Building-Smart, formerly the International Alliance for Interoperability (IAI), which emerged in 1994 from a consortium of cad vendors that included Autodesk, Bentley, Graphisoft and several others.
Around the turn of the century IFC was regarded by many as too incomplete and slow to develop to be of practical use. It has since become widely accepted as the de facto platform-independent standard for exchanging construction geometry and metadata — particularly in Scandinavia where IFC data is a required deliverable for many projects.
So how do you produce or use IFC data? Most bim applications have IFC capabilities — some have had it for many years. Archicad and Bentley's Triforma (now Aecosim Building Designer) were early adopters in the late nineties.
Pick your application
AutoCAD Architecture and Revit both have IFC capabilities. Additionally from Bentley, the latest updates to Microstation/Powerdraft can now read and import IFC files into conventional cad. Non-cad people can easily get at IFC if they have Adobe Acrobat Pro Extended. Acrobat will convert IFC files to PDFs, which can then be opened by anyone with Adobe Reader.
Alongside these well-known applications, Tekla and Solibri produce a range of tools for working with IFC. Solibri's Model Viewer and Model Optimizer are useful free tools, particularly if questions arise regarding the validity of IFC data. If it looks right in Model Viewer but not in another application, the most likely source of the problem is that application's IFC implementation.
Solibri also produces the (paid for) Model Checker application, which could be appropriate for people heavily involved with co-ordinating IFC data. Tekla's Bimsight is another free IFC-friendly viewer that complements its structural applications.
How IFC works
Developed from earlier Step formats and rooted in industry neutral ISO standards, IFC files are Ascii text-based so IFC data is not locked into a binary file format.
The text contained in the IFC file describes, line by line, the objects contained within the design, the relation-ships between them and their properties. Objects that might be geometrically simple can carry an extensive range of non-visual properties, generally known as metadata. This is important for designers to understand. While a picture may say a thousand words, a simpler picture with attached metadata may have — perhaps not a thousand — but many uses.
Regular updates — The IFC standard is updated roughly every three years, based around an unchanged core specification to which updates are added. This gives a stable platform, providing longevity and easing the upgrading of software vendors' IFC implementations. The current version is IFC2x3. IFC2x4 is in the pipeline.
Ability to share data — Exchanging relatively simple cad data that contains little more than geometry can still be a frustrating and time-consuming experience. In a bim environment where the quantity and types of data involved multiply in extent and value, the ability to share data is critical. How well IFC is implemented by software vendors is the key to its utility for the industry.
Some limitations — IFC does have limitations. It is a lowest-common-denominator format. Within a bim application parametric tools may create and control certain elements. Export to IFC will record the results of that parametric process but not the parameters or methods used to create them. Reimporting from such an IFC file will return the geometry and its metadata as static elements, so full "round tripping" is not possible.