Author urges architects to reconsider Libya work
Hisham Matar says profession is being used as part of a 'PR facelift'
British architects working in Libya have been warned to think "more than twice" about doing so by the son of a prominent dissident who vanished 20 years ago.
London-based author Hisham Matar, who trained as an architect and was shortlisted for the Man Booker Prize in 2006 for In the Country of Men, told BD he fears the profession is being used as part of a vast "PR facelift" for the Libyan regime.
Matar has won support from figures including Archbishop Desmond Tutu in his campaign for information on the whereabouts of his father Jaballa, missing since being seized in Egypt in 1990 and transferred to Tripoli by Colonel Gaddafi's agents.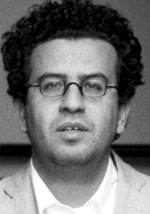 He pointed out that despite tentative improvements in human rights, a report by Amnesty International this summer found the situation remained "dire" with torture and ill-treatment taking place in almost total impunity.
"There is a long and honourable tradition of architects being politically engaged," he said. "Buildings are not just structures; they are palaces of the soul, influencing how we think and speak.
"Any person who cares about justice and human rights needs to seriously consider going into business with the Libyan regime.
"What disturbs me is the vision of progress being projected. The idea is that if you have swanky hotels, the latest cars or mobile phones, that is somehow progress. Nothing is said about securing freedom of the press or the independence of the courts."
Peter Clegg, senior partner at Feilden Clegg Bradley Studios which is working on two sustainable design guides for the Libyan government, said he was sympathetic to Matar but felt his practice was doing more good than harm.
"There has been a lot of debate on whether to take this work on," he said. "I have been a supporter of Amnesty International for more than 20 years. We can have a positive influence in Libya."
Edward Cullinan Architects is working on similar projects. Senior director Roddy Langmuir said: "Sustainable development is being taken seriously by our clients. We have turned down offers of work in other places where 'democratic' regimes are intent on celebrating conspicuous wealth at great cost to the environment.
"What we are doing will improve the place and the lives of people in this region."
Other British architects working in Libya
Camillin Denny Architects was one of the earliest practices to get into Libya and has a 100ha resort and three other masterplans.
LCE Architects has been working in Libya since 2002, designing schools and two faculties for Al Fateh University, Tripoli: for economics and dental and technical medicine.
BFLS is also working at Al Fateh, Libya's largest academic institution. It has designed a library and auditorium.
Dexter Moren Associates is due to start its £100 million luxury resort on the Libyan coast later this year.
Woods Bagot is designing a mixed-use scheme in Misurata on the north-west coast.
BDP is working on 10 university schemes.
A Studio Architecture worked on a media city and opera house in Tripoli which won a Future Projects prize at Mipim 2008. It was due to open in time for Gaddafi's 40th anniversary this year but has stalled for financial reasons.