Ian Nairn: Words in Place by Gillian Darley and David McKie
Ian Nairn: Words in Place
By Gillian Darley and David McKie
Five Leaves Publications
£10.99, 162pp
5/5 Stars
Thirty years after his death, a new study explores Ian Nairn's life and work
It is 30 years since Ian Nairn met an alcohol-inflicted death at the age of 52, and much of his output remains out of print. However, in recent months the architecture critic has himself become the subject of a flurry of critical interest.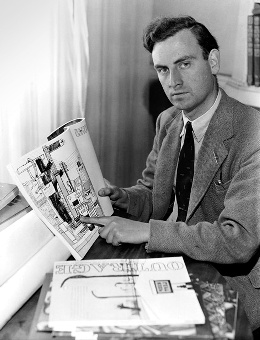 In September, the Barbican hosted a screening of some of Nairn's work for television and plans are being developed to bring out a new edition of his most celebrated book, Nairn's London. This week also sees the publication of a survey of his life and work, Ian Nairn: Words in Place, edited by BD columnist Gillian Darley and former Guardian deputy editor David McKie.
The authors describe Nairn as "an architectural critic with no architectural qualifications whatever; a scourge of planners who had never himself been called on to plan. But he saw what the experts didn't, and warned, raging at times like some 20th century Savonarola, about what would happen unless these experts mended their ways.
"He wrote, and talked on television, about places, and what people were doing to places, in a way that transcended categories."
Their initial working title – Nairnscape: the landscape of the built environment, as seen by Ian Nairn – reflects his essential message: you, the viewer, must engage. If what you see doesn't offend you, that's good; if it does offend, even shock, then react: act, do something about it.
The book includes contributions from a raft of writers who attest to the influence that Nairn's work has had on their own ways of looking and talking about the built environment. Here we
publish a selection.
ANDREW SAINT
'Nairn's London is a book with heroes and villains – sometimes barmily so'
Nairn's London is not about bricks and mortar but about the ways in which buildings, places and flesh-and-blood human beings shape and impose upon one another.
His commonest complaint (and a fair one, as English architects are seldom much use with emotion) is not that a building is ugly or incompetent but that it is heartless. It is also a book with heroes and villains, sometimes barmily so. By a perfervid feat of the imagination, for instance, he turns the tower of St Anne, Soho, into a symbol of the surrounding loucheness: "the louvres and obscene, bulgy columns hiding God knows what perversions in the belfry. Pure, too, in the sense that a person can be pure evil."
As for heroes, there is really just one: John Nash. Nash comes up page after page in the main for his spirit – bold, cunning, improvisational and, somehow, subversive.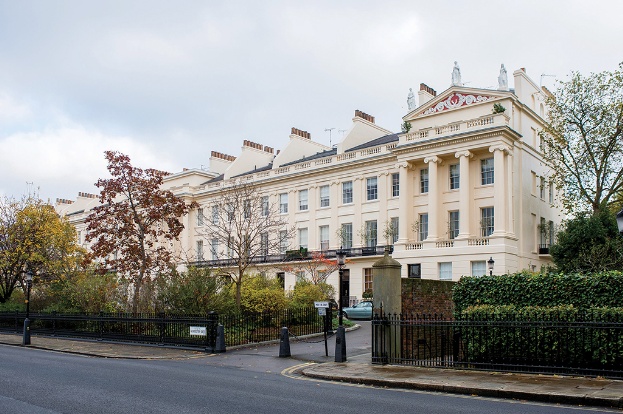 Source: Edward Tyler
For Nairn this becomes a standard for quarters of London well beyond Nash's remit. Belgravia and Pimlico are "never shoddy, never unbearable; but never a real spark either. What in Nash was a complete philosophy of design had become a good builder's responsibility for his job, and it was not enough."
Here stands a neat definition of the distance between architecture and building.
Andrew Saint is general editor of the Survey of London
OWEN HATHERLEY
'He is a sort of patron saint of writers who don't have architectural training'
In the histories written by "the profession", as it sometimes refers to itself, Nairn merits little more than a half-paragraph or less: usually on Outrage, usually as part of a consideration of the magazines of the 1950s and 1960s.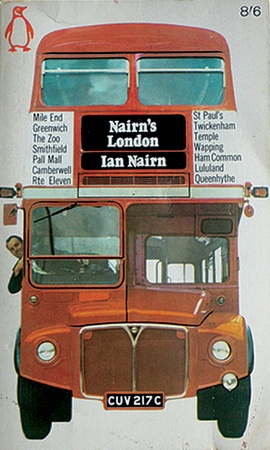 Even architects who otherwise try to avoid the orthodoxies of The Profession as much as possible manage to stay ignorant of him: I was amazed once to find that none of London "radical postmodernists" FAT, seemingly so congenial to his approach, had read Nairn until encountering non-architects writing about him on blogs.
Accordingly, Nairn is some sort of patron saint of architecture writers who do not have architectural training, or training as architectural or art historians — the autodidact's autodidact.
I started reading Nairn long before I'd encountered any of the writers more central to the story of British modernism, before Banham, Rowe, Frampton, Colquhoun et al, partly because an article in a magazine on Nairn's London made it sound exciting. It was essentially my introduction to architectural writing of any kind, Pevsner aside.
Nairn has always been a reference for what I've written. My own writings are liberally stuffed with (sometimes unattributed) quotes and references to Nairn's London or Britain's Changing Towns, little acknowledgements aimed at those who will spot them, none of them architects.
I'm not the only non-professional to have felt intensely drawn to Nairn's way of writing architecture – as a sensual, individual thing, embedded in specific places, historically grounded and erudite, aiming to convey the experience of a building, its corporeal quality, what makes it part of a particular town and city. Why are architects much less inclined?
Owen Hatherley is a BD columnist and author of A Guide to the New Ruins of Great Britain
GAVIN STAMP
'Along with Betjeman and Pevsner, it was the book which opened my eyes'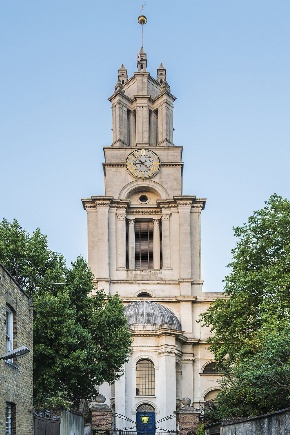 Source: Shutterstock
I still have the copy of Nairn's London that I bought for 8/6d at, of all places, the Elephant & Castle in 1966 – the year it was published as a Penguin paperback – when I was still, just, a schoolboy. Along with Betjeman's First and Last Loves and Pevsner's London Except…, it was the book which opened my eyes to architecture and to the delights London had to offer.
Nairn took me to see the sublime churches of Hawksmoor and the austere red brick basilicas by Brooks in excitingly dodgy parts of the capital, as well as to strange (and now long deceased) urban places and experiences, like Sun Street Passage and the industrial landscape behind St Pancras station. Soon after I encountered Nairn again as the co-author of Pevsner's Surrey and enjoyed his idiosyncratic descriptions.
A few years later I encountered Outrage in a second-hand bookshop and delighted in the recognition that Nairn was able to articulate the feelings I also had about the Things in Fields and other disturbing crimes in the environment. For part of the greatness of Nairn is that, for him, pure architecture was not enough: what mattered were places, and life.
Gavin Stamp is a British writer and architectural historian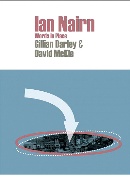 BD Reader offer
BD readers can buy a copy of Ian Nairn: Words in Place for £8.99 including P&P. Telephone 0115 837 3097 between 10am and 5.30pm to place your order.