Aquatics Centre wins approval of Olympics spectators
Research at three Games venues finds high approval ratings among visitors
Zaha Hadid's Aquatics Centre was a huge hit with Olympic Games spectators, according to research by the University of Westminster.
A survey of Olympic spectators found 95% of visitors to the Aquatics Centre were satisfied with their experience, while 85% thought the venue captured the "true spirit" of the Olympics.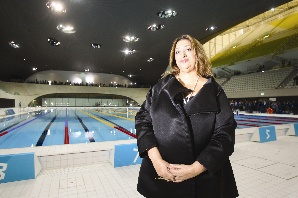 Researchers from Westminster and the University of South Australia questioned spectators about their experiences at three venues – the Aquatics Centre, Greenwich Park and Wimbledon.
Ninety-two percent of Greenwick Park visitors said they were satisfied with their experience while 88% were satisfied at Wimbledon.
The three venues also gained the approval of international visitors, with 85% of those surveyed saying the events could not have been staged at better venues.
Andrew Smith, city tourism lecturer at the University of Westminster, said: "Our preliminary analysis suggests positive outcomes for London 2012 organisers. Those attending the events were very satisfied with their experiences and impressed with the venues."
But he added: "We should remember that these results were derived from research undertaken in the positive afterglow of an event."