RIBA award winners nearly halved
Institute re-evaluates entry system to eliminate 'soft' awards as Stirling Prize longlist is cut from 97 to 59
The RIBA will hand out almost half the number of RIBA Awards this year, admitting that it had been too soft judging entries in the past.
A total of 59 buildings, including nine in Europe, are named on the 2012 Stirling Prize longlist, compared to 97 last year.
Tony Chapman, RIBA head of awards, said: "We felt our RIBA Award was not worth as much as it once was, so we re-evaluated that."
He said awards were given to borderline cases meaning there were "a number of 'soft' RIBA Awards".
This year was the first time practices could enter projects for the RIBA Awards and the RIBA Regional Awards simultaneously. This has resulted in 739 entries, approximately 100 more entries compared to last year.
 "Having created the one-point entry system we could look at the value of an RIBA Award and we saw that it has decreased by 50% over the last 10 years," said Chapman. "We felt it was important to maintain a standard."
The most named practice on this year's awards list is Stanton Williams, BD's 2011 Architect of the Year, gaining three awards for the Sainsbury Laboratory at the University of Cambridge, the Hackney Marshes Centre in east London and the new Central Saint Martins campus at King's Cross.
David Chipperfield received two awards for the Hepworth Wakefield and the Turner Contemporary in Margate, while Dixon Jones was lauded for its Exhibition Road project. Newcastle-based Xsite Architecture won an award for its work on the Toffee Factory.
Jonathan Hendry, last year's YAYA winner, won an award for the Caistor Arts and Heritage Centre in Lincolnshire.
RIBA president Angela Brady said: "The judges were delighted to see so many well considered, crafted and innovative projects, and the use of beautiful materials; these projects are truly exciting and inspiring."
Maggie's Centres once again featured among the winners, including OMA's in Gartnavel, Glasgow, and Kisho Kurokawa's in Swansea.
The 2012 Olympic Stadium, designed by Populous, and Glenn Howell's housing scheme in Swindon for Kevin McCloud also made the cut.
European winners included Robin Lee Architecture's Wexford County Council Headquarters and Rogers Stirk Harbour and Partners Las Arenas in Barcelona.
The 50 UK RIBA Award winners:
SCOTLAND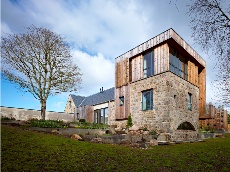 Source: Andrew Lee
Bogbain Mill, Maryburgh by Rural Design
Dundee Council Civic Office, Dundee, Dundee by Reiach and Hall Architects
Scottish National Portrait Gallery, Edinburgh by Page/Park Architects
NORTHERN IRELAND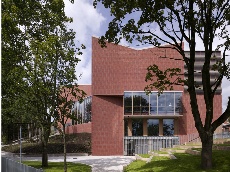 Glenriffe House, Glens of Antrim by McGarry-Moon Architects
Public Records Office of Northern Ireland, Belfast by Todd Architects
Rear Extension to 109 Osborne Park, Belfast by ard (ciaran mackel) Architects
NORTH EAST
Source: Jill Tate
Roseberry Park, Middlesbrough by Medical Architecture
Toffee Factory, Newcastle upon Tyne by xsite architecture
Regional Award winners
Institute of Transplantation, Newcastle by Ryder Architecture
The Theatre Royal, Newcastle by Sansome Hall Architects Ltd
West Oak Farm, Northumberland by Spence and Dower LLP
Sleeperz Newcastle, Newcastle by Clash Associates Ltd
NORTH WEST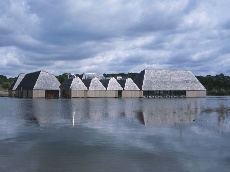 Source: Ioana Marinescu
North House, Bowden by Roger Stephenson Architects
Regional Award winners
9 Devonshire Road, Chorlton by Ollier Smurthwaite Architects
Rigg Beck, Cumbria by Knox Bhavan
The Moat House, Cheshire by Buttress Fuller Alsop Williams
Vaugh Steil, Penrith by O'Neil Associates
Richard Rose Morton Academy, Carlisle by BDP
YORKSHIRE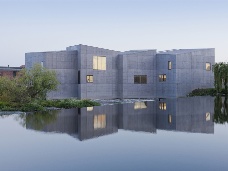 Source: © Iwan Baan
Kirk Balk Community College, Barnsley by Allford Hall Monaghan Morris
Saxton, Leeds by Union North
Regional Award winners
Ad++ House, York by Coffey Architects Ltd.
Cliffe Hill Primary School, Halifax by Aedas Architects Ltd
M&S Simply Foods, Cookstown by Lewis and Hickey
The Horsefield House, Yorkshire by Prue Chiles Architects
WALES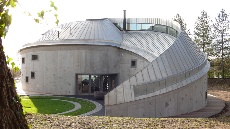 Royal Welsh College of Music & Drama, Cardiff by BFLS
Regional Award winners
Beacon Heating, Pembrokeshire by Rural Office for Architecture
Carreg a Gwydr, Monmouthshire by Hall + Bednarczyk Architects
WEST MIDLANDS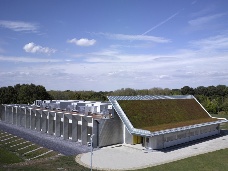 Source: Edmund Sumner/BFI
BFI Master Film Store, Warwickshire by Edward Cullinan Architects
Regional Award winners
Coventry University The Hub, Coventry by Hawkins\Brown
Queen Elizabeth Hospital Birmingham, Birmingham by Building Design Partnership Limited
Severn Trent Water Regional Office, Coventry by Glenn Howells Architects
The Cube, Birmingham by Make Limited
Wyre Forest Crematorium, Worcestershire by Howl Associates
Bushbury Hill Primary School, Wolverhampton by Architype
EAST MIDLANDS
Easton Neston Estate, Northamptonshire by Ptolemy Dean Architects
Loughborough Design School, Loughborough by Burwell Deakins Architects
Regional Award winners
Catmose Campus, Oakham by Ellis Miller LLP
Engineering and Science Learning Centre, Nottingham by Hopkins Architects
Maggie's Nottingham, Nottingham by CZWG
Uppingham School Sports Centre, Rutland by ORMS Architecture Design
Victoria Leisure Centre, Nottingham by Levitate
EAST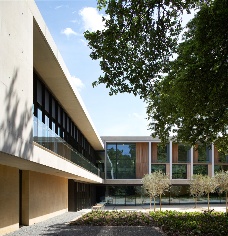 Source: © Hufton and Crow
Brentwood School Sixth Form Centre & Assembly Hall, Essex by Cottrell & Vermeulen Architecture
Royal Veterinary College Student Village, Hatfield by Hawkins\Brown
Regional Award winners
Lee Valley White Water Centre, Essex by Faulknerbrown Architects
Emmanuel College Library, Cambridge by Kilburn Nightingale Architects
Feeringbury Farm Barn, Essex by Hudson Architects
Madingley Road, Cambridge by Mole Architects
Royal Opera House, Bob and Tamar Manoukian Production Workshop, Essex by Nicholas Hare Architects LLP
SOUTH WEST & WESSEX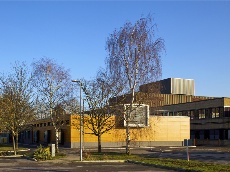 Source: Craig Auckland/Fotohaus
Private House, Gloucestershire by Found Associates
The Dyson Centre for Neonatal Care, Bath by Feilden Clegg Bradley Studios
The Triangle, Swindon by Glenn Howells Architects
Regional Award winners
Colston's Girls' School, Bristol by Walters and Cohen
King's College Library, Somerset by Mitchell Taylor Workshop
Sherborne Music School, Dorset by ORMS Architecture Design
The Seagull & The Windbreak, Bournemouth by a:b:i:r architects
Two Passive Solar Gain Houses, Cornwall by Simon Condor Associates
Tyntesfield House, Bristol by Rodney Melville and Partners
SOUTH
Source: Marcus Dawes
The Shulman Auditorium, Oxford by Berman Guedes Stretton
Regional Award winners
Brighton Aldridge Community Academy, Brighton by Feilden Clegg Bradley Studios LLP
Douai Abbey Monastery and Library, Berkshire by David Richmond and Partners
Egypt Galleries, Ashmolean Museum, Oxford by Rick Mather Architects
Endeavour Primary School, Hampshire by Hampshire County Council
Forest Park Primary School, Hampshire by Hampshire County Council
Fort Nelson, Portsmouth by Pringle Richards Sharratt Architects
G-Live Performing Arts Centre, Guildford by Austin-Smith:Lord
Old San Juan, Gerrards Cross by Corrigan + Soundy + Kilaiditi Architects
Pond Cottage, Aylesbury Vale by Chris Bannister and Barbara Dunsire
Rocksalt Restaurant, Folkestone by Guy Hollaway Architects
Skidelsky Building, Brighton by Kirkland Fraser Moor
The Long House, Winchester, Dan Brill Architects
The Marquis Hotel & Restaurant, Dover by Guy Hollaway Architects
The Pooley House, Chichester by John Pardey Architects
Toot Rise, Rye by Nick Evans Architects
Watts Gallery, Guildford by ZMMA
Hill Top House, Oxford by Adrian James Architects
Maidstone Museum East Wing, Kent by Hugh Broughton Architects
Old Bearhurst, East Sussex by Duggan Morris Architects
Simon Smith Building, Brighton by Allies and Morrison
Lighthouse 65, Hill Head by AR Design Studio Ltd
Bishops Close by Gregory Phillips Architects
Hill House by Hampson Williams Architects
Merrow by Guy Stansfeld Architects Limited
SOUTH EAST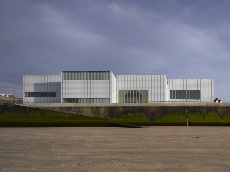 Source: Richard Bryant
Regional Award winners
The Marlowe Theatre, Canterbury by Keith Williams Architects
LONDON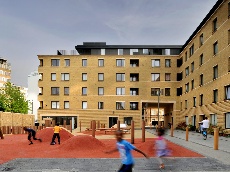 Source: Philip Vile
14 St George Street & 50 New Bond Street, London W1S by Eric Parry Architects
Dalling Road, London by Hayhurst and Co. in collaboration with Lucy Carmichael
The St. Paul's Centre at St. Paul's Church, Hammersmith, London W6 by Richard Griffiths Architects
The Hurlingham Club, Outdoor Pool, London SW6 by David Morley Architects
Kings Grove, London SE15 by Duggan Morris Architects
White Cube, Bermondsey, London SE1 by Casper Mueller Kneer Architects
Hackney Marshes Centre, London E9 by Stanton Williams
New Court, London EC4N by OMA with Allies and Morrison
Regional Award winners
Painted House. London NW11 by Jonathan Woolf Architects
Bow Riverside, East London by Adams & Sutherland
Mint Hotel Tower of London, London EC3N by Bennetts Associates Architects
St Pauls Cathedral, London by Martin Stancliffe Architects
Tea Building, London E1 by Allford Hall Monaghan Morris
The Dellow Day Centre, London E1 by Featherstone young
Bermondsey Island, London SE1 by Urban Salon
Crown Woods College, Eltham SE9 by Nicholas Hare Architects LLP
National Maritime Museum - Sammy Ofer Wing, London SE10 by Purcell Miller Tritton LLP
St. Christopher's the Hall School, Reception Block, London BR3 by RALA
Four Seasons Hotel Spa, London NW1 by Eric Parry Architects
Sky Studios, Isleworth TW7 5QD by Arup Associates
European Union RIBA Award winners: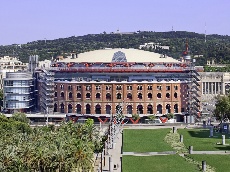 PJ Carroll's Factory, Dundalk, Ireland by Scott Tallon Walker Architects
Wexford County Council Headquarters, Wexford, Ireland by Robin Lee Architecture
Solid 11, Amsterdam, Netherlands by Tony Fretton Architects
Las Arenas, Barcelona, Spain by Rogers Stirk Harbour + Partners
Bilbao Arena, Bilbao, Spain by Idom UK
H27D, Constance, Germany by Kraus Schoenberg Architects
maison L, Yvelines, France by architecturespossibles
Centre Pompidou - Metz, Metz, France by Shigeru Ban and Jean de Gastine Architectes with Gumuchdjian Architects
FCN 2009, Portelle, Italy by M Guiseppina Grasso Cannizzo