Architect takes top job at Maxxi museum
Zaha Hadid's Stirling Prize-winning building could be saved by private funding
Italian architect Antonia Pasqua Recchia has been appointed to take the top job at the Maxxi museum in Rome.
The news follows yesterday's announcement that Maxxi president Pio Baldi resigned, following the discovery of a €800,000 deficit in the museum's 2011 accounts.
Recchia told the ANSA news agency: "I will do everything possible to maintain Maxxi's schedule and its standing on the international stage."
The Maxxi museum ran into trouble last month when the Italian government cut its budget by 40%, meaning its contribution would amount to less than €2 million of the €11 million required to run the institution.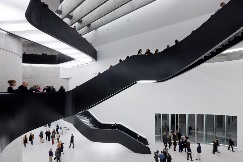 Source: Iwan Baan
It is understood Recchia will now seek corporate sponsorship and private funding to save the museum from closure.
Speaking to BD last month, Francesco Garofalo, who organised the competition for the Maxxi and is professor of design at the architecture school in Pescara, questioned whether it was possible tofundraise such a large percentage of the budget.