Urban Sense proposals for prime west London site add affordable housing after failed appeal
Plans to redevelop a key corner site in west London's Notting Hill Gate have been revived following the rejection of an almost identical mixed-use scheme last year.
Urban Sense Consultant Architects' proposals would demolish 12-storey slab block Newcombe House and lower-rise sister buildings in the property hotspot and replace them with an 18-storey tower and five other blocks, delivering new office space and 46 new homes.
Earlier Urban Sense proposals for developer Notting Hill Gate KCS were turned down last year by the Royal Borough of Kensington and Chelsea for reasons including the design quality of the tower and the lack of on-site affordable housing.
A planning inspector subsequently upheld the refusal, but only on the grounds of the loss of affordable housing.
The resubmitted plans, validated by Kensington and Chelsea earlier this month, now incorporate nine on-site affordable flats – but at just 20% of the total, the provision is significantly below London mayor Sadiq Khan's 50% target.
The proposals would also deliver around 4,800sq m of new office space, 3,100sq m of new retail and restaurant space and roughly 1,900sq m of car parking space.
Contrasting the proposals with the existing buildings on the 0.52 hectare plot, the amount of residential space is due to expand ninefold. The existing residential space includes 20 disused social-housing bedsits.
A statement from planning consultants Quod said Notting Hill Gate KCS had sought to deal with the concerns of the inspector who presided over its appeal against the former scheme's refusal.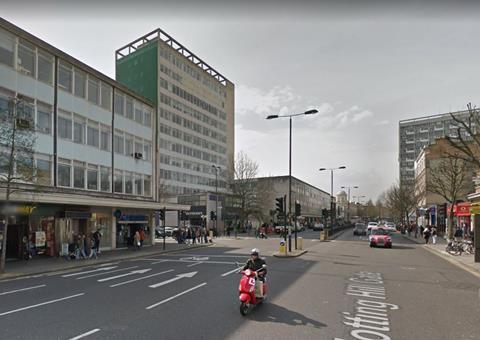 "On appeal, the inspector disagreed with the first reason for refusal and supported the design of the scheme, noting that it was a 'high quality design response' incorporating the 'highest standards of architecture'," it said.
"However, he agreed with the local authority that there would be a loss of social rented floorspace and was unconvinced by the submitted evidence that this was justified on viability grounds or that sufficient payment was proposed towards off-site affordable housing.
"The new proposals therefore respond to the inspector's decision and detailed comments by retaining the same scheme design but including affordable housing on-site, in place of market housing previously proposed."
Quod said the affordable housing level proposed was the "maximum the viability of the scheme can bear" and involved the developer "taking a significant financial risk" by accepting a profit-on-cost ratio of 12.23%. It said a profit ratio of 20% was agreed with the council's independent consultants as necessary for the previous proposal.
Newcombe House, the site's main block, was designed by Cotton, Ballard & Blow in the late 1950s.
Other structures which would be demolished to make way for Notting Hill KCS's proposals include a run of buildings on Kensington Church Street, one of which houses the Kensington Place restaurant, once part of Terence Conran's food empire.