Owners of Richard Rogers flats want Tate to shut 10th-floor viewing gallery
The residents of RSHP's Neo Bankside flats have returned to the High Court arguing that the judge who threw out their gripe with the Tate Modern's viewing deck was wrong.
They are hoping to overturn the judgement and put a stop to the "snooping" from visitors at the gallery's Herzog & de Meuron-designed extension.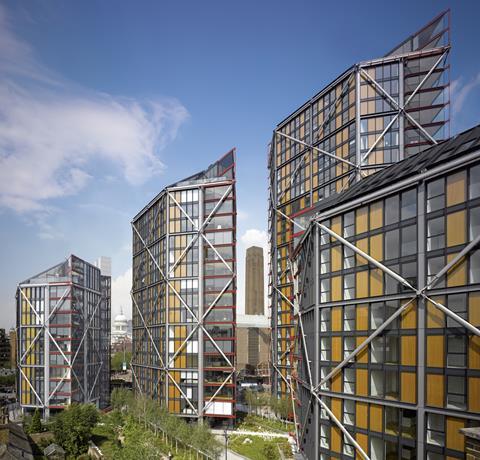 They say the judge's "mental exercise" in which he imagined them living not in a building with floor-to-ceiling windows but one with "significant vertical and perhaps horizontal breaks to interrupt the inward view" was "hopelessly lacking in definition".
And they say he was wrong to have invented a legal principle that they could not establish a nuisance in law if a disturbance with the enjoyment of their homes is caused only because of the building's design – namely the huge areas of glazing.
He used that principle to dismiss their claims in February 2019, a ruling they are now attempting to overturn in the Court of Appeal.
They want the Tate to shut the 10th-floor wraparound viewing gallery, or at least the part overlooking their homes, complaining that the invasion of privacy is blighting their lives.
The Tate trustees' defence is that the residents bought the flats in full knowledge that a tourist attraction was set to be built next door – and that simple net curtains could solve the problem.
In the original case, the judge proposed an imaginary building with smaller windows to test arguments about the legal nature of "nuisance".
This week's hearing focused on whether the Stirling-shortlisted flats were "abnormally sensitive to invasions of privacy" due to their floor-to-ceiling windows and being located adjacent to the Tate's viewing gallery allowing people to look in.
The residents, whose homes range from £2m to £19m, are seeking to overturn his ruling on a number of grounds.
The defendants are arguing, among other things, that the problems would not have arisen if louvres had been added as set out in the original drawings. A second set of drawings was submitted and approved omitting many of the louvres.
"A significant reduction in these protective measures 'disappeared without comment'," they noted.
They also argued that since the claimants had "opted for a design of flat and lifestyle choice which invited the privacy invasion, then they had created their own sensitivity and would have to tolerate what the design had created".
No date has been given for when the court's decision is to be expected.