Back in January 1997, BD gets a sneak peak at the designs for the sustainable Olympic village for 15,300 athletes
Designs have been unveiled for a sustainable village for the 15,300 athletes attending the Sydney Olympic Games.
The world's largest solar-powered suburb will be a key legacy of Australia's hosting of the games in 2000.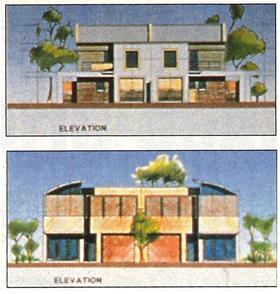 The contract to build the A$470 million (£196 million) Newington village has been awarded to a consortium led by Australian developer Lend Lease & Mirvac and including architects Cox Richardson and Peddle Thorp as well as the Sustainable Energy Development Authority.
So fat the aesthetic qualities have been played down, but details are now emerging of how the team plans to fulfil Sydney's Olympic bid pledge to build an innovative energy-conserving village as part of the western Sydney Homebush site for the main sporting venues.
The architects are planning a model village for the 21st century- ecologically sustainable and energy sensitive as well as aesthetically satisfying and workable from a social and cultural point of view.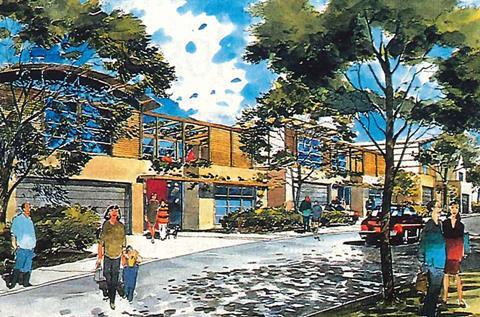 Each house will be naturally ventilated and through the first ever large-scale use of photovoltaic cells, produce its own electricity. Houses and streets are planned to create an urban density of 28 homes per hectare, compared with the usual eight of Sydney's suburban sprawl.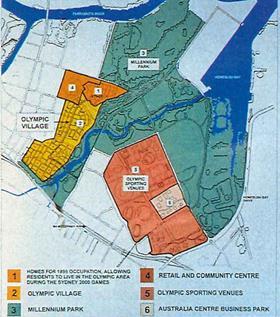 Stage 1 of the project will be homes for 1998 occupation allowing residents to live in this area during the 2000 games.
For the Olympic village 545 permanent dwellings, 945 temporary Olympic additions and 500 specially designed modular homes are planned. When the games are over, the demountable modular dwellings will go off to becoming mining camps and Aboriginal housing and the land will be used for a further development of permanent homes.
Diversity and talent in the design of the dwellings will be introduced by a number of younger, award-winning architects: Tonkin Zulaikha, James Grose, Virginia Kerridge, Order Architects, Howard Tanner, Gordon & Vallich (Jim Koopman) and Henry Pollock Associates.
This was both politically right- there has been a general perception that far too much of the large-scale architectural work has gone to the big architectural practices- and also "architecturally right", according to senior architect Philip Cox.
" This has given them a piece of bone to cut their teeth on", he said.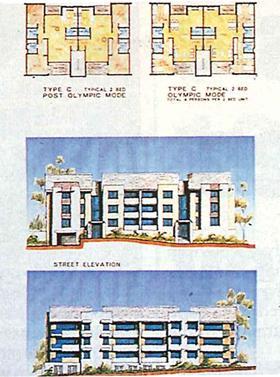 Cox's colleague Philip Graus added: "There has been a definite spin-off in seeing housing more broadly: environmentally, socially, culturally and economically."
Environmental group Green Games Watch, which has been grumbling about contamination of the Olympic site and preservation of the rare green frog, is almost unreservedly enthusiastic about the though that has gone into environmental issues, particularly the use of solar power.
In Addition to the housing and the masterplan, Cox's main contribution will be the International Centre- the focus of the village which will subsequently be the town centre incorporating residential retail, recreation, hi-tech industries and in due course, a primary school, child care centre and neighbouring shops.
Government architect Chris Johnson predicts that "the individual designers' strong attention to environmental issues will be at a level just far enough ahead of the market place to generate change".