East London extension targets growing pupil numbers at historic secondary
Saunders Partnership Architects has won planning permission to extend a historic east London girls' school with a new ground-floor dining room and first-floor music facility designed to cater for growing pupil numbers.
The project, at Sarah Bonnell School in Stratford, will see the upward extension of a recent addition to part of the school, and the introduction of a first-floor glazed link to its Edwardian host block.
The state school was founded in the 18th century, and describes itself as among the oldest girls' schools in the country. It moved to its current site in the 1970s.
Saunders associate director Annabel Lait said the expanded dining area would give pupils access to an outdoor covered dining area with tensile canopies that could be used in the summer, while the new music rooms took practising pupils away from noise-sensitive classrooms and met stringent acoustic requirements.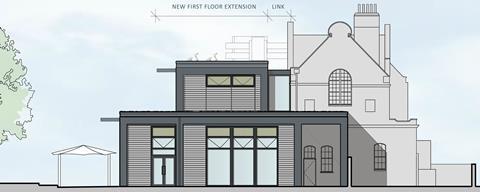 "Sarah Bonnell School was in need of extra space to accommodate more pupils and, with some of the original buildings dating back to 1905, it also needed remodelling," she said.
"We have worked with the school to provide a diverse range of spaces that will enhance and provide flexibility for learning and teaching."
Under the approved proposals, a sedum green roof will sit on a lower exposed roof and views from the first floor will look out over to the school green beyond.
Work on the extension is due to start in April next year.