The presence of two university accommodation schemes on the Carbuncle Cup shortlist reveals a worrying trend, says Hank Dittmar
It is striking that two of the six shortlisted Carbuncle Cup projects are student accommodation. A look at this rapidly growing sector provides an insight into trends in property development globally, and is alarming for lovers of the city and of architecture.
Both the Caledonian Road scheme in Islington and the Castle Hill project blighting Port Meadow in Oxford reflect developers maximising profits by delivering a standardised product. At both projects this results in some true awfulness, as the "product" is adjusted badly to reflect actual conditions.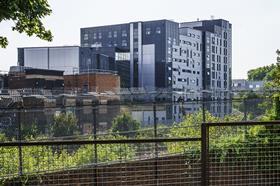 At Caledonian Road the retention of an historic facade by clamping it on front of the building without aligning the openings means a large proportion of units have obscured views and diminished daylight. The adaptation of the standard block at Castle Hill to make a gesture toward view protection results in strange roof profiles and awkward proportions.
Lots of student housing is being built — GVA counted planning applications in excess of 27,000 beds in the first eight months of 2012. This is being driven by strong overseas demand to study in the UK, and, importantly, by an appetite from investment funds. Savills has recently suggested there is a strong underlying demand for up to 266,000 more beds.
Student housing is now a commodity, with standard unit types and plans and a financial model that delivers a margin to the developer and to the downstream property fund that will buy and hold it. By and large the sector is self-regulated, with a voluntary code calling for things that are generally covered in building regulations or health and safety. It seems to be felt that occupancy of less than a year and busy student lifestyles mean that standards can be reduced. For example, the Caledonian Road planning inspector found in favour of the project despite low daylighting levels, remarking that the rooms "would not be unacceptably oppressive within the context of the intended typical nature of occupation".
The banality of these buildings can make an impact on urban life

Hank Dittmar
The banality of most of these buildings can make an impact on urban life in places like Holloway Road and Caledonian Road or Lincoln High Street. Most will not age well, and one doubts that they are adaptable to other uses should the overseas demand dry up.
Student buildings need not be blots on the landscape, and small units need not be oppressive. Universities like Oxford and Cambridge have long built gracious urban residences around courtyards; the contrast is what makes the Castle Hill scheme such a shocker.
Beautiful halls of residence can help to attract students. Swansea University has commissioned Hopkins and Porphyrios to design their new campus and residences, creating a new urban neighbourhood on Swansea Bay. Strong international universities like Oxford, Cambridge, Edinburgh, LSE and King's College should exercise similar leadership, insisting on good urban buildings that improve neighbourhoods, contribute to amenities and make contributions to affordable housing.
Such a commitment might help to attract students and differentiate their brands in a positive way, while adding diversity and vitality to urban life.