Urban regeneration developer falls to a loss in results impacted by last year's modular failure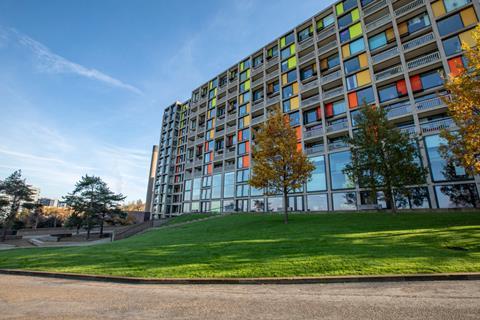 Specialist regeneration developer Urban Splash has fallen to a pre-tax loss of £2.9m and lost over a quarter of its staff, according to annual accounts impacted by the collapse of its previously de-merged modular housebuilding joint venture.
The accounts for Urban Splash Group Holdings Ltd, which cover a 15-month period from October 2021 to the end of December 2022, report a sharp fall in turnover which the firm said was the result of the loss of "construction-related trading" with the failed modular joint venture, House by Urban Splash.
Urban Splash said in the accounts that the business had decided to change "the group's strategic direction" following the collapse of the modular business by reducing in-house construction and using third party contractors as "the preferred route for construction projects".
Consequently, turnover at the business fell by 40% in the year, to £40.1m, from £66.5m, despite the firm having lengthened its accounting period by three months to accommodate its "prolonged" business re-planning process.
The pre-tax loss of £2.9m compares to a £6m profit made in the previous year. The firm said turnover from Urban Splash's contracting activities specifically fell from £38.1m to £24.0m.
It said that "as a result of the termination of the provision of services to the demerged [modular housing] business, a number of redundancies were made" which saw average headcount reducing by over 30% from 128 to 89.
Urban Splash set up its "House" modular housing subsidiary in 2018 with the purchase of a former SIG offsite housing factory in Alfreton, before attracting Japanese modular housing giant Sekisui House and Homes England to invest in the firm in 2019. However, it collapsed into administration last year following under-use of the factory and a series of 'design issues' and 'defects' at the plant.
Urban Splash CEO Julian Curnuck described the year as one of "consolidation" in which the firm had reduced development and focused instead on "core strengths of regeneration and placemaking".
Despite the challenges, the firm managed to refinance its debts into a £40.3m eight-year facility from lender Aviva in July last year, and secured a further £10m four-year loan from Grosvenor Developments Ltd in February this year, designed to "provide enabling finance for early stage projects and land acquisition".
Urban Splash, which is behind the Park Hill regeneration scheme in Sheffield, said it had bought Campbell Park Ltd, a business with the rights to develop 800 homes in Milton Keynes, in the period, and had entered a joint venture with Glenbrook MK to deliver the first phase.
In what is the business's 30th year of operation, it said in the accounts it was "well placed to weather the uncertain outlook currently being experienced within the economy", given fixed interest charges and no development debt outstanding.
The firm recorded net debt of £68m in the year, down from £71.4m the previous year, with net assets of £34.5m on the balance sheet.
Julian Curnuck said: "Urban Splash is a leader in its field, with an established reputation as a pioneer, and advocate of modern design. We have a record of innovative and exciting development and regeneration either by ourselves or with great partners as we transform brownfield sites across the country, working with existing companies and nurturing something new.
"These results reflect a period of consolidation, one which saw a reduction in our development and construction work and an increased focus on our core strengths of regeneration and placemaking."