Homes and workspace planned for site once occupied by Britain's largest sweet factory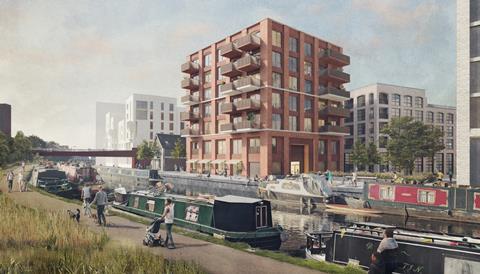 Lyndon Goode Architects (LGA) has submitted detailed plans for 31 homes plus employment space on an old sweet factory site in Hackney Wick, east London.
The £14.25m scheme known as 119 Wallis Road is part of the London Legacy Development Corporation (LLDC) masterplan for the area, which was prepared by architects Karakusevic Carson with Witherford Watson Mann and granted permission in 2017.
The development was once home to Clarnico which was one of the UK's largest sweet manufacturers, known for its mint creams. The site was the largest sugar confectionery factory in Britain. Clarnico was acquired by rival Trebor in 1969.
This is the second scheme submitted by LGA as part of the LLDC masterplan. It also designed a residential building on Fish Island. 119 Wallis Road will have mixed-use space on the lower floors, slop-moulded pink brickwork and projecting balconies.
Because the plots defined in the masterplan did not reflect ownership boundaries, bringing the adjacent developers together was fundamental to the project's delivery, said LGA director Simon Goode.
"As in our previous work at Hackney Wick with Haworth Tompkins and Pitman Tozer, we adopted a European model of collaboration," he said. "This helped our client to negotiate the parameters for the site and working closely with neighbouring architect Pollard Thomas Edwards to develop a mix of uses and a coherent design that would satisfy the masterplan's ambitious targets."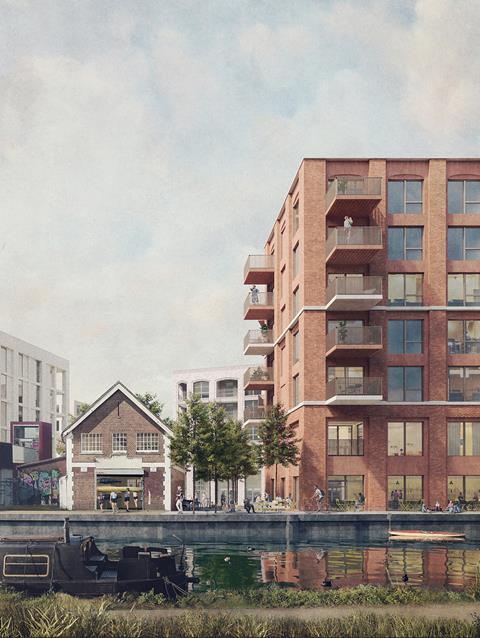 The masterplan will maintain key heritage structures while delivering 1,500 new homes and 75,000sq m of arts and business space.
The site will be located on a route towards the Queen Elizabeth Olympic Park, next to a new public square and not far from LGA's Fish Island project for Peabody.