Developers whose permissions have lapsed in lockdown will need new permit to reinstate them
The government has published legislation designed to enact its promise to extend all planning permissions otherwise due to expire during lockdown.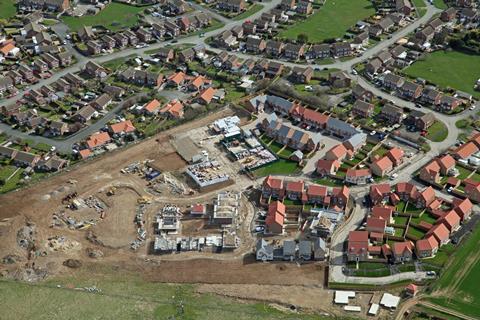 The measure is contained within the Business & Planning Bill, which also sets out a new "deemed consent" route designed to speed up the process of approving changes to construction site working hours.
The legislation enacts the government's promised extension of planning permissions by way of inserting new clauses in to the 1990 Town and Country Planning Act. The government's aim, following repeated calls by both local authority planners and the development industry, is to back-date the measure to the start of lockdown. Hence, if the new rules are passed by Parliament, they will extend until April 1 next year all permissions that were otherwise due to expire from the start of lockdown on March 23 until the end of this year.
The government on Monday published data estimating that permissions for 25,000 homes on 430 separate projects had already expired during lockdown – permissions which are now set to be reinstated. Under existing rules, most planning permissions expire if work on site hasn't started within three years of the permission being granted
However, while the process in the bill for extending permissions due to expire is automatic, those which have already lapsed will have to submit an additional environmental approval to the authority, to check the Environmental Impact Assessment is up to date. The legislation applies to both detailed and outline permissions, as well as listed building consents.
The move will give some developers another whole year to start work on their projects.
In addition, the government is using the bill to allow the government to be more flexible about the kind of planning procedures which are needed in certain situations – such as written representations, hearings or local inquiries.
The changes are designed to speed up the way that variations of construction site opening hours are processed and will see any proposals from construction firms automatically apply if a local authority doesn't respond to them within 14 days.
The changes are designed to allow construction firms to extend site opening in order that they can have fewer workers on site at any one time to abide by social distancing requirements. New planning guidance on interpreting the rules published by government said they were to "support safe construction working in line with the government's latest social distancing guidance on construction and other outdoor work".
Any changes will apply automatically until April 1, 2021.
The government is aiming to get the bill passed through the House of Commons by June 29. Claire Dutch, partner and co-head of planning and environment at law firm Ashurst, said the bill was good news and the extension to permissions "better late than never".
She added: "The legislation is unusual in that it has retrospective effect. Many developers will be delighted to see permissions that they thought were dead in the water three months ago being resurrected – [but] there is not a lot of time for developers to sit back and relax."