London mayor 'pushing ministers for 70% social rent target'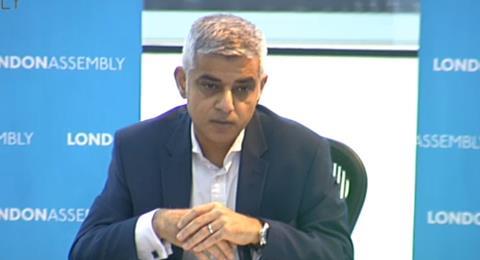 Mayor of London Sadiq Khan has conceded that "dodgy definitions" of affordable housing could continue to be applied in the capital, despite the best efforts of City Hall.
Quizzed about the difference between homes that are genuinely affordable to working Londoners and homes that met new definitions of "affordable" at a Mayor's Question Time event, Khan said the next version of the London Plan would make a difference – but would not solve the problem.
Khan was responding to Green Party Assembly Member Sian Berry, who asked what progress was being made with the delivery of new homes that were affordable to all Londoners, rather than under "dodgy definitions" introduced by former mayor Boris Johnson and prime minister David Cameron.
Khan said he was keen to dump some of the "dodgy" definitions and was pushing ministers to introduce a requirement that new affordable homes would be predominantly social-rent level, the equivalent of traditional council housing.
"As Londoners well know, the previous mayor and the government pushed the definition of affordable home to breaking point," he said.
"Their definition included homes to buy for close to half a million pounds and homes to rent for 80% of market rates."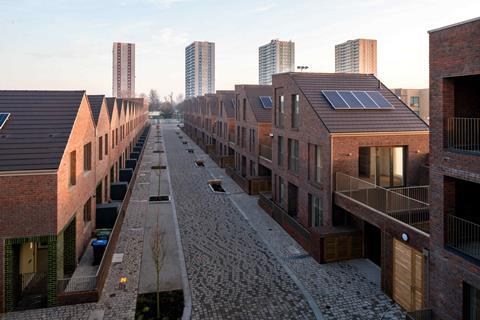 Khan told Thursday's session that he wanted to favour three categories of "affordable" homes: those for social rent; those for London living rent, which is targeted at "middle-income households"; and part-buy, part-rent – or shared ownership – properties.
"Under the previous mayor, the number of homes for social started fell to zero," he said. "Last year, we started to build over 4,000."
He added: "One of the things we're negotiating with the government for is to make sure we have far, far more homes for social rent going forward.
"My ask to the government is that the amount of genuinely affordable hew homes that are for social rent should be up to 70%."
Berry said she was concerned about the number of homes still coming forward that could be described as affordable under the "dodgy definitions", such as under the Cameron government's Starter Homes scheme, Discount Market Rent, or Discount Market Sale.
Khan said that while he hoped to address some affordable-housing definition issues in the next version of the London Plan, it would not be a complete solution.
He said schemes funded under affordable housing models that City Hall disapproved of would continue to work through the pipeline, while other schemes could make use of central government grant models that were contingent on particular definitions of "affordable".
Elsewhere in the session, Khan said the capital needed a seven-fold increase in the funding it received from central government to properly deal with the housing crisis.
"We will never be able to fully meet London's housing needs without a step-change in funding and powers from central government," he said.
"We've estimated that London needs £4.9bn of funding per year of government grant funding to build all the homes that Londoners need. That's seven times what we currently receive."