Stirling Prize finalist teams up with Dutch concrete specialist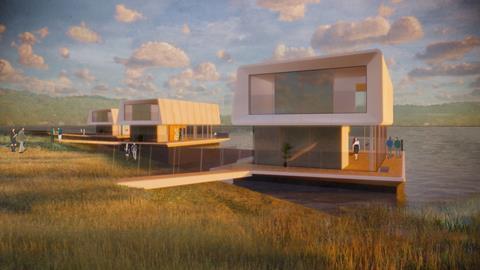 Grimshaw has designed a range of customisable floating modular homes in response to the threat of rising sea-levels.
The architect teamed up with Dutch manufacturing group Concrete Valley to produce designs for the Modular Water Dwelling, described by the pair as a potential solution to the shortage of affordable housing in urban areas, "free of the constraints of land-based construction and resilient to the mounting threat of flooding from rising sea-levels".
Concrete Valley, based in Bergen op Zoom in the Netherlands, and Grimshaw said the proposed homes could be factory-made and feature standardised components, but would also allow for internal layouts to be determined by occupants' own requirements.
The homes could be located and spaced according to the layout of a site, light sources and views.
The water homes would use minimal energy, with well-insulated and shaded lower pontoons and upper storeys, and energy provided by solar roof panels and heat exchangers built into base boxes below the waterline.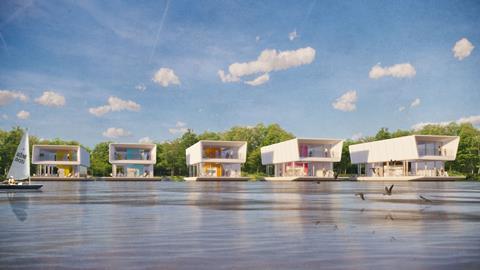 The two firms said they were committed to producing prototypes "to test and refine the concept".
Jorrin ten Have, associate principal at Grimshaw, said: "In facing the realities of global transformations, be they climate change, increased urbanisation or reduced resources, it is critical that architects and designers respond to these concerns in a variety of ways.
"By addressing specific challenges confronting current and future populations, the Modular Water Dwellings offer an affordable, sustainable and efficient alternative for safe and desirable housing."