Housing secretary lays out long-awaited transitional arrangements but gives no detail on how guidance will work
Michael Gove has said developers will have 30 months to take on board new building regs guidance calling for second staircases on buildings higher than 18 metres, before it comes fully into force.
The housing secretary, announcing promised "transitional arrangements" for the new rules in Parliament, said that the 30-month grace period will run from the date the government formally publishes and confirms the changes to Approved Document B in building regulations.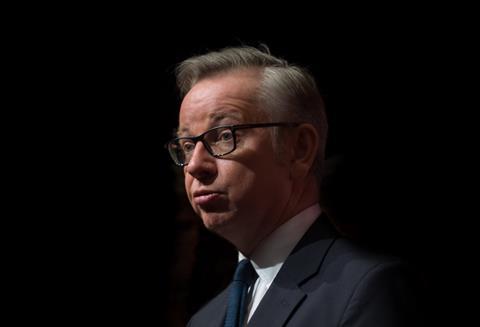 However, Gove's written ministerial statement, issued yesterday, included no further detail on how the new guidance will be formulated, and how exactly it will ask building designers to draw up plans for new residential high rises above 18m – approximately six storeys in height.
The statement comes after widespread reports of developers putting their pipeline of schemes on hold, with London projects particularly affected given that mayor Sadiq Khan said he wanted to apply the mandate in the capital immediately to major projects.
Gove's decision to propose a requirement for a second staircase on buildings above 18m in height came as a shock to the industry after the government had consulted on plans to bring in the same scheme but at a 30m threshold.
Gove's statement said the decision to plump for 18m reflected the views of the National Fire Chiefs Council and Royal Institute of British Architects, and would bring England into line with countries.
He said: "From the date when we publish and confirm those changes to Approved Document B formally, developers will have 30 months during which new building regulations applications can confirm [sic] to either the guidance as it exists today, or to the updated guidance requiring second staircases.
"When those 30 months have elapsed, all applications will need to conform to the new guidance."
He said that once the new regs had been brought in, projects approved under the old regulations would have 18 months for construction to get underway "in earnest", as defined by the Building (High-Risk Buildings Procedures) Regulations 2023. Projects failing to do so would have to submit new plans under the new regime.
The housing secretary said he wanted to be "absolutely clear" that buildings designed under the existing regime were not inherently unsafe, and that he expected lenders, managing agents, insurers, and others to behave accordingly, and "not to impose onerous additional requirements, hurdles or criteria on single-staircase buildings in lending, pricing, management or any other respect".
Gove said that he will "make a further announcement soon" on the design details of the guidance that will go into Approved Document B. "I realise that developers and the wider market are waiting for the design details […]. The Building Safety Regulator is working to agree these rapidly".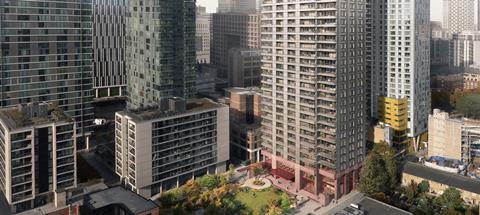 In August the Housing Forum said the failure of the government to issue detailed transitional arrangements along with some idea of how the guidance will approach the second staircase requirement risked "significantly reducing" housing supply. It said one of its members had put plans for 38 blocks under review due to the proposals.
Developers including Peabody, Hill and Landsec have all admitted to having put schemes on hold or into redesign due to the second staircase mandate, while Berkeley has said it could shift to low-rise building.
An analysis by LSH and Connells in May said up to 125,000 homes across 243 schemes could ultimately end up mothballed by the new rules.
The Housing Forum's letter in August said that the lack of technical requirements meant designers and developers had no guidance from which to draw up alternative plans, and the lack of even a "core purpose" for the second staircase meant it was impossible for their designers to use their own judgment to redesign schemes. "Those designing or constructing tall buildings […] are unable to make sensible evidence-based decisions on risk for themselves, because they are not clear on the core purpose of the two staircases," the letter states.