Practice's 'Sky Garden' will replace 1980s bungalow at spectacular Devon spot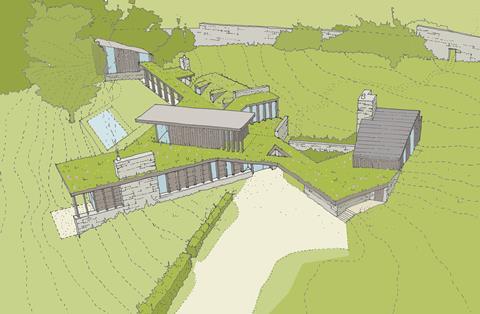 Featherstone Young has won planning permission to deliver a new seven-bedroom family home with "exemplary sustainability credentials" on a spectacular hillside spot in Dartmoor National Park.
The practice said its Sky Garden home had been inspired by the topography and history of the site and surrounding area, as well as the vernacular and materials of the Dartmoor environs, and aimed to "create new forms" from its surroundings.
The structure will replace a 1980s bungalow on the site, which Featherstone Young said had been "deemed inappropriate for refurbishment". The new build will reuse the existing footprint to minimise excavation and foundation materials.
The architects said the project would advance a wider sustainable-farming initiative, balancing efforts to increase biodiversity and protect endangered species, with food production and agro-forestry for greater self-sufficiency.
One end of the home's main axis features a lightweight "forest pavilion" for work or study. At the other end is a more robust vertical building creating a guest pavilion. Second and third axes are formed by stone walls, creating two wings of the house. A stone chimney and stair core, meanwhile, reference the landscape and the vernacular chimney forms and historic stone mine buildings.

Featherstone Young co-director Jeremy Young said Sky Garden truly was a product of its surroundings.
"This project takes its inspiration from the unique natural and built heritage of Dartmoor, and is a fantastic opportunity to enhance this beautiful site and create an exemplar home that sits lightly in its environment," he said.
Sky Garden will feature engineered timber-frame construction, with some of the wood coming from the site; it will use natural products for insulation, including wool, hempcrete, natural sedum and wildflower-mix roofing; and a ground-source heat pump and photovoltaics will contribute to its energy supply.