Report predicts 13 million spare rooms in older people's homes by 2040 because of lack of downsizing options

The failure to build enough retirement housing will lead to a surplus of 13m spare bedrooms in the homes of empty-nesters by 2040 while young people remain trapped in overcrowded accommodation, according to an independent report into housing for older people.
The report, commissioned by the retirement community trade body ARCO and backed by architects, said that the lack of available housing tailor-made for older people prevented them from downsizing, thereby limiting the availability of family homes for the young.
It said an average of just 7,000 homes designed for older people are built each year, compared to a demographic need for 18,000. Less than 3% of the housing stock – 750,000 homes – is designed to cater for older people, equivalent to less than one in 10 older households.
The report, carried out by the Centre for the Study of Financial Innovation (CSFI), said the ageing society meant that the growth in older households – over half of which are one-person – was on course to make up 36% of the total growth in households.
Against an estimated stock of 82m bedrooms in UK houses, the report found that 6.6m were "spare" rooms in the homes of those aged over 65, a figure which will double to 12.8m by 2040 on current trends.
The report's findings were backed by Mark Rowe, principal at Penoyre & Prasad, who said it highlighted a shift towards a more collective way of living – integrating purpose-built accommodation with access to healthcare and facilities that can help maintain independence.
"By integrating healthcare services and good design into purpose-built later living accommodation, hospital admissions, A&E visits and transfers can be reduced," he said. "However, it is vital that healthcare facilities in our towns and cities are designed and built in a way which properly integrate into and enhance communities."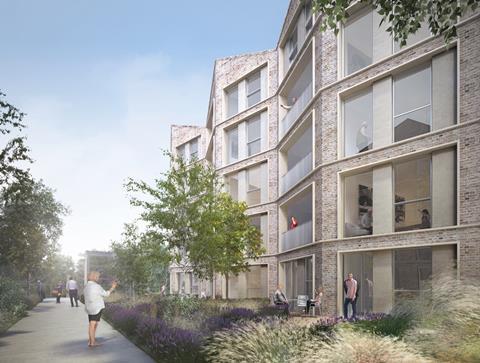 Félicie Krikler, a director at Assael Architecture, added: "As this report makes clear, households have been shrinking in size for four decades, but the way we design new homes has failed to keep pace.
"Our planning system must recognise that well-designed later living housing can transform our lives as we get older by allowing us to age better.
"This is not only by supporting mobility, but also by creating aspirational housing that people choose to move to, not because they have to, and intergenerational places with shared services that sit at the heart of their community."
Jane Fuller, co-director of the CSFI, said the over-65s had been "the driving force for population growth" for decades, and that with older people more likely to live alone or in couples, the UK's housing stock of largely family homes with three or more bedrooms, was quickly becoming "unfit for purpose."
She said: "Surveys have found that up to a third of older people like the idea [of downsizing], but only a small fraction actually does so. There is too little choice."
Michael Voges, executive director of ARCO, said there was a "small and closing window to transform housing for older people".
Last month care minister Helen Whately praised retirement community operators for their "phenomenal" work during the coronavirus pandemic, while retirement housebuilder McCarthy & Stone claimed its communities had kept older people safer than average during lockdown.
Two-thirds of existing housing for older people is run by charities, with much of the rest operated by local authorities for those with social housing tenancies. Private-sector retirement communities account for just 12% of the total – a fraction of 1% of the total UK housing stock.