Roz Barr explains how Basil Spence's radical approach to artistic collaboration and storytelling in the ruins of postwar Coventry has informed her own religious work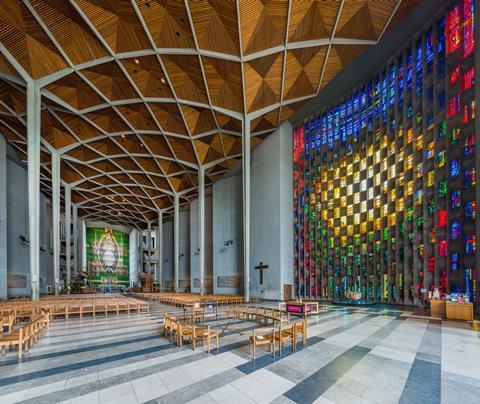 I first saw Coventry Cathedral when I was 15 with my parents and my brother. We were moody and bored teenagers who were wondering why we were there, but the visit still stuck – I remember the art as being as important as the building itself.
It was a long time before I went again. We've been working on St Augustine's church in Hammersmith, and as we collaborated with graphic designer John Morgan and ceramicist Julian Stair, I started to see references in the project to Coventry cathedral and how Spence used art to weave texture into the design and architecture. We ended up taking the studio, our client Father Gianni Notarianni, and Julian to visit. It's such an inspiring place, and embodies so much about my thinking in relation to collaboration, narrative and storytelling.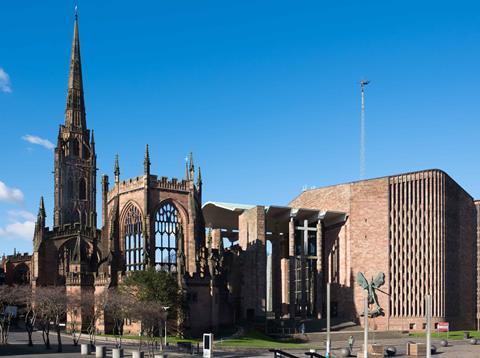 At Coventry, Spence brought together many artists in order to create and celebrate this very elegant, uplifting and beautiful space. It was a project that epitomised the optimism of post-war thinking. Spence had won a RIBA competition for the project in which his entry stood out because of the relationship he proposed between the new cathedral and the ruins of the old, which he retained as part of the processional entrance. This first move of how it sits at right angles to the ruins is very innovative – there's a wonderful order to how the new building addresses both the city and the memory of the ruin.
"The way it sits at right angles to the ruins is very innovative – there's a wonderful order to how the new building addresses both the city and the memory of the ruin"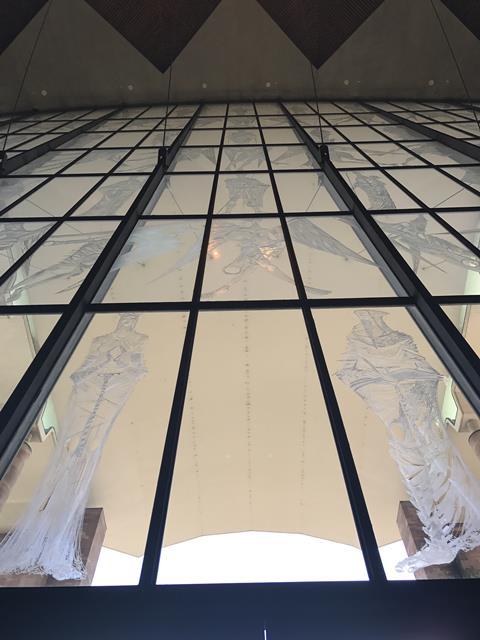 It's an extraordinary sequence of spaces. Although not necessarily the best building externally, structurally the cathedral is very beautiful with very slender columns that almost seem to levitate, their skeletal structure perhaps a reference to something growing out of the ashes. Then there's a wonderful etched glass screen at the main entrance – the "west" screen. This clear glazed entrance wall is engraved with the figures of a multitude of saints and angels by master glass engraver John Hutton.
Inside, the volume of space and the use of materials are rather beautiful and you get a real feeling of movement and procession. Even the public bathrooms at the cloakrooms and elements such as handrails and door handles have been very well considered.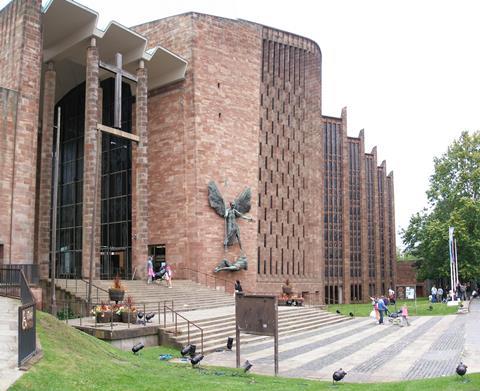 It takes more than an architect to build a building. It's a collaboration first between the architect and the engineer, and then another layer of collaboration with the artists. Spence had a skill for this sort of collaborative dialogue, and knew it had to happen right from the beginning of a project to avoid becoming an add-on. At Coventry Cathedral, art was commissioned throughout all the liturgical elements, with extraordinary commissions by Elisabeth Frink, who was a graduate, Jacob Epstein, John Piper and Graham Sutherland, among many.
I can certainly feel Spence's energy and passion coming through at Coventry, and having just completed the first phase of St Augustine's, I know how hard it is to retain those original design aspirations, as he did at the Cathedral, throughout a long project. At St Augustine's, we have also been able to have a dialogue with artists and it has been an amazing conversation. Julian Stair has designed a new altar and baptismal font and John Morgan has designed a new graphic typology and also helped us to weave key phrases of text into the church interior. We're hoping to work with a textile designer on creating a new altar cloth, and we will be taking a similar approach with the next phase, which is a new-build Augustinian Centre. It's an ongoing project I am extremely passionate about.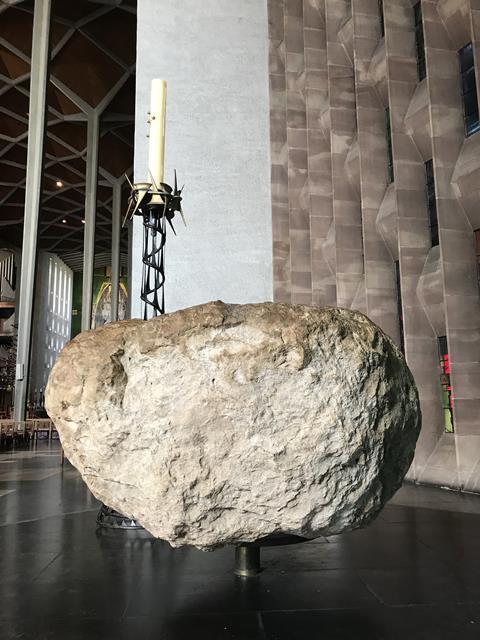 I think Spence's achievements at Coventry Cathedral have too often been overlooked, even though as a project it's got all the right elements – context, content, balance between old and new, modernism and this fantastic weaving of artist collaborations into the design.
It's a building that you have to experience many times in order to really understand the extent of his ambition. It's definitely somewhere that I'll go back to again and again.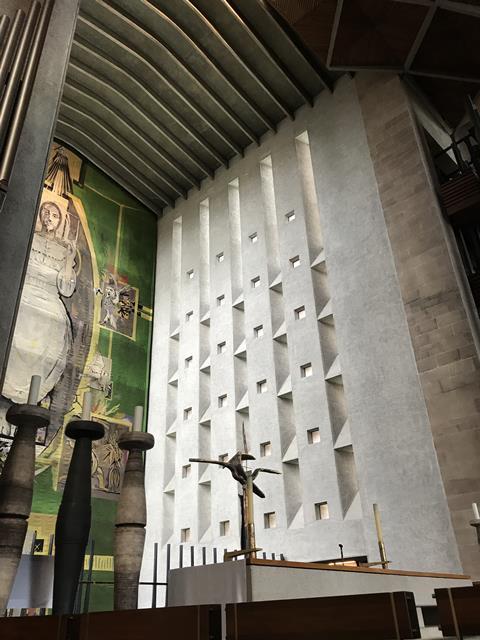 The story of Coventry Cathedral
Basil Spence won a competition to design Coventry Cathedral in 1951, some 11 years after wartime bombing devastated the medieval cathedral along with large parts of the city. Spence was the only one of more than 200 entrants to suggest keeping the ruins of the previous cathedral intact and link them to the new building with a monumental porch. The ruins serve as a reminder to the folly of war.
Like the old cathedral, the new building has a red sandstone exterior. However it is better known for the many artworks that Spence commissioned and coordinated to both complement the architecture and express the liturgy. These included a stained glass baptistery window by John Piper and Patrick Reyntiens and nave windows by Geoffrey Clarke and Keith New. Further glasswork, abstract and set in concrete, was designed by Margaret Traherne for the Chapel of Unity. Sculptural commissions included Jacob Epstein's bronze sculpture of St Michael and Elisabeth Frink's bronze eagle for the lectern. Graham Sutherland designed the 23m x 11m Christ in Glory tapestry behind the main altar and Ralph Beyer contributed extensive lettering on the nave walls.
The cathedral was consecrated in 1962 and was grade I listed in 1988.
Postscript
Roz Barr is the founder of Roz Barr Architects. She was talking to Pamela Buxton.