The control of smoke is a key element of any effective fire safety strategy. This CPD, sponsored by Lamilux, examines the standards, certification and other factors to consider when designing or specifying smoke vents
CPD CREDITS: 60 MINUTES
DEADLINE: 2 FEBRUARY 2018
For more information about UBM's CPD distance-learning programme, click here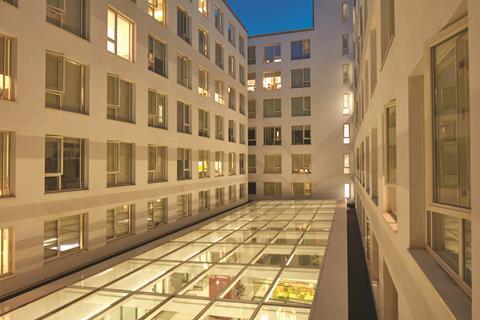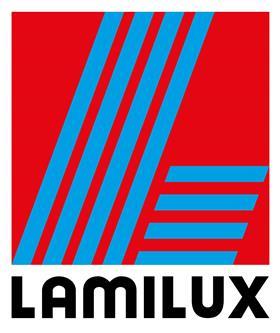 INTRODUCTION TO SMOKE VENTS
A fire safety strategy is an essential requirement in all buildings. Smoke vents allow accumulated smoke and hot gases to escape through high-level openings, creating a smoke-free area that allows people extra time to escape safely and fire services time to locate and control the fire.
Standards and certification
BS EN 12101-2 is the harmonised European standard for smoke and heat control. Within BS EN 12101-2, smoke evacuation systems are referred to as SHEVs – that is, smoke heat and exhaust ventilators. SHEVs establish a buoyant layer of warm gases above cooler and cleaner air, increasing the time available for occupants to leave the building. Air inlet vents need to work at the same speed as exhaust vents, so should be BS EN 12101-2-compliant SHEVs too.
A rigorous performance test procedure must be conducted before a smoke vent system is certified to BS EN 12101-2. Various annexes to the standard cover the aerodynamic efficiency of the vent, wind and snow loading and other environmental factors. The reliability of the system is also tested – if dual purpose (see overleaf), there will be more than 10,000 test cycles of operation.
The approved smoke vent will be issued with a CE-marked certificate of compliance. Since 2013, the Construction Products Regulation (CPR) has stipulated that all construction products be CE-marked to the relevant harmonised EN standard. It is important to note that BS EN 12101-2 is the only standard that certifies the compliance of a smoke ventilation system.
For the system to remain fully compliant, various procedures must be followed regarding commissioning and handover, as well as the inspection and maintenance of installations.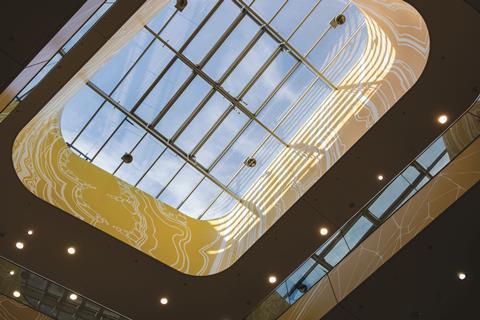 FREE AREAS
Smoke ventilation is calculated in terms of the "aerodynamic" free area (Afa). This is normally smaller than the "geometric" opening area (Gfa) of the vent, which is the size of the opening at right angles to the airflow. The Afa is determined under dynamic test conditions; a coefficient factor is applied to give the vent's measured performance.
When a smoke vent requirement has been identified by a fire engineer or the "responsible and competent" person named within the fire strategy document, this will usually be given as an Afa. Often this information is not available, in which case further work may be needed by the designer to identify the requirement.
The difference between Afa and Gfa is often a cause of confusion. In order to comply with Building Regulations, specifiers must ensure that they have allowed for the correct value. When specifying a smoke vent to a manufacturer it is vital to use the correct terminology to save confusion and avoid installing the wrong product.
Other factors affecting the free area
It is the combined responsibility of the building design team, with advice from the fire engineer, to assess the product's fitness for purpose. Calculating the Afa of an opening vent is only part of this process. An equally important factor is the wind conditions. The fire engineer will need to specify the inlet of air required and to determine whether the building design and orientation require external baffles to prevent smoke blowing back inside. Exhaust vents will need to be installed away from the replacement (or "make-up") intake air and the prevailing wind to avoid "negative discharge". For an atrium where natural exhaust vents are specified, the intake will be at the lower level with the smoke vent above.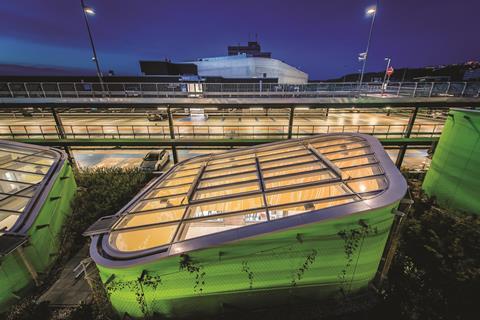 SMOKE CONTROL AND CLEARANCE
There are two main functions of a SHEV system. The first is to provide "smoke control", which is the process of exhausting harmful smoke during a fire, giving people time to evacuate the building, protecting the structure and, possibly, assisting fire-fighting. Smoke control systems have to comply with BS EN 12101-2 and must be designed as a failsafe – this is sometimes referred to as "full life safety".
The second function is "smoke clearance", which refers to the process of clearing smoke from the building after the fire has been suppressed. To clear smoke effectively, the total area of natural exhaust vents provided in an atrium roof would usually be not less than 10% of the maximum plan area of the atrium. However, no reference is made in the relevant standard, BS 9999 B.10.2, as to whether this is an Afa or Gfa. The Construction Products Regulation Section 10 and Appendix D stipulates that where there is a relevant European standard – in this case, BS EN 12101-2 – it must be adhered to.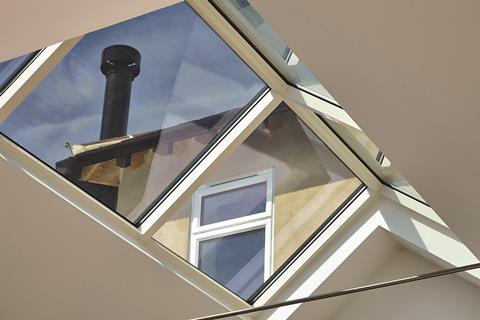 Who's responsible?
The Regulatory Reform Fire Safety Order (RRFSO) states that the building occupant, or employer, is ultimately responsible for carrying out an assessment of the risks of fire and taking steps to reduce or remove the risk. The fire safety documentation needs to be reassessed if the building use changes.
The architect is usually responsible for ensuring that the building design complies with all necessary legislation and Building Regulations, with relevant input from other consultants. It is the principal designer's responsibility to appoint competent professionals such as fire engineer. Ultimately, a competent person – typically the architect or fire engineer – should be responsible for signing off the installation.
In addition to the testing and declared performance, additional checks need to be made on the actual installation. Most fire safety solutions are based upon the assumption that the building will be managed. It is important to ensure that servicing and scheduled annual maintenance of the system is carried out in order to retain certification.
Where are SHEVs required?
The SHEV solution will vary depending on building type and use. Examples include:
Stairwells, such as in multistorey residential buildings where the main escape route is via common corridors and/or lobbies to protected stairs. To meet Building Regulations, Approved Document B: Fire Safety, a typical requirement would be a minimum 1m² Afa on the top storey; for a firefighting stairwell, or shaft, the minimum Afa is 1.5m². As most stairwells would normally be an unheated space, the most commonly used product for this situation is a SHEV dome automatic opening vent (AOV).
Atriums BS 9999 states that an atrium is a space within a building, not necessarily vertically aligned, passing through one or more structural floors. Therefore, almost all voids are atriums and require atrium ventilation. Solutions for smoke-venting an atrium include a series of modular rooflights; a large glass roof with integrated vents; or louvres in the vertical upstand. In the latter scenario, a common mistake is to fail to take the smoke's exit route into consideration. The area should be doubled to take into account the effects of wind, and this should be checked and the design signed off by the appointed fire engineer.
Industrial and commercial buildings Solutions for smoke-venting include a series of modular rooflight domes or barrel vault rooflights with integrated vents. Glass products are also available for heated spaces.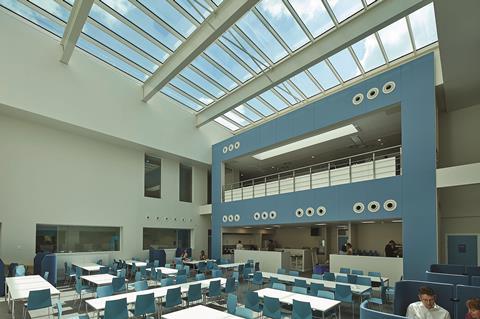 Other design considerations
Acoustics Acoustic performance inside a building depends on outside noise levels and the frequency of that noise. An open window is estimated to reduce the level of outside sound by about 15dB. With a typical rooflight, sound reduction is about 28-32dB Rw, and a higher performing glass roof (when closed) cuts noise by about 36-45dB Rw.
Airtightness Elements such as windows and rooflights can potentially jeopardise building airtightness if the product interface is not robust or the system is poorly installed. When tested, ventilation openings (including smoke vents) should be closed but not sealed to provide a realistic measurement of actual leakage.
Fragility On average, seven people are killed each year after falling through a fragile roof or rooflight, and many others suffer disabling injury.
It is therefore essential to specify non-fragile assemblies for new and replacement roofs.
Dual purpose Some rooflight products use a motor that is offset so that the opening can be used for more than one purpose – that is, as an access hatch as well as a smoke vent. It is important to note that, to meet BS EN 12101 criteria, the rooflight must be tested as a complete assembly.
Types of control It is essential that any control panels have both primary and secondary power supplies capable of operating the system in the event of a fire and a primary power failure. SHEVs are usually controlled electrically with 72-hour battery backup. Final connections, testing and commissioning should be completed by the supplier or an approved/competent professional. They can also be linked to a building management system, and to a variety of other sensors such as for wind, rain or temperature.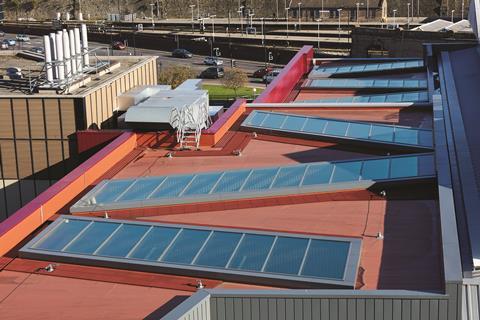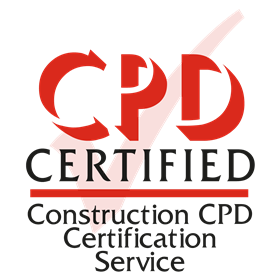 How to take this module
UBM's CPD distance-learning programme is open to anyone seeking to develop their knowledge and skills. Each module also offers members of professional institutions an opportunity to earn between 30 and 90 minutes of credits towards their annual CPD requirement.
This article is accredited by the CPD Certification Service. To earn CPD credits, read the article and then click the link below to complete your details and answer the questions. You will receive your results instantly, and if all the questions are correctly answered, you will be able to download your CPD certificate straight away.
CPD CREDITS: 60 MINUTES
DEADLINE: 2 FEBRUARY 2018

Privacy policy
Information you supply to UBM (UK) Ltd may be used for publication and also to provide you with information about our products or services in the form of direct marketing by email, telephone, fax or post. Information may also be made available to third parties. UBM (UK) Ltd may send updates about Building CPD and other relevant UBM products and services. By providing your email address you consent to being contacted by email by UBM (UK) Ltd or other third parties. If at any time you no longer wish to receive anything from UBM (UK) Ltd or to have your data made available to third parties, contact the Data Protection Coordinator at ubmidpa@ubm.com. View our full privacy policy at www.building.co.uk/cpd