Metal ceilings can be specified for a wide range of applications. This CPD, sponsored by Armstrong Ceiling Solutions, outlines their benefits, manufacture and installation
CPD CREDITS: 60 MINUTES
DEADLINE: 22 DECEMBER 2017
For more information about UBM's CPD distance-learning programme, click here


INTRODUCTION
Metal ceilings are used in a wide range of sectors, including offices, retail, health, education and transport. They are durable, hygienic and can be designed to meet different aesthetic and acoustic needs, as well as incorporating lighting and other services. This CPD provides an introduction to their benefits, manufacture and installation.
BENEFITS OF METAL CEILINGS
Metal ceilings hold a number of potential advantages:
Design: Metal ceilings offer a crisp, clean and high-tech image. There is a wide range of perforation and colour options. Linear or modular layouts provide dimensional flexibility, and curved or sculpted forms can be achieved.
Acoustics: Offices, transport terminals, schools and hospitals all have vastly different acoustic requirements. Tiles can be specified with a variety of perforations and infills to meet sound absorption and sound attenuation requirements.
Durability: Ceiling tiles withstand rigorous handling, with no risk of chipped edges and a flaked surface. When the tiles need to be removed for service maintenance or cleaning, the risk of tile damage is minimised.
Humidity resistance: Tiles can be used externally in areas of up to 90% relative humidity (RH) if back-coated. There is no danger of warping or sagging.
Hygiene: Metal ceiling tiles have a powder coat finish, which provides a tough finish that can be easily cleaned with a damp cloth. For medical environments and other areas that require high levels of cleanliness, finishes can be specified that protect against bio-contamination.
Fire: A ceiling's fire reaction and fire resistance properties can be of critical importance – particularly in a building open to the public. Under the test regimes in British standard BS 476, metal ceilings achieve up to Class O for surface spread of flame on front and rear surfaces. They can also achieve up to A1 fire reaction performance according to BS EN 13501-1.
Integrated services: Lighting, speakers, air conditioning, ventilation, smoke detectors and sprinklers can all be incorporated within tile cut-outs or modules. The ceiling can also play a crucial part in optimising light reflectance and even produce energy savings.
Signage: This is an important element of ceiling design, and the ceiling grid system can help achieve this.
Demountability: Nothing is more disruptive than an area in a shop closed off while a leak or an electrical problem is being repaired. Hence the importance of demountability of the ceiling, which also means that decor can be arranged or regularly refurbished.
TILE PRODUCTION
Raw material
The raw material for metal ceiling tiles is an electrogalvanized steel. This process involves applying a 2.5µm layer of zinc on either side of a 0.5, 0.6 or 0.7mm steel sheet. It provides protection from corrosion to the steel base and a key for painting. The steel is usually bought as a coil, which is then flattened, and cleaned to create blanks.
Perforations
At this stage, the metal blank can be perforated, depending on the aesthetic and acoustic requirements of the finished ceiling. The pins on the perforating press can be set to create different shapes and layouts:
Holes can be round, square, rhomboidal or slots
They can be lined up diagonally, in a straight line or offset at any other angle
They can be standard perforations (2.5mm), micro perforations (1.5mm) or extra micro perforations (0.7mm)
They are also defined by the open area created by the perforations across the panel. For example, a standard perforated panel might be 16% open while an extra micro perforated panel might be just 1% open.
Forming
The blanks are then notched, which allows the sides to be folded up to form the three-dimensional "tray" structure of the tile. These upstand folds give the tile some strength and stop it from bowing or deflecting under its own weight.
There are four main forming methods:
Power pressing: The power press is a "hard tool", which means it produces tiles of a fixed size. It is ideal for the rapid and efficient manufacture of standard bevel and square-edged module tiles.
Automated folding: Automated lines such as the WEMO and Salvagnini bring some configurability to forming the tiles. They offer flexibility in width and length, with various square-edged options for rectangular and irregular panels.
Brake pressing: The brake press is used for one-off or small runs of tiles, and to form the upstands in cut-outs for services. Each edge or aperture is folded separately by manual operation, giving full flexibility in size and shape.
Roll forming: This approach combines roll-formed long edges and power-pressed short edges for both square and rectangular tiles and panels. Two edges of the tile/plank are bent simultaneously through a number of rollers that gradually fold the metal edge up to its finished position. This is an ideal machine for larger runs of tiles and high volumes of standard products.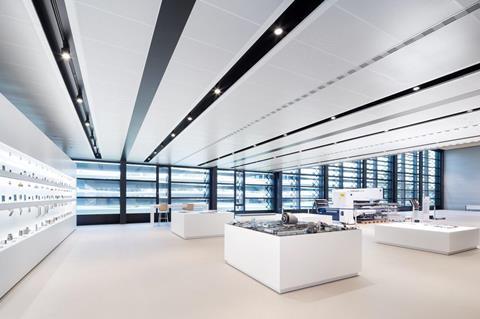 Finishing
The next process is a quick clean before the tile is painted. The standard finish to metal ceiling panels is a high-quality polyester powder coating. An electrostatic charge is placed on the tile which attracts the powder and holds it to the tile. These tiles then pass through an oven to cure the paint to a smooth durable finish.
The powder coat creates a smooth, satin appearance, which conceals its resilient technical qualities. It has a greater film thickness than wet paint applications or products manufactured from pre-painted steel coil, and gives a more durable and impact resistant surface. Powder coat finishes are UV stable, do not support microbiological growth and are easily cleaned.
All RAL and NCS colours can be produced. The standard colour is RAL 9010 white, but silver and gun metal grey are also popular industrial colours.
Dirt-resistant and bio-contamination-resistant coatings can also be applied in the paint booth. A dirt-resistant powder-painted finish such as Armstrong's TrioGuard is available in a variety of metal designs and is colour stable for up to 10 years. Bio-contamination-resistant coatings provide excellent water repellency, allowing frequent cleaning, and can be cleaned with diluted disinfectants containing active agents such as quaternary ammonium, hydrogen peroxide and chlorine. They prevent the settlement of micro-organisms on the surface of the tile and thus the build-up of bacteria, mould and yeast.
Acoustic treatments
An acoustic treatment can then be bonded to the tile, depending on the effect required. These include:
Sound attenuation: is the control of sound transmission between adjacent spaces with a common void above them
Sound reduction: is the control of sound generated in the plenum or coming from the floor above
Sound absorption: refers to the part of sound not reflected by the tile.
Acoustic metal ceiling tiles usually have a fleece or mineral fibre layer, or combination of the two:
Non-woven acoustic fleece provides a cost-effective solution for general sound absorption requirements
A combination of non-woven acoustic fleece with a 15mm mineral infill board gives both good sound absorption and high sound attenuation performance
Specially developed lower density mineral infill boards can achieve up to Class A sound absorption.
Packing
After the acoustic treatment has been added, the finished tiles are then placed in cartons, which are shrink-wrapped on a pallet ready to ship.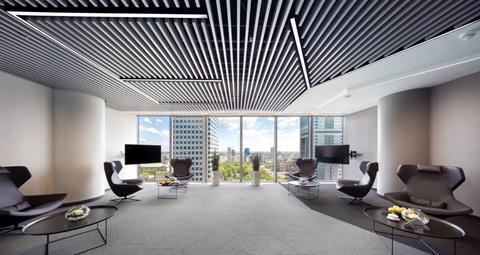 DESIGN OPTIONS
Specifiers and designers can choose from a number of approaches, depending on the application and the type of space:
Square and rectangular tiles: Can be used in a variety of areas, from small service rooms to large commercial office buildings and major transport terminals
Large rectangular panels: Versatile system suitable for large open-plan or circulation areas
Linear grid: Creates a linear technical zone in large office environments; can be aligned with partition systems
Tartan grid: Ideal for breaking up large spaces. Decorative solutions can be achieved through a variety of panel design options – square mega panels, rectangles, triangles – and by emphasising the grid using contrasting colours
Vertical baffles: Suitable for busy open-plan spaces such as entrance halls, airports, waiting areas, meeting rooms, restaurants or multi-purpose spaces, and also for retrofitting. Combine high sound absorption and attractive design
Open cell: Recommended for shops, supermarkets, shopping malls, entrance areas, airports, railway stations and showrooms. Creates a modern, open look for a space, and helps to mask the plenum
Island ceilings: A contemporary design and acoustic solution for all market segments. Provides sound absorption for exposed concrete ceilings and can incorporate chilled beams or chilled ceiling elements.
A variety of aluminium extrusions and steel channel sections are also available to provide simple and effective detailing at the perimeter of the ceiling.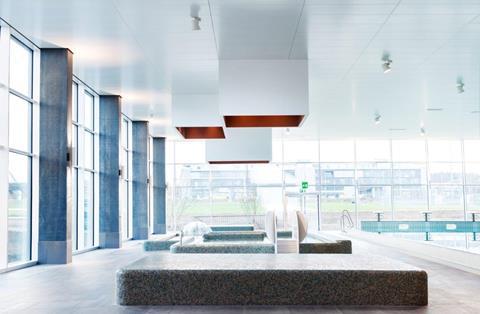 TYPES OF INSTALLATION
As well as different styles of tile and panel, there are also different types of installation systems. These include:
Clip-in: A concealed grid system for a monolithic ceiling surface. It is downwardly demountable with the use of an extractor tool and provides full access to the ceiling void. It can incorporate a swing-down function
Lay-in: A cost-effective solution based on a semi-concealed grid. Tiles are easily lifted out by hand, allowing full and easy access to the ceiling void
Hook-on: A concealed grid that has a gasket on one short and one long side for easy installation and full demountability.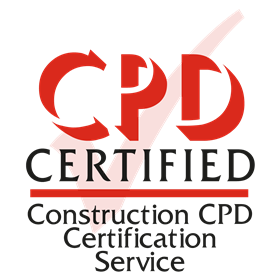 How to take this module
UBM's CPD distance-learning programme is open to anyone seeking to develop their knowledge and skills. Each module also offers members of professional institutions an opportunity to earn between 30 and 90 minutes of credits towards their annual CPD requirement.
This article is accredited by the CPD Certification Service. To earn CPD credits, read the article and then click the link below to complete your details and answer the questions. You will receive your results instantly, and if all the questions are correctly answered, you will be able to download your CPD certificate straight away.
CPD CREDITS: 60 MINUTES
DEADLINE: 22 DECEMBER 2017

Privacy policy
Information you supply to UBM Information Ltd may be used for publication and also to provide you with information about our products or services in the form of direct marketing by email, telephone, fax or post. Information may also be made available to third parties. UBM Information Ltd may send updates about Building CPD and other relevant UBM products and services. By providing your email address you consent to being contacted by email by UBM Information Ltd or other third parties. If at any time you no longer wish to receive anything from UBM Information Ltd or to have your data made available to third parties, contact the Data Protection Coordinator, UBM Information Ltd, FREEPOST LON 15637, Tonbridge, TN9 1BR, Freephone 0800 279 0357 or email ubmidpa@ubm.com. View our full privacy policy at www.building.co.uk/cpd