The use of single-ply waterproof membranes in the construction of flat roofs requires knowledge of different roof constructions and a familiarity with the different membrane types. This CPD module is sponsored by Sika Sarnafil
How to take this module

To take this module read the technical article below and click through to a multiple-choice questionnaire, once taken you will receive your results and if you successfully pass you will be issued automatically with a certificate to print for your records. Module closes: 1 June 2012
There are three main options when designing a flat roof — cold, warm or inverted — but they have many elements in common. Each approach is based on a structural deck and requires insulation. Each also needs a waterproof membrane, although its position in the construction of the roof will vary. This CPD module will introduce each of the roof types before considering the specification of single-ply waterproof membranes in more detail.
Cold roofs
Cold roofs have the principal insulation below the structural deck and are recommended only for small or domestic roof areas, where it is possible to provide cross-ventilation above the insulation. Without ventilation, there is a risk of condensation forming on the underside of the roof deck.
The Building Regulations Approved Document F deals with the requirements for ventilating roof voids to prevent excessive condensation. For flat roofs, it requires that roof spaces have ventilation openings in two opposite sides to promote cross-ventilation.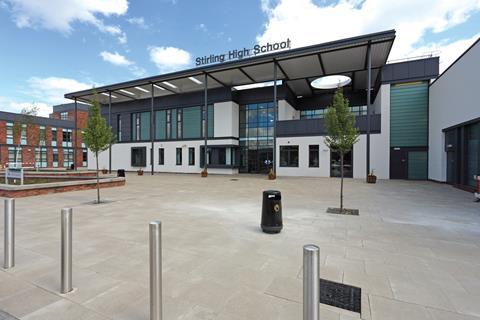 Cold roofs have advantages in that the membrane is supported directly on the deck, is accessible and is easily replaced without damaging the insulation.
However, cold roofs do have significant disadvantages. Effective ventilation and vapour barriers at ceiling level can be difficult to achieve and upgrading insulation at a later stage is complex.
Warm roofs
Warm roofs or warm deck constructions have the principal thermal insulation placed above the structural deck but below the waterproof membrane and are the most common form of roof construction. Ventilation is not required but a vapour barrier is usually placed beneath the insulation to control condensation.
Roofs should be designed to avoid condensation risks in accordance with BS5250: Code of Practice for Control of Condensation in Buildings, and extra care should be taken to seal vapour barriers around penetrations, such as roof lights and rainwater outlets.
Warm roofs have several significant advantages over cold roofs:
The roof structure is kept warm and protected from extremes of temperature by the insulation.
There is no need to ventilate the roof space.
Fire barriers can be accommodated.
Future upgrading of insulation is straightforward.
A variety of different insulations offering different properties, such as enhanced acoustics and high-density insulations, are available depending on the application.
Inverted roofs
Inverted roofs are also known as upside-down roofs or protected-membrane roofs, and are essentially warm roofs with the insulation above the waterproof membrane and structural deck, and without the need for a vapour barrier.
Inverted roofs have a heavy layer of either concrete paving slabs on support pads or a stone ballast, which is used to hold the insulation and membrane down. Consequently the structure must be able to bear the dead load of the system. This type of construction is suitable for terraces and other areas subject to pedestrian traffic.
Inverted roofs have a number of potential disadvantages:
They have a heavy structural load.
The depth of the roof zone is high.
The waterproofing is vulnerable to following trades before insulation and ballast is installed.
It is costly and difficult to locate leaks if the roof is damaged.
One way of overcoming the latter two problems is to use a warm ballasted roof, which is a warm roof with paving on top.
Design considerations
Acoustics: A benefit of single-ply systems, especially with warm roof construction, is that acoustic materials can be included in the system build-up. Materials such as mineral wool insulation boards and acoustic matting have achieved up to 47dB reduction in single-ply systems.
Wind uplift: Protection against wind forces should be one of the fundamental principles behind good roofing design and every roof should have a wind uplift calculation to BS6399 to determine peak wind loads.
Fire: Building Regulations require all buildings to comply with BS476-3:1958 which, in essence, is concerned with the preservation of life, rather than the preservation of property and goods. The loss of the building and its contents is the concern of insurance companies, some of which have adopted approved roof constructions that exceed the statutory requirements.
Single-ply membranes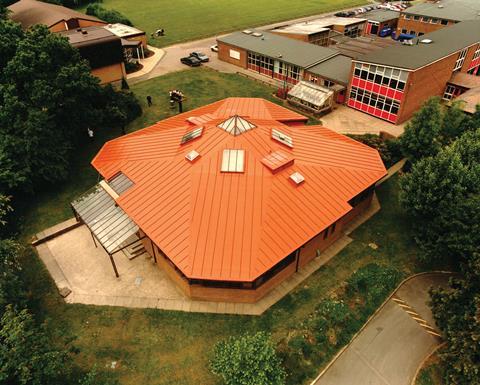 Although there are many variations, the three generic types of membrane are polyvinyl chloride (PVC), flexible polyolefin (FPO) and ethylene propylene diene monomer (EPDM). Single membranes are supplied in rolls that are typically between 1m and 2m wide, so it is important to consider how they are jointed.
PVC has been in use as a roofing membrane since the early 1950s and is the most commonly used membrane for roofing. It can have a BBA-certified life expectancy of more than 30 years. PVC comes in a variety of colours and can be heat- or solvent-welded to create a homogeneous joint. Some membranes also have a lacquered finish, which aids its ageing characteristics and aesthetics.
FPO has been in general use since the early 1990s and has a life expectancy of more than 25 years. It comes in a limited range of colours and does not have a lacquered finish. It is heat-welded.
EPDM is essentially a synthetic rubber membrane with a BBA-certified life expectancy of more than 20 years and comes in one colour — black. It uses an adhesive to bond the seams together.
Installation
There are three common methods of securing membranes to a roof.
Adhered system: These are typically used on projects that have a high aesthetic requirement, and on roofs that have an unusual shape. They are suitable for new or refurbishment roofing and can be used with any deck type. Following a conventional warm roof approach, adhesive is applied to the top surface of a suitable insulation and the membrane is rolled into it. A heavy water-filled roller is rolled over the membrane to ensure intimate contact between the membrane and adhesive.
Mechanically fastened system: The two methods of mechanically fastening single-ply membranes are the linear bar and in-seam systems. The linear bar system can withstand high windloads, is most economic on roofs around 1,000sq m and is suitable for new and refurbishment projects. With a typical warm roof construction, the membrane is loose-laid over the insulation and a series of linear bars fastened at centres determined by the wind uplift calculation, fixed using a tube fastener and screw. The linear bar is covered with a cover strip of membrane that is welded to the main field sheet on both sides.
With the in-seam system, the membrane is again loose-laid, but fastened at its edge with the next sheet lapping over the fasteners. An automatic welding machine is then used to weld the membrane. This method is quick to install and is cost-effective on large roof areas.
Ballasted/terraced systems: As discussed earlier, for ballasted or terraced roofs either an inverted or a warm ballasted solution may be specified. For a typical terraced roof, the membrane is loose-laid, then a layer of fleece membrane added for protection. Paving slabs are supported and levelled using 180mm-diameter support pads and shims. Finishes could include pebble ballast or timber decking — subject to weight.
Green roofs
Another variation on the ballasted system is the green roof, of which there are three main types:
Intensive: Planted areas, generally consisting of perennials, shrubs, trees and/or turf, effectively create a traditional English garden at roof level. Laid out in sections to include usable areas of terraces and paths, alternating with intensively planted areas, they typically require intensive care and long-term maintenance.
Extensive : Lightweight, naturalistic planting provides extensive roof cover with minimal maintenance.
Biodiverse: These are designed for the specific requirements of local flora and fauna. Planting can be initiated, but is generally left to nature. It requires minimal maintenance.
Achieving falls
It is recommended never to design a roof that is completely flat. It is accepted good practice to design in a "fall", or slight gradient, of at least 1:60, which equates to 17mm over 1m. BS6229 states "that the minimum finished fall, of single-ply membranes, at any point should be 1:80.
In the absence of a detailed analysis, a fall of twice the finished fall should be assumed for design purposes", which would give a design fall of 1:40. There are essentially three methods for creating falls:
Adding timber firings beneath the structural deck.
Applying a layer of screed, with the appropriate fall, above the deck.
Cutting the appropriate fall into the layer of insulation.
Typical fall layouts
There are many different layout options for falls. Here are three options for the same roof:
This shows two roof surfaces with different directions of falls. The junction of the two surfaces is known as a cross fall — the effective slope at this point of the roof will be less than the other falls. This layout prevents ponding, but can be difficult to achieve with timber firings or screed.
This example has straight falls to an internal gutter, and can be easily achieved with firings or cut to falls insulation.
The third option is a cost-effective solution but would suffer from ponding between the rainwater outlets.
To take this module read the technical article below and click through to a multiple-choice questionnaire, once taken you will receive your results and if you successfully pass you will be issued automatically with a certificate to print for your records.
Module closes: 1 June 2012
Company name: Sika Sarnafil
Website: www.sika.com
Sika strives for market leadership through technology leadership in all it's target markets. Therefore innovation that applies to the whole company is of strategic importance and a key factor to success.