The second in our series of CPD modules contains everything you need to know about specifying automatic doors.
This module is sponsored by DORMA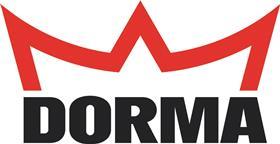 How to take this module
To take this module read the technical article below and click through to a multiple-choice questionnaire, once taken you will receive your results and if you successfully pass you will be issued automatically with a certificate to print for your records.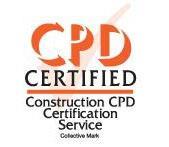 How to use these modules free continuing professional development distance learning programme is open to everyone who wants to develop and improve their professional knowledge. These modules can contribute to your annual CPD activity and help you maintain membership of professional institutions and bodies.
To gain your CPD credits, read the text and answer the questions - details of how to enter your answers online coming soon.
Each of these modules will contribute 1 hour towards your CPD obligations. If successfully completed, certificates will be distributed two weeks after the deadline.
Introduction to automatic doors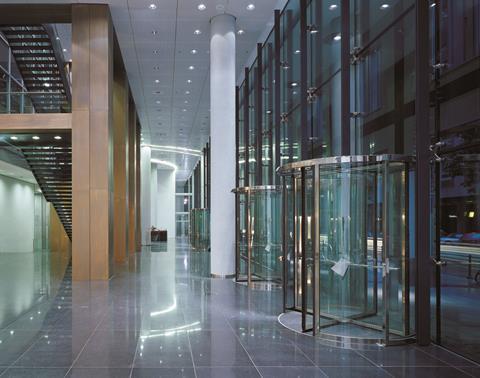 Humans have been developing ways to automatically open and close doors since Heron of Alexandria devised an underground mechanism for a temple entrance in 100BC. Two thousand years later, there are more reasons than ever to specify automatic doors. These include:
Ease of access For many people who lack physical ability or who are encumbered by pushchairs, for example, heavy manual doors can be a barrier. Two factors that now make this an essential consideration are the Equality Act (previously known as the Disability Discrimination Act or DDA - see overleaf) and the UK's ageing population.
Aesthetics Automatic doors can make a visually appealing entrance - automatic doors were a trend on the UK high street long before the Equality Act came into force.
Energy efficiency Using automatic doors to provide a draft lobby between external and internal areas can cut down heat loss.
Types of automatic door
There are many types of automatic doors, and the correct specification can depend on the type of pedestrian traffic, whether use is continuous or intermittent, environmental conditions, and whether the door is an emergency exit. Here are some of the different types of automatic door available:
1. Automatic sliding doors
A sliding mechanism maximises the open width of a doorway, and avoids the need for the deep lobby areas required by swing doors. Automatic sliding doors can be single leaf or bi-parting, but the door system must be wide enough for the panels to slide back into the side screens. Variations on automatic sliding door include:
Telescopic systems These are useful when wide doorways are required. Because the door leaves consist of two sections, when they slide back they require only around one-third of the structural width of the door system.
Curved Automatic sliding doors can be designed as outwardly or inwardly curved semi-circles and segments, as full circle configurations, as oval and double-segment units, or as any combination of these shapes. They can perform draught exclusion and airlock functions, and create a sense of width and depth to entrances.
2. Automatic swing doors
Automatic swing door systems contain powerful operating units that provide functional reliability. Types of automatic swing door include:
Full automatic Powerful swing door operators are suitable for standard as well as for large and heavy doors, and can be adapted to a wide range of applications. Some are suitable for fire and smoke doors.
In-head These units are designed to fit almost invisibly within the transom of the door.
Low energy These units are perfect for areas of low traffic or where the door will usually be operated manually. For those who do need assistance the door can be automatically operated by use of a push pad or frequent users can be provided with a remote control. These units do not need to be fitted with safety sensors.
3. Space-saving doors
Balanced or folding doors offer a solution when space is at a premium:
Balanced doors These use a swivel movement to provide the widest opening for narrow widths. The pivot centres are located off-centre, below and above the door opening, which means that the space swept by the door leaves is kept to a minimum. Balanced doors can be used on emergency escape routes, as they can be opened like a normal hinged door
Folding doors These are easy to install, economical and safe. They make full use of structural widths. Automatic folding doors are suitable for emergency exits.
4. Revolving doors
Revolving doors are an elegant solution that also hold back noise, dust and dirt, and help to keep heating costs down. They come in many sizes and types including manual, automatic, servo-assist and positional. Where revolving doors are installed, automated pass doors should also be provided for people who are not able to use the revolving door.
Standards and regulations affecting automatic doors
BS 7036:1996
This provides guidance to manufacturers, suppliers, installers, specifiers, occupiers and property owners on the provision, installation, safe operation and maintenance of automatic door systems, with particular reference to safety and avoiding risk of accident.
BS 8300: 2009 +A1:2010
This explains how the built environment can be designed to anticipate and overcome restrictions that prevent disabled people from making full use of premises. It includes commentary that provides a rationale for the design guidance, as well as management and maintenance issues.
Equality Act
Since October 2004 service providers have had to make "reasonable adjustments" to the physical features of their premises to overcome physical barriers to access. If there is a heavy entrance door or doors along a corridor route, the installation of an automatic or powered door-opening device will constitute a "reasonable adjustment".
Building Regulations
In England and Wales, Part M of the Building Regulations sets minimum legal standards for access and use of buildings by all users, including disabled people. In Scotland access requirements are dealt with in Part S of the Technical Standards, and in Northern Ireland in Part R of the Building Regulations (NI).
Safety and activation
Detection systems ensure the safe and effective use of each type of automatic door. There are two main types of system, motion and presence sensors, which are used in addition to other passive safety devices:
Motion sensors These use radar technology to detect movement towards or away from the door, distinguishing pedestrians from vehicles and ignoring spurious movements, such as a falling leaf. They will not prevent a door from closing.
Presence sensors Also called safety sensors, these are based on active infrared technology so that, if the presence of an object or person is detected, the door is prevented from closing.
Passive safety devices These include safety switches and pressure sensitive strips which prevent further movement of the door. Automatic revolving doors include safety contact strips on the posts at the drum side walls and on the bottom edges of the wings. In addition, an emergency stop push-button on the inside drum wall post can immediately shut down the door operator.
Barriers and pocket screens These are needed to protect against traffic entering the path of a sliding door during its cycle of operation; to protect against traffic approaching from the side into the sweep area of a swing door; or to direct traffic towards a doorway opening.
Means of escape If intended as escape doors, powered doors should be capable of manual break-out in the direction of escape. Alternatively, they should be linked to a fire detection system that opens the doors automatically. If doors are fitted with a break-out facility, it is essential that powered operation ceases immediately when break-out occurs - the resistance to break-out should not be greater than 220N.
To take this module read the technical article below and click through to a multiple-choice questionnaire, once taken you will receive your results and if you successfully pass you will be issued automatically with a certificate to print for your records.

Company name: Dorma
Website: www.dorma-uk.co.uk
DORMA offers the total package around the door and beyond. From door hardware to glass fittings, automatic doors and movable walls, all backed up by a nationwide team of service and maintenance engineers.