Durability, sustainability, bacteria resistance and ease of installation are just some of the benefits of linoleum, a natural product that can be used on floors, as well as on furniture and walls
How to take this module

To take this module read the technical article below and click through to a multiple-choice questionnaire, once taken you will receive your results and if you successfully pass you will be issued automatically with a certificate to print for your records.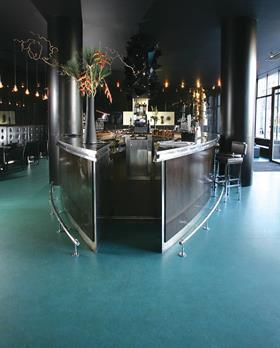 Linoleum was patented in 1863 by floor manufacturer Frederick Walton, after he discovered that a floor covering could be made by using a third each of oxidised linseed oil (from which he took the name), cork or wood flour, and chalk and pigments.
Although the word "lino" has come to be used generically for any non-textile floor covering, such as domestic cushioned vinyl, a product must contain at least 30% oxidised linseed oil to be defined as linoleum under the British, European and international standard BS EN ISO 24011, which covers the specification of plain and decorative linoleum.
pproximately 40 million sq m of linoleum is installed each year, principally in commercial locations.
During manufacture, linoleum cement (linseed oil and tall oil or rosin) is granulated and then mixed with the dry materials (wood flour, limestone and pigments) and cooled to make single-coloured granules. Up to eight different colours of granules are then mixed to create a colour blend, which is calendered (passed through heated rollers) and bonded to a jute backing. This makes every square metre of linoleum unique.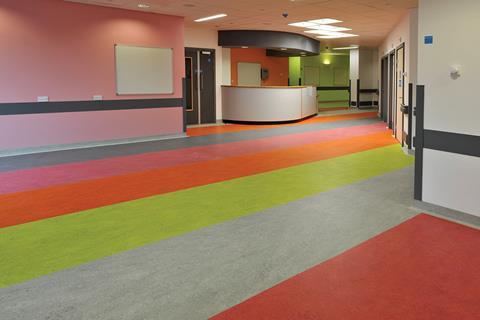 Advantages of linoleum
Linoleum has a number of advantages as a flooring product, in addition to the environmental and design benefits considered in more detail below. These include:
Durability Linoleum generally has a lifespan of about 25-30 years. The 2.5mm-gauge product is suitable for "very heavy commercial use", according to the BS EN ISO 10874 standard, which means it is appropriate for hospitals, department stores, airports, prisons, schools and so on. An interesting feature of linoleum is that it becomes even tougher over time as it continues to oxidise.
Whole-life costs The costs of the subfloor and floor covering are comparable to vinyl and rubber products. Installation can be slightly more expensive where welding is necessary, but linoleum's longer lifespan reduces replacement costs over time. It is also easy and inexpensive to clean and maintain, particularly after recent technological advances in primers and top coatings. The biodegradability of linoleum (see below) means eventual disposal at the end of its useful life is less expensive.
Health and hygiene The healthcare sector is the biggest user of linoleum worldwide. A significant reason for this is its natural bacteriostatic properties. For example, studies carried out by the University of Glasgow have confirmed that Forbo's Marmoleum product inhibits the growth of bacteria including MRSA, E-coli and Norovirus, and research undertaken for Forbo by the Centre de Recherche Industrielle in Quebec found that it also inhibited growth of clostridium difficile. Nor does linoleum harbour the house dust mite — a major exacerbating factor for many asthmatics.
Appearance Linoleum is resistant to stains caused by rubber products such as shoes or car tyres. The presence of linseed sometimes causes initial yellowing of the product, but this disappears with exposure to light.
Acoustic properties Standard 2.5mm-gauge linoleum has an impact sound reduction of 5dB, but reductions of up to 17dB are possible.
Anti-static properties Lino-leum builds up charge more slowly than many other materials, making it a safe choice for most environments that use high-voltage, computer and electronic equipment. It meets the requirements of BS EN 1815, which states that static charge on a person must remain under 2kV.
Installation Welding is usually only necessary in healthcare applications. For residential applications, a DIY click-together product is available in both planks and tiles.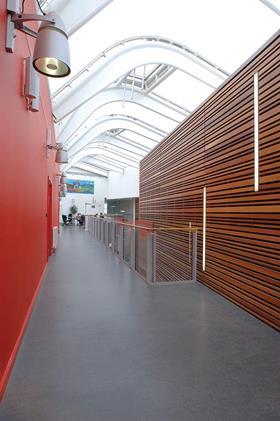 Environmental benefits
Linoleum has a number of envi- ronmental benefits. It has a generic Breeam rating of A or A+ depending on the type of project, although Breeam ratings do not differ greatly between different types of resilient flooring, such as Allura, PVC safety floors or cushioned vinyl.
Linoleum products have also been accredited under a number of environmental rating schemes worldwide, including Blue Angel (Germany), Nordic Swan (Nordic countries), Milieukeur (Netherlands), Nature Plus (Europe-wide), Good Environmental Choice (Australia) and Ecolabelling Trust (New Zealand). Its environmental benefits include:
Use of renewable materials Linoleum is manufactured from 97% natural raw materials, 72% of which are renewable within 10 years of harvesting.
These include: linseed oil, which comes from flax seeds; wood flour; jute, which is used for the backing; and rosin, which is a resin tapped from pine trees. The only non-renewable components of linoleum are limestone and pigments. By way of comparison, rubber flooring uses a maximum of 50% natural raw materials.
Use of recycled materials Furthermore, 43% of the materials used in the production of linoleum are recycled. These include wood flour, from the furniture and building industries, and tall oil, from the paper industry.
Low emissions According to the European Resilient Floor Manufacturers' Institute, the linoleum production process results in 50% lower carbon emissions than those of PVC, rubber or textile floorings.
The material also contains no formaldehyde or heavy metal pigments, and has very low emissions of volatile organic compounds, helping to maintain a healthy indoor environment. It can be installed with standard or solvent-free linoleum adhesive.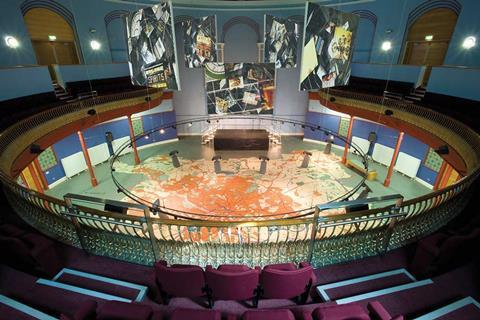 Design considerations with linoleum
Colour and finishes Linoleum has high levels of colour-fastness. Finishes and effects can be created using a combination of cad software and Aquajet water-cutting tech-nology. This enables detailed designs, including images and maps, to be realised in a wide palette of colours. Aquajet has fewer limitations than other techniques in terms of cutting and curvature.
Durability Linoleum does not shrink after fitting, and bespoke patterns have the same durability as the original product.\
Size Linoleum tiles come in two sizes: 333mm and 500mm.
Skirting The flexibility of 2.5mm linoleum means that fitters can form coved skirting on site using a cove former, which can also be tapered to archi-traves. Alternatively, pre-formed linoleum skirting can save time and money.
Welding Where welding is needed, coloured solutions offer an enhanced appearance.
Other uses Non-flooring uses for linoleum are surprisingly common. It can be used to make furniture, such as desktops and noticeboards, and manufacturer Forbo also produces a special type of linoleum that can be used to make decorative lino-cut prints.
BD's free continuing professional development distance learning programme is open to everyone who wants to develop and improve their professional knowledge. These modules can contribute to your annual CPD activity and help you maintain membership of professional institutions and bodies.
This module will contribute 1 hour towards your CPD obligations. If successfully completed, certificates will be distributed two weeks after the module closes.
Duration: 1 hour
Postscript
Privacy policy
Information you supply to UBM Information Ltd may be used for publication and also to provide you with information about our products or services in the form of direct marketing by email, telephone, fax or post. Information may also be made available to third parties. "UBM Information Ltd" may send updates about BD CPD and other relevant UBM products and services. By providing your email address you consent to being contacted by email by "UBM Information Ltd" or other third parties. If at any time you no longer wish to receive anything from UBM Information Ltd or to have your data made available to third parties, please write to the Data Protection Coordinator, UBM Information Ltd, FREEPOST LON 15637, Tonbridge, TN9 1BR, Freephone 0800 279 0357 or email ubmidpa@ubm.com.