Position in WA100 2011: =76
Country: Denmark
Last ranking: =86
Architects employed: 125
Website: www.henninglarsen.com

Copenhagen
Vesterbrogade 76
Copenhagen, Denmark 1620 V
Denmark
Tel: +45 8231 3160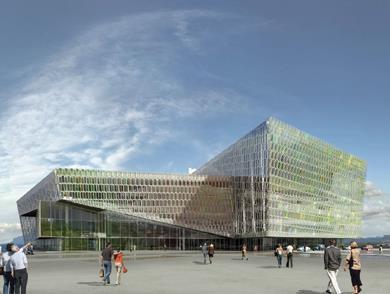 Scandinavian by name, Henning Larsen Architects is increasingly Middle Eastern by nature. It has offices in Copenhagen and Reykjavik but also in Riyadh and Damascus, and it is planning to strengthen its position in the Syrian capital.
"We consider Syria, Jordan, Lebanon and Turkey as interesting future markets," said CEO Mette Kynne Frandsen.
"We will continue to focus on the regions in which our offices are located but will also keep our eyes open to interesting developments in other places. Educational, healthcare and cultural projects are in demand in most of the world and we have many strong references in these sectors," she added.
In 2006, Henning Larsen won an international competition to masterplan the King Abdullah Financial District in the Saudi capital, where work is now under way. Now it is working on new research facilities for King Saud University, also in Riyadh. Back on home turf, it is designing two universities and has just completed the Scandinavian Golf Club, all in Denmark.
Although Europe has slowed down, it will inaugurate several significant continental projects in 2011, among them Harpa conference centre in Reykjavik and Spiegel HQ in central Hamburg. The practice is also working on the detailed design of Palacio de Congresos on Lanzarote and Batumi Aquarium in the Republic of Georgia.