White Room / Dark Room by Alexander Brodsky
White room/dark room
Calvert 22,
London E2
Until November 25
3 stars
Russian architect Alexander Brodsky's east London installation reveals his sensitive side
Occupying two rooms of the Calvert 22 gallery in East London's Boundary Estate is White Room / Dark Room, a mysterious installation by Russian artist and architect Alexander Brodsky.
A single door leads the viewer into a long, wedge-shaped room, whose facing walls are draped in crepe fabric behind which an array of fluorescent lights give off milky, shadowless light. At either end of the space the walls are mirrored, creating a mise-en-abyme that appears to stretch endlessly off in a circle. Occupying the room is a series of small timber "beds", less than half a metre long and painted sky-blue, each with a little pillow; these too are mirrored off into the infinite distance. There's something childlike but also rather disquieting about this scene, the soft light, the simplicity of forms and colours, the beds evoking a hospital or perhaps orphanage.
The room is almost silent, its dreamy, Lynchian character heightened by the drone of what sounds like an air-conditioning vent emanating from behind a door. This leads to the dark room: in total shadow sits an octagonal wooden structure, stepping down towards its middle. At its centre is a small hole, containing a fabric "flame" lit blue from below and kept dancing by a fan. Set all around this flame are clay figures small enough to fit onto the beds outside. They are identically crouched, heads set on hands in a melancholic fashion, their faces stylised in the manner of ancient Egyptians or perhaps Brancusi. They might be engaged in a religious rite or secret ceremony, or perhaps they are trapped; metaphors transfixed by an eternal flame keeping them from the endless beds outside, characters of comic, Beckettian futility.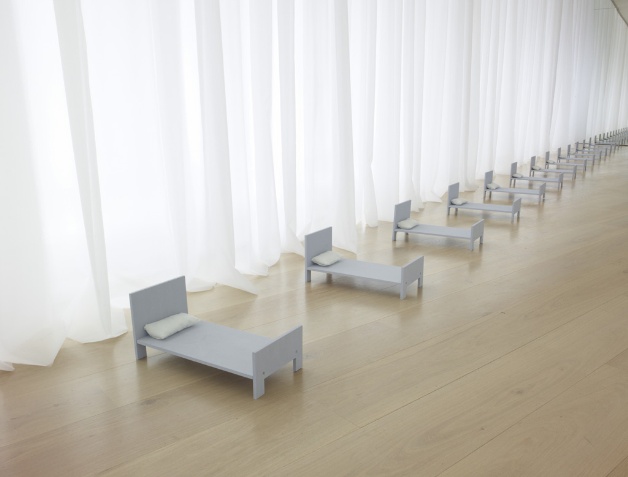 Away from the strange and allusive theatricality of the installation, Brodsky is exhibiting some works on paper and a sculpture that are more in keeping with his oeuvre: pencil drawings of factories, bird-men and a clay sculpture of a crumbling industrial building. As a member of 1980s Soviet group Paper Architects, Brodsky first made his name with gloomy, lugubrious drawings of impossible projects that occupy an
aesthetic somewhere between Boulleé and John Hejduk.
After years in New York living as an artist, he returned to Moscow at the millennium and has since carved out a niche as Russia's most critically respected architect. His gentle, considered buildings, often incorporating evanescent or salvaged materials, are frequently compared to Peter Zumthor, although they come with a real sense of irony.
And while there may be a gulf between Brodsky's built work and this installation, with its flimsiness of execution common to much current conceptual artwork, it still shows off a sensitive skill for shaping evocative, haunting space.