The practice is the latest to tackle airport capacity issue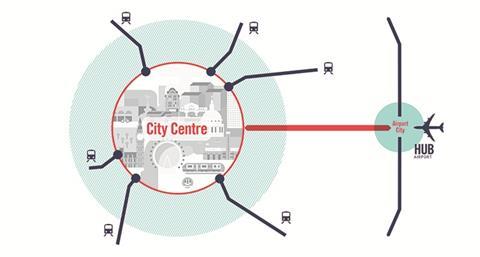 Grimshaw's London: Hub City
Grimshaw Architects has revealed its vision for the airport capacity issues facing the south-east of the UK.
The practice suggests London should be made more accessible to travellers, including those using the capital as a 'hub' to reach their final destination.
Jolyon Brewis, Grimshaw chief executive, argues that more than a third of passengers transferring through Heathrow leave the airport, spending some £500 in central London.
"The need to expand our aviation capacity gives us a unique opportunity to create an integrated transport strategy that directly supports the commercial and cultural vitality of London," he said.
"This is of critical importance to the UK economy. I am convinced that the way to achieve this is to make London more accessible to more people than ever before."
Grimshaw added that the idea was "eminently achievable", but that a coordinated and integrated approach is needed.
The idea was announced as a new report from the Commons transport Committee found that an airport in the Thames Estuary is not "commercially viable".
The study, written by economic consultants Oxera, was published yesterday. It said a new airport with four runways and the compensation bill for closing Heathrow could be as high as £70 billion.
Boris Johnson, the mayor of London, dismissed the report and said there was "nothing new" in it.